Luggage Storage Grand Central Terminal
Only luggage storage to offer choice of hourly or daily rates in Grand Central Terminal
Det siger vores kunder om os
Bagageopbevaring Grand Central Terminal
Need to store your luggage near Grand Central Terminal? Drop off your items at one of our luggage storage locations just around the corner.
 Also referred to as Grand Central Station or simply as Grand Central, is a commuter and intercity railroad terminal at 42nd Street and Park Avenue in Midtown Manhattan in New York City. The terminal contains a connection to the New York City Subway at Grand Central-42nd Street. Grand Central Terminal itself doesn't offer any luggage storage service.
Grand Central Terminal will amaze you with its Tiffany glass clock, breathtaking ceilings, and beauty that not many other buildings possess. Even if you are only staying at the station to wait for a train, it might be worth it to leave your luggage so that you can admire the beauty of the Grand Central Terminal and all it has to offer.
Store your luggage in local shops
Luggage storage in local shops will give you the convenience to explore New York City without dragging around your luggage. Don't plan your travel days on the terms of your luggage but turn your travel days into holidays.
With more than 140 LuggageHeroes around New York, you have more than enough reasons to leave your luggage behind while you are on adventures. Overnight storage can easily be handled.
All our shops are certified by LuggageHero and all bags are sealed off with our security seals ensuring each piece of luggage is up to .
Download our free luggage storage app here:
For even more comfort and ease, you can download our LuggageHero bag storage app where you can see all our locations for left luggage in Grand Central Station.
Left luggage costs and prices never cost more than 8$ per day! Luggage storage Grand Central has never been so simple and easy before.  Leave your bags with just a few clicks and enjoy your time in NYC.
If you don't want to download the app, you can also simply book through our website.
Skip booking and go straight to our store!
If visiting Euston Station was a spontaneous decision and did not get the chance to book luggage storage in advance, do not worry.
We offer a "walk-in" solution just 3 minutes away from the station. This means that there is no need for advanced booking, no change in price, and open 24/7.
Check it out on our map:
Grand Central Terminal
Grand Central Terminal is located at 89 E 42nd Street, New York City. It is a world-famous landmark in Midtown Manhattan and is not simply a transportation hub – it's also a shopping, dining, and cultural destination with 60 shops, 35 places to eat, and a full calendar of events all under one magnificent roof.
If you are ready for a full day at Grand Central Terminal it isn't the worst place to be stuck with your luggage.
On the other side, with more than 140 LuggageHeroes around New York, you can easily find a location that suits your travel plans. Our trusted partners are local shops that wish to help travelers and take care of their luggage while they are out for adventures. Your luggage is sealed and insured for up to . Don't hesitate to make the most of your day.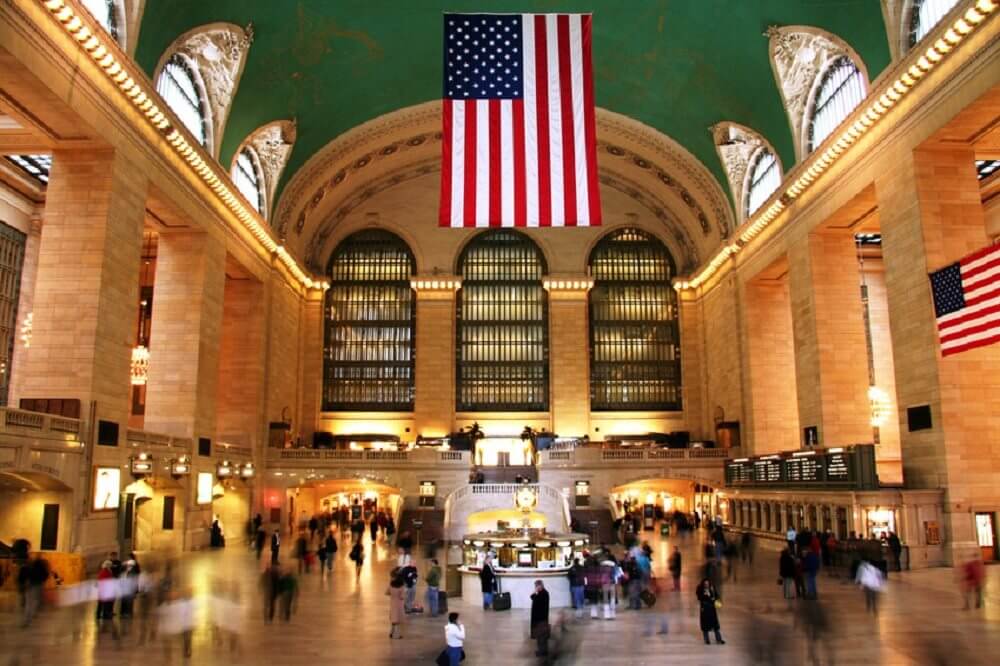 Parking: There are a number of public parking garages located close to the Terminal.
Public Restrooms:  You can find public restrooms located on the Lower Level of Grand Central Terminal. There are further ladies and family restrooms located in the Station Master's Office on the upper level next to Track 37.
Eating options: Grand Central Terminal offers over 35 dining options from fast food in the Dining Concourse, to casual sit-down eateries like Great Northern Food Hall and Prova Pizzabar, to world-famous fine dinings, like Grand Central Oyster Bar & Restaurant, Cipriani Dolci, or Michelin-starred Agern.
Luggage storage in Grand Central Terminal 
Unfortunately, there are no lockers or options available due to security measures. That is why the best option for your luggage storage is LuggageHero for the price of only per hour!
Why choose LuggageHero for Grand Central Terminal luggage storage?
LuggageHero offers you flexible pricing per hour $1 you get a security seal on your bag, which ensures each of your bags is up to $3000. With LuggageHero, your luggage is safely and conveniently stored at a location near you and you can pick it up any time you like. You can choose to store your bags from 130+ luggage storage locations in New York City. You can stop searching for lockers near Grand Central Terminal and simply book online your luggage storage today.
With more than 140 storage options around New York, you have more than enough reasons to leave your luggage behind while you explore NYC. Overnight storage can also easily be handled so if you need to drop off your bags for a few days in NYC – no problem.
Here is how you book luggage storage with LuggageHero at Grand Central Terminal
Choose from our more than 130 locations throughout The Big Apple! Find a location on our luggage storage booking engine and store your bags near Grand Central Terminal and many other hotspots in NYC.

Tips on storing luggage near Grand Central Station during COVID19:
Despite the current restrictions, you can still store luggage near Grand Central Station in numerous shops and locations.
If you use a storage locker near Grand Central Station, don't forget to sanitize well before using it and clean the locker after yourself as well
Storing luggage can be safe if you make sure to follow these guidelines every time you drop off or pick up your bags in any of our locations, including Grand Central Terminal.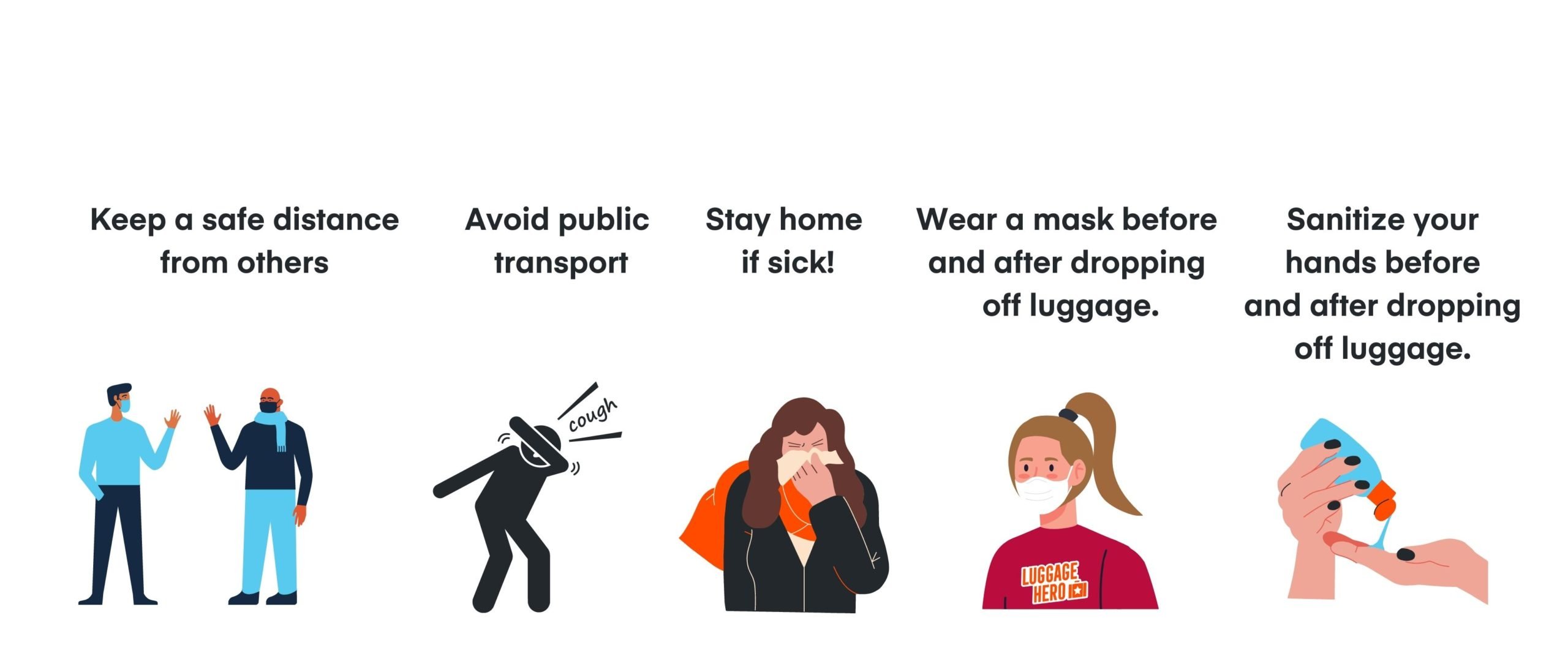 Things to do near Grand Central Terminal
Grand Central Terminal is just a minute or two away from Bryant Park. If you have time until your train, you can drop off your bags at a LuggageHero location and go enjoy some fresh air in the park which is also rather COVID friendly compared to other possible activities around the terminal.
In only 10 minutes walk, you can get to the Rockefeller Center, where you can see the iconic building and take some awesome pictures. If you happen to visit around Christmas, you can check out there the iconic Christmas tree and an ice skating rink!
In only 13 minutes, you can get to the Empire State Building, and see one of the most iconic landmarks of New York City! The tower was built in 1931 and you can even enjoy some art exhibitions inside, as well as see the beautiful view over NYC.  In only 13 minutes walk, you can also check out Madame Tussauds New York – the amazing museum chain for life-size wax replicas of famous Americans & historic icons in themed galleries.
There is a lot to explore near the station so you should not let your bags drag you down. Store your luggage and enjoy the amazing city of New York!
Download the LuggageHero app for quick luggage storage options
You can download our free bag storage app and that way you make sure that wherever you are, you can always book storage with just a few clicks. The app allows you to check out nearby locations, book your storage and monitor how long your bags have been stored.
Other popular destinations in New York
New York has many popular destinations to which you do not want to spend your energy carrying your luggage in and around: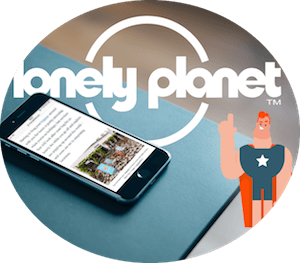 You can now drop your luggage off for safe-keeping in shops, pubs, and cafés across New York – 140 locations
"LuggageHero lets you store your luggage in a local shop, café or hotel, which is often more convenient than having to go to a storage facility at a train station."
Frequently Asked Questions about Grand Central Terminal
Are there lockers at Grand Central Terminal?
No, there are no lockers near Grand Central Terminal. You can use a LuggageHero storage location instead and book your luggage storage online.
How can I find the nearest LuggageHero storage location near Grand Central Terminal?
To find the nearest location to you, you can visit the LuggageHero website and click book now. Apart from that, you can download the LuggageHero app for even more convenience when booking your luggage storage on the go.
How do I know my bags will be safe near Grand Central Terminal with LuggageHero?
LuggageHero locations are all vetted and regular checks are performed on all of them to insure the safety and quality of the local shops. On top of that, you receive insurance for your bags for up to . Your luggage is completely safe with LuggageHero.
How do I get to Grand Central Terminal?
Grand Central Terminal is accessible by subway, bus, train, and airport shuttle depending on your location. Visit the official website of Grand Central Terminal for more information.