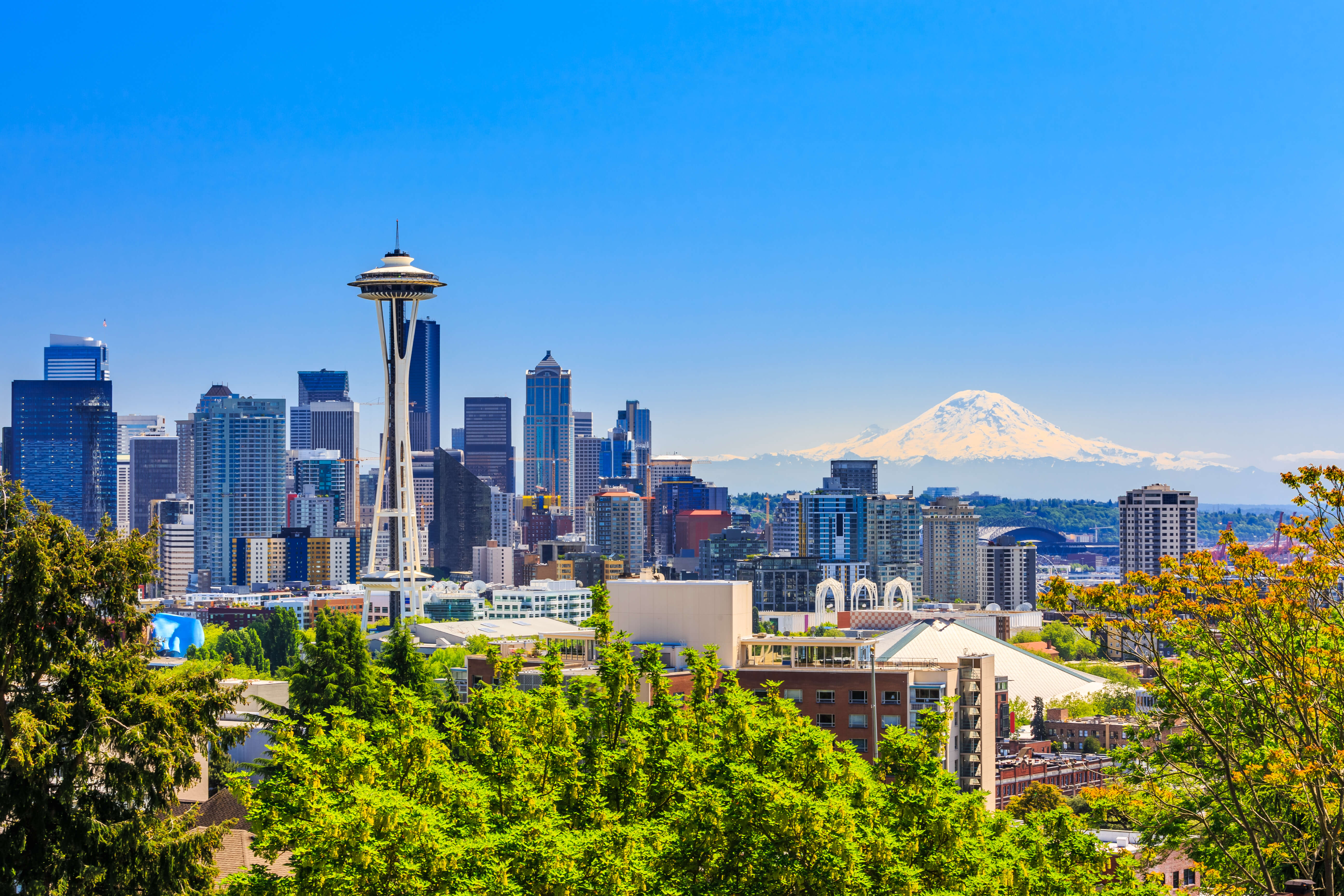 Deposito bagagli Seattle
Deposita i tuoi bagagli in un negozio certificato della zona a partire da $0.95/ora
+1M borse conservate in sicurezza
Deposito bagagli Seattle
Sei appena arrivato all'aeroporto di Seattle e vuoi iniziare la tua giornata? Può essere complicato non poter fare immediatamente il check-in subito nel tuo noleggio auto o in hotel, con le tue valigie che ti rallentano. Tuttavia, puoi facilmente depositare il tuo bagaglio a Seattle.
La prossima volta che sei a Seattle, ricordati che LuggageHero è a tua disposizione per salvarti la giornata! Puoi controllare la mappa qui sotto per trovare i luoghi più convenienti per depositare i tuoi bagagli, e ricorda: LuggageHero è l'unico servizio di deposito bagagli che offre tariffe orarie e giornaliere per la massima flessibilità. 
Deposita i tuoi bagagli utilizzando la rete di negozi e hotel locali di LuggageHero situata a Seattle. 
Il deposito bagagli non è mai stato così accessibile! Basta andare sulla piattaforma di prenotazione LuggageHero per trovare un comodo deposito all'interno di un negozio o di un'altra attività: tutti verificati da noi. Utilizzando la nostra mappa, è possibile localizzare i negozi vicino agli snodi dei trasporti e alle principali attrazioni turistiche e depositare lì i propri bagagli.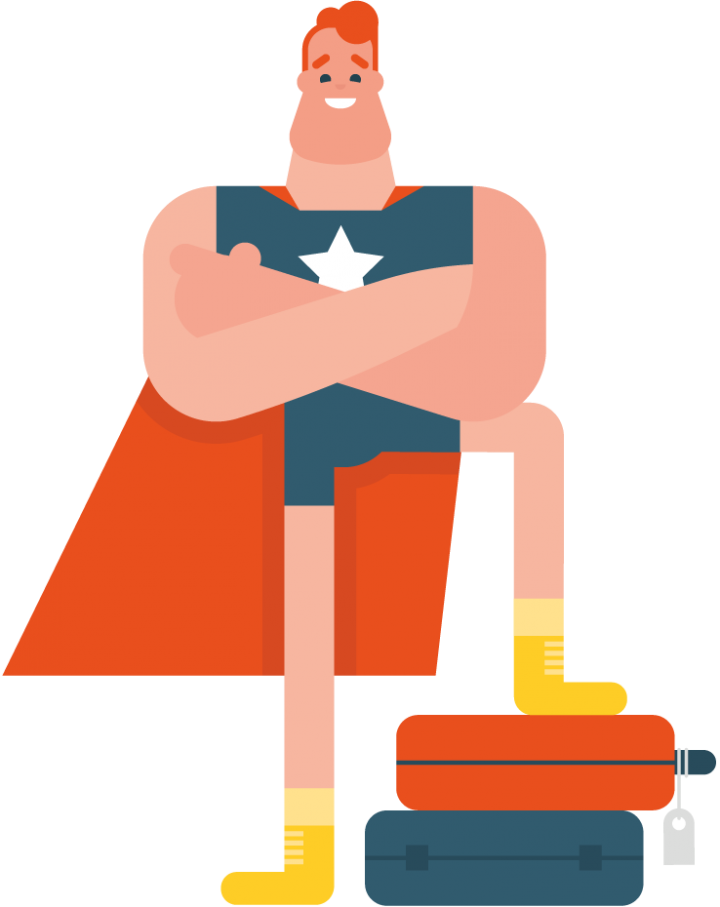 Luggage storage near Seattle-Tacoma International Airport
Seattle Airport Storage options:
If you find yourself in Seattle, chances are that you will be going through the Seattle-Tacoma International Airport (the main commercial airport of the Seattle metro area) and will be in need of luggage storage nearby. If you have a short layover and need to store luggage at the airport, then Smarte Carte's Baggage Storage has a luggage storage facility located on the arrivals level of Baggage Claim 9.  The opening hours for the luggage storage area are from 05:30 until 00:30. The prices start at $8 for a small carry-on bag and go up to $10 for regular suitcases. You can find a full price list here.
If you are looking to store your luggage closer to you as you explore the city, you should look into alternative options with LuggageHero as we offer locations throughout the city.
Remember to be careful when storing your luggage in Seattle! See the full guide here.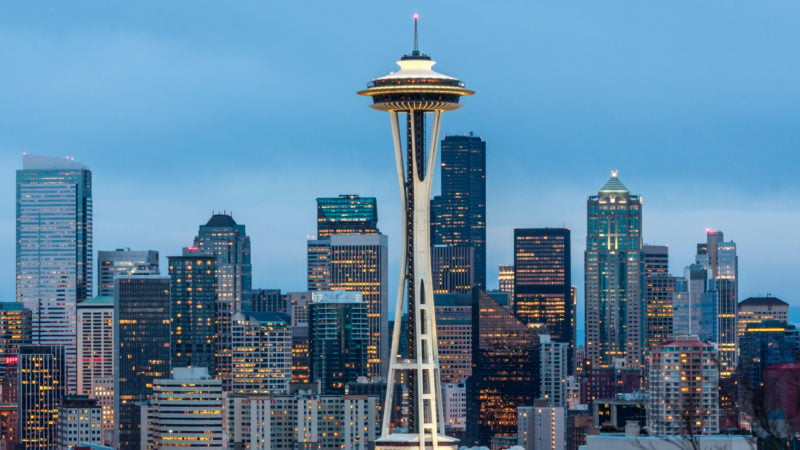 Seattle
Seattle, a Pacific Northwest metropolis on Puget Sound, is surrounded by sea, mountains, and evergreen woods, with thousands of acres of parkland. With Microsoft and Amazon located in its metropolitan region, it is Washington State's largest city and home to a huge tech economy. Its most famous feature is the futuristic Space Needle, which was built as part of the 1962 World's Fair.
It is the United States' northernmost significant city, located about 100 miles (160 km) south of the Canadian border. Seattle is the fourth-largest port in North America in terms of container throughput as of 2015. It is an important gateway for trading with East Asia.
Seattle is called as "Rain City," "The Coffee Capital of the World," and "Jet City" because of its lush forests.
Fun Facts about Seattle
The land that is now the city of Seattle has been inhabited for at least 4,000 years
Seattle is the birthplace of Starbucks, the world's largest coffee chain. If you ever visit, you can get yourself a unique coffee mug that you can only find there
Seattle is home to the world's first gas station, opened on East Marginal Way in 1907
Is Seattle a really sunny city? Apparently, people in Seattle buy more sunglasses per capita than any other US city
Major and popular stations in Seattle
Space Needle – is an observation tower in Seattle, Washington, United States. Considered to be an icon of the city and the Pacific Northwest, it has been designated a Seattle landmark. Located in the Lower Queen Anne neighborhood, it was built in the Seattle Center for the 1962 World's Fair, which drew over 2.3 million visitors.
King Street Station – It held the honors of being the city's first large, modern terminal when it opened during the early 20th century, replacing an earlier structure for the Great Northern and Northern Pacific
Westlake Station – It is a light rail station that is part of the Downtown Seattle Transit Tunnel in Seattle, Washington, United States. The station is located under Pine Street between the 3rd and 6th avenues in Downtown Seattle, near Westlake Center and Westlake Park.
By simply searching for luggage locker or locker rentals near me in your search bar you can easily find the closest storage near you.
2023 Guide: Luggage Storage Seattle
You may be confused with the rules and regulations and wonder where bags and luggage are allowed in your travel destination. LuggageHero understands your pain and is happy to give you a big help. You just simply click Find Luggage Storage & Lockers in Seattle and have a quick look to find all the updated information for your amazing trip.
Check out why KnockKnock recommends storing your baggage with LuggageHero!  Also been featured in The New York Times, Lonely Planet, and CNBC.
Prezzi
LuggageHero è l'UNICO servizio di deposito bagagli che ti offre la scelta di una tariffa oraria o giornaliera a Seattle. Una tariffa fissa di $5.95 al giorno e $0.95 all'ora ti consentono di scegliere l'opzione più adatta alle tue esigenze. Se hai intenzione di rimanere solo poche ore in una città, perché pagare per un'intera giornata, come faresti con altri servizi di deposito bagagli?  Tutti i bagagli sono protetti contro danni, smarrimento e furto.
Metà prezzo rispetto agli armadietti delle stazioni e a quelli degli aeroporti
Gli armadietti per il deposito dei bagagli, chiamati anche city locker, costano almeno il doppio su base giornaliera rispetto al servizio di deposito bagagli di LuggageHero.
Fino a poco tempo fa, i viaggiatori potevano solo riporre i bagagli in questi armadietti per bagagli che offrono pochissima flessibilità sul prezzo, su dove andare e sul deposito dei bagagli. Inoltre, LuggageHero offre negozi in innumerevoli località, così da avere sempre la possibilità di lasciare i bagagli in un luogo sicuro. A differenza degli armadietti per i bagagli nelle stazioni e negli aeroporti, LuggageHero offre tariffe orarie e giornaliere. LuggageHero si impegna a offrire sempre un deposito bagagli flessibile ed economico vicino a te. 
Forniamo la soluzione alla tua necessità di deposito di bagagli in negozi verificati
LuggageHero è qui per liberarti dai tuoi bagagli in modo che tu possa esplorare Seattle senza le tue borse. Basta andare sulla nostra piattaforma di prenotazione e trovare il luogo per il deposito bagagli più vicino e a portata di mano all'interno di un negozio, di un hotel o di un'altra attività.
Tutti i nostri punti a Seattle e nelle altre città sono verificati da noi. Utilizzando la mappa di LuggageHero, puoi trovare facilmente i negozi più vicini alle fermate della metropolitana e alle attrazioni e depositare lì i tuoi bagagli. 
Accettiamo tutti i tipi di bagagli, di qualsiasi dimensione e forma
I clienti di LuggageHero possono depositare bagagli di qualsiasi dimensione e/o forma in tutti i nostri punti di deposito. Non importa che si tratti di attrezzatura da sci, attrezzatura fotografica o zaini. In altre parole, può essere un deposito bagagli, un deposito valigie, un deposito attrezzature: non importa come i nostri clienti soddisfatti lo chiamino, l'importante è che si sentano sicuri, perché accettiamo tutti i loro bagagli. I clienti di LuggageHero possono scegliere un addebito orario o la nostra tariffa giornaliera, indipendentemente da ciò che depositano.
Possiamo custodire valige e bagagli per più giorni
LuggageHero offre anche un servizio di deposito per più giorni perché sappiamo che la flessibilità è essenziale quando si viaggia.
LuggageHero offre una tariffa giornaliera più bassa quando i bagagli vengono depositati per un periodo di tempo più lungo. Dal secondo giorno in poi i nostri clienti pagano solo $5.95 per borsa al giorno.
Scarica l'app gratuita per il deposito bagagli di LuggageHero:
Per una comodità e una semplicità ancora maggiori, puoi scaricare l'app per il deposito bagagli di LuggageHero. Lì potrai vedere tutti i nostri punti vicino a te.
Orari di apertura
Abbiamo una varietà di negozi con orari di apertura diversi, quindi scegli quello che fa più per te! Scegli il negozio qui per vedere gli orari di apertura.
Quali metodi di pagamento sono accettati?
Non devi preoccuparti di avere la valuta giusta a portata di mano quando paghi online. Accettiamo tutte le principali carte di credito. I negozi non ricevono contante quando usi LuggageHero. L'assicurazione sul tuo bagaglio è valida solamente se il servizio è stato pagato direttamente a LuggageHero.
C'è differenza tra "deposito valigie" e "deposito bagagli"?
"Deposito valigie" e "deposito bagagli" sono sostanzialmente la stessa cosa.  Le due espressioni sono intercambiabili e si riferiscono allo stesso tipo di servizio. "Deposito bagagli" è la forma più comunemente utilizzata a livello internazionale quando ci si riferisce al servizio per cui le proprie valigie vengono date in custodia per un periodo di tempo. Entrambe le espressioni sono definite dalla necessità degli utenti di depositare dei bagagli che possono essere ritirati in un secondo momento. Perciò, sia che tu stia cercando servizi di "deposito valigie" o "deposito bagagli", LuggageHero è a disposizione per prendersi cura dei tuoi effetti personali.
Sicurezza
A differenza di altri servizi di deposito bagagli, tutti i nostri negozi a Seattle sono stati controllati da un dipendente di LuggageHero, e ogni bagaglio e il suo contenuto possono essere assicurati per un massimo di .
Non troverai nessun altro servizio di deposito bagagli a Seattle che offra altrettanto.
Perché prenotare il deposito bagagli a Seattle con LuggageHero?
Comodità:

Siamo l'unico servizio che offre opzioni sia orarie che giornaliere, quindi puoi scegliere ciò che meglio si adatta ai tuoi piani al prezzo più conveniente!

Flessibilità: Dal deposito notturno a poche ore, le nostre opzioni di deposito bagagli sono flessibili! Abbiamo anche alcuni negozi in cui non è necessaria la prenotazione.  Clicca qui

 per scoprire quali sono questi negozi.

Convenienza:

I nostri depositi bagagli offrono il miglior rapporto qualità-prezzo

Fiducia:

Il nostro servizio ha il maggior numero di recensioni, oltre che le migliori. 
Cancellazione della prenotazione
Per cancellazioni nel corso della stessa giornata e in caso di mancata presentazione, verrà applicata una penale pari alla tariffa giornaliera di $5.95 per bagaglio.
Grafico deposito bagagli
In base al seguente grafico, LuggageHero è la migliore opzione per il deposito dei bagagli a Seattle. LuggageHero è l'unico servizio ad offrire sia prezzi orari che giornalieri con possibilità di assicurazione. Il deposito bagagli a Seattle non è mai stato così facile!
Il grafico viene creato in base alle opzioni di deposito bagagli più popolari.
Name
Pricing models
Insurance
Flexible arrival
Reviews
Name
Pricing models
Insurance
Flexible arrival
Reviews
LuggageHero
Daily, Hourly, & multi-day
Up to $3000
Yes
+140.000
Name
Pricing models
Insurance
Flexible arrival
Reviews
NannyBag
Daily
Up to $1100
No
27,802
Name
Pricing models
Insurance
Flexible arrival
Reviews
Vertoe
Daily
Up to $5000
No
4,708
Name
Pricing models
Insurance
Flexible arrival
Reviews
Radical Storage
Daily
No
No
900
Scarica la nostra app gratuita
Per maggiore comodità, puoi scaricare l'app per il deposito bagagli di LuggageHero, dove potrai vedere facilmente tutte le nostre sedi Seattle. Con la nostra app per il deposito bagagli, puoi depositare i tuoi bagagli ovunque in oltre 1000 delle nostre sedi.
Buoni sconto – Clicca qui per vedere se ce ne sono di disponibili al momento per Seattle.
Scopri perché KnockKnock consiglia di depositare i tuoi bagagli con LuggageHero. Siamo apparsi anche su The New York Times, su Lonely Planet e su CNBC.
Frequently Asked Questions about Luggage Storage in Seattle
Is it possible to store luggage in Seattle?
Yes, you can easily store luggage all over Seattle. Use the LuggageHero app to easily book your storage online and only pay for the amount of hours you store your bag with a maximum daily cap of 8$ per day.
What is the price of storing luggage in Seattle?
The price for storing luggage in Seattle with LuggageHero is only an hour, per bag. The maximum daily fee will always be only $5.95 per day, per bag.
Will my luggage in Seattle be safe with LuggageHero?
All luggage storage locations are verified for safety and carefully trained by our team before being listed on the site.
Can I store my luggage in Seattle during COVID-19?
Yes, you can store your luggage in Seattle during COVID-19. However, you must pay extra attention to restrictions and doing your best to help prevent the spread of the virus. Read the full guide above to learn more about how to protect yourself and others when you store your bags in Seattle.
Can I store my luggage in Seattle-Tacoma International Airport?
Yes, there are luggage options in Seattle-Tacoma International Airport. You can store small bags for $8 and regular suitcases for $10. Find more information about storing luggage at Seattle-Tacoma International Airport by reading the article above.
I have a problem with my luggage storage booking in Seattle.
If you encounter a problem with a luggage storage booking, you can email us at contact@luggagehero.com and we will get back to you and solve the problem as quickly as possible.
Insurance and safe luggage storage
In the collaboration with First Marine Insurance Ltd., we are proud to be covering each piece of luggage free of charge every time you use our luggage service. The premium insurance is optional, you can easily add it when making your booking and it will cover your bags for up to $3,000/€2500 while being stored. On the other hand, if you decide not to add insurance, there is always a guarantee of $500. Make sure you do not pay cash in a drop-off/pick-up shop, because insurance will not cover any bookings that are not paid directly through LuggageHero
LuggageHero nella stampa
"LuggageHero, which offers online booking with a credit card — thus, eliminating the need for users to have local currency on hand — is one of the most recent players to expand its services. In December the company began operating in New York, where today it has some 250 locations."

"One solution is LuggageHero, which was already on the scene in Copenhagen and London, and has now expanded into New York. Its selling point is that it lets you store your luggage in a local shop, café or hotel, which is often more convenient than having to go to a storage facility at a train station."

"LuggageHero, which Jannik Lawaetz founded in 2016, currently has more than 300 storage locations in six cities (New York, London, Copenhagen, Lisbon, Madrid and Barcelona) and plans to expand to 39 cities by January 2020."

"LuggageHero founder and chief executive Jannik Lawaetz says that the concept was inspired by that mother of invention — necessity — and Airbnb. A couple of years ago, he and his girlfriend rented an apartment in Barcelona via the home-share service. They had a later flight on their day of departure and wanted to continue exploring the city, but didn't want to lug their suitcases around. "