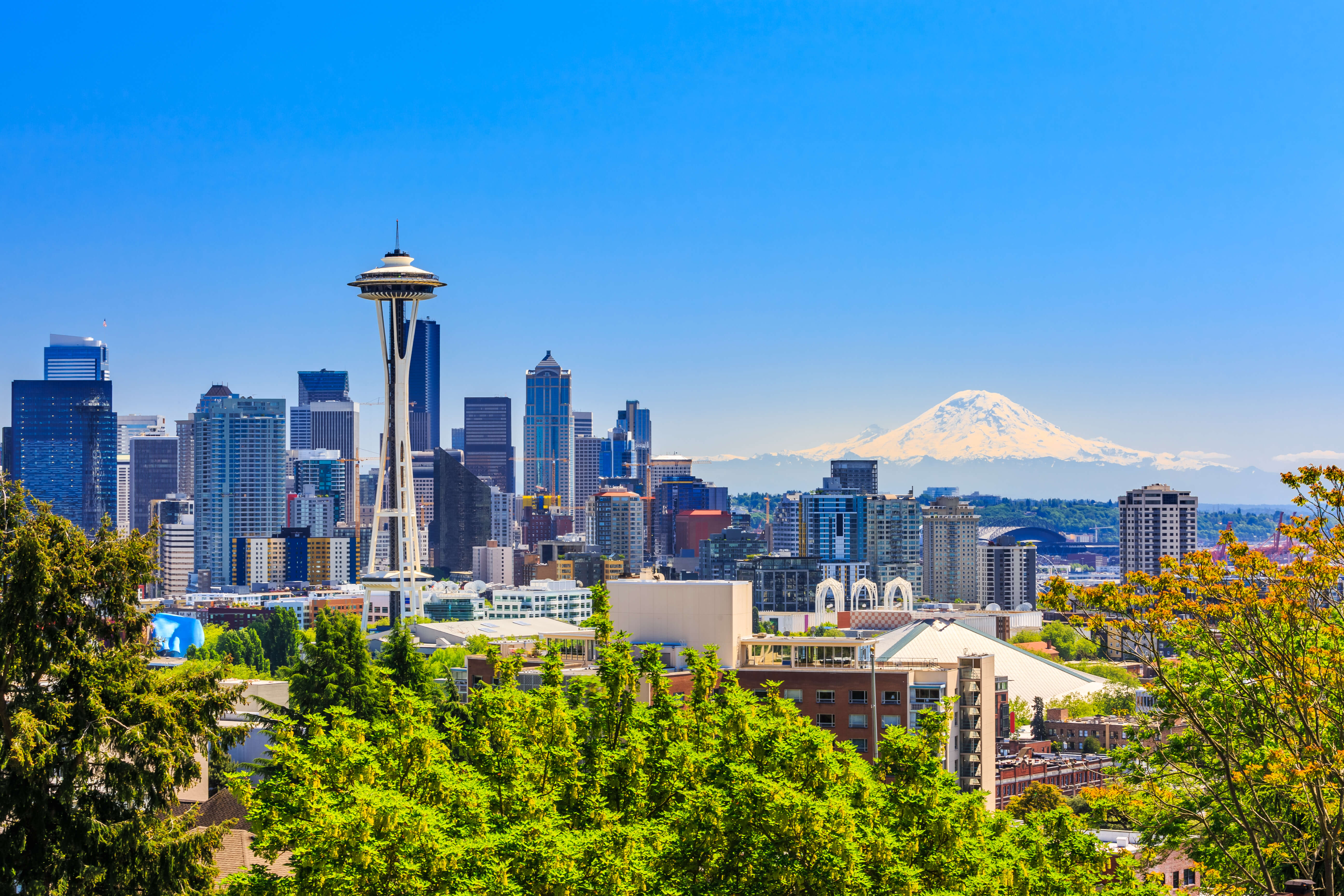 Consigna de equipaje en Seattle
Guarda tus maletas en un hotel o una tienda certificados desde $0.95/hora
Qué dicen nuestros clientes
Consigna de equipaje en Seattle
¿Acabas de llegar al aeropuerto de Seattle y ya quieres empezar a disfrutar de tu viaje? Puede serte difícil, sobre todo si todavía falta tiempo para poder entrar a tu habitación de hotel o tu apartamento de alquiler y el equipaje supone una molestia. ¿Por qué no guardar tus maletas fácilmente en Seattle?
La próxima vez que visites Seattle, recuerda que LuggageHero estará ahí para ayudarte. Comprueba el mapa que encontrarás más abajo para encontrar los mejores lugares en los que guardar tus maletas. Recuerda que LuggageHero es el único servicio de consigna de equipaje con tarifas diarias y por horas para ofrecerte la máxima flexibilidad. 
Guarda tus maletas con la red de tiendas y hoteles de LuggageHero en Seattle. 
¡La consigna de equipaje nunca había sido más accesible! Solo tienes que ir a la plataforma de reservas de LuggageHero para encontrar un sitio práctico en el que dejar el equipaje en una tienda u otros negocios, todos ellos comprobados previamente por nosotros. Gracias a nuestro mapa, podrás localizar las tiendas más cercanas a los puntos de transporte y las principales atracciones turísticas donde para que puedas guardar allí tu equipaje.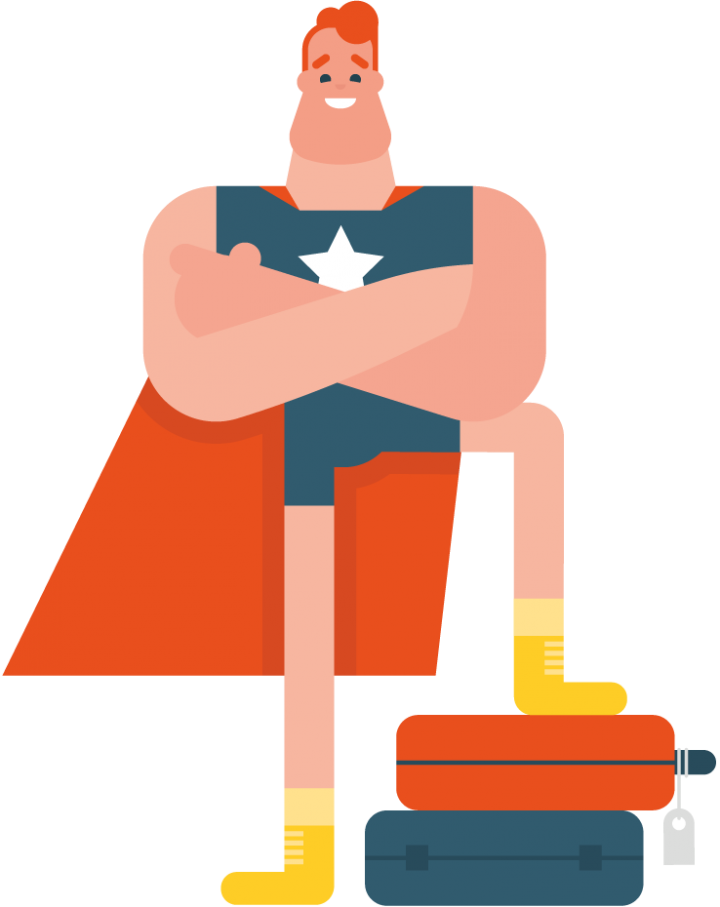 Luggage storage near Seattle-Tacoma International Airport
Seattle Airport Storage options:
If you find yourself in Seattle, chances are that you will be going through the Seattle-Tacoma International Airport (the main commercial airport of the Seattle metro area) and will be in need of luggage storage nearby. If you have a short layover and need to store luggage at the airport, then Smarte Carte's Baggage Storage has a luggage storage facility located on the arrivals level of Baggage Claim 9.  The opening hours for the luggage storage area are from 05:30 until 00:30. The prices start at $8 for a small carry-on bag and go up to $10 for regular suitcases. You can find a full price list here.
If you are looking to store your luggage closer to you as you explore the city, you should look into alternative options with LuggageHero as we offer locations throughout the city.
Remember to be careful when storing your luggage in Seattle! See the full guide here.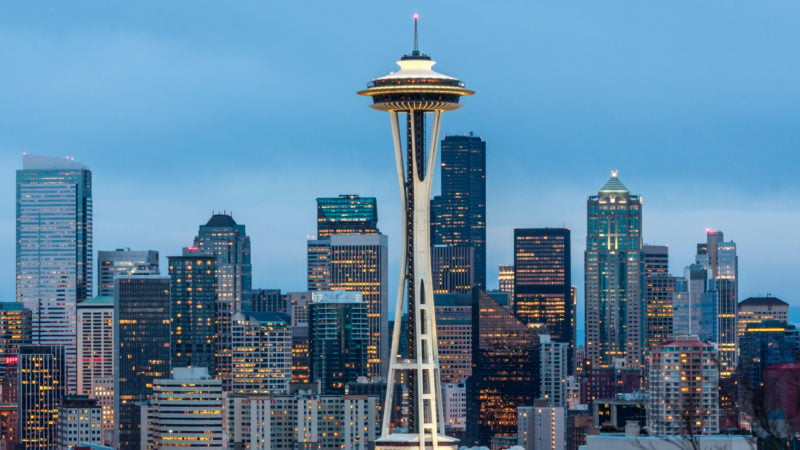 Seattle
Seattle, a Pacific Northwest metropolis on Puget Sound, is surrounded by sea, mountains, and evergreen woods, with thousands of acres of parkland. With Microsoft and Amazon located in its metropolitan region, it is Washington State's largest city and home to a huge tech economy. Its most famous feature is the futuristic Space Needle, which was built as part of the 1962 World's Fair.
It is the United States' northernmost significant city, located about 100 miles (160 km) south of the Canadian border. Seattle is the fourth-largest port in North America in terms of container throughput as of 2015. It is an important gateway for trading with East Asia.
Seattle is called as «Rain City,» «The Coffee Capital of the World,» and «Jet City» because of its lush forests.
Fun Facts about Seattle
The land that is now the city of Seattle has been inhabited for at least 4,000 years
Seattle is the birthplace of Starbucks, the world's largest coffee chain. If you ever visit, you can get yourself a unique coffee mug that you can only find there
Seattle is home to the world's first gas station, opened on East Marginal Way in 1907
Is Seattle a really sunny city? Apparently, people in Seattle buy more sunglasses per capita than any other US city
Major and popular stations in Seattle
Space Needle – is an observation tower in Seattle, Washington, United States. Considered to be an icon of the city and the Pacific Northwest, it has been designated a Seattle landmark. Located in the Lower Queen Anne neighborhood, it was built in the Seattle Center for the 1962 World's Fair, which drew over 2.3 million visitors.
King Street Station – It held the honors of being the city's first large, modern terminal when it opened during the early 20th century, replacing an earlier structure for the Great Northern and Northern Pacific
Westlake Station – It is a light rail station that is part of the Downtown Seattle Transit Tunnel in Seattle, Washington, United States. The station is located under Pine Street between the 3rd and 6th avenues in Downtown Seattle, near Westlake Center and Westlake Park.
By simply searching for luggage locker or locker rentals near me in your search bar you can easily find the closest storage near you.
2023 Guide: Luggage Storage Seattle
You may be confused with the rules and regulations and wonder where bags and luggage are allowed in your travel destination. LuggageHero understands your pain and is happy to give you a big help. You just simply click Find Luggage Storage & Lockers in Seattle and have a quick look to find all the updated information for your amazing trip.
Check out why KnockKnock recommends storing your baggage with LuggageHero!  Also been featured in The New York Times, Lonely Planet, and CNBC.
Precios
LuggageHero es el ÚNICO servicio de consigna de equipaje que te ofrece tarifas diarias o por horas en Seattle. Podrás elegir la opción que mejor se adapte a tus necesidades con nuestra tarifa plana de $7.95 al día o de $0.95 por hora. Si tan solo vas a estar unas horas en una ciudad, no tienes por qué pagar por un día entero, como te piden otros servicios de consigna de equipaje.
Te ofrecemos la mitad de precio que los casilleros en estaciones y las consignas de aeropuertos
El precio del alquiler de una consigna de equipaje por día es, generalmente, el doble de caro de lo que el servicio de LuggageHero ofrece.
Hasta hace no mucho tiempo, los viajeros solo podían guardar sus maletas en estas taquillas para equipaje, que no se destacan por su flexibilidad en cuanto al precio y la ubicación. Además, LuggageHero te permite guardar tus maletas en numerosos sitios para que siempre tengas la opción de guardar tu equipaje en un sitio seguro. A diferencia de las taquillas para equipaje en las estaciones y los aeropuertos, LuggageHero te da la opción de una tarifa por hora y por día. LuggageHero se esfuerza al máximo por ofrecer una opción económica y segura para que puedas dejar tus maletas cerca de ti y en cualquier momento. 
Somos la solución al problema de consigna de equipaje en tiendas certificadas
En LuggageHero, estamos para ayudarte, podemos liberarte de tu equipaje para que puedas explorar Seattle sin necesidad de cargar con tus maletas. Tan solo visita nuestra plataforma de reservas y encuentra el sitio más práctico y cercano en el que dejar tu equipaje en una tienda, un hotel o en otro negocio.
Todas las opciones de almacenamiento en Seattle y en otras ciudades han sidocomprobados previamente por nosotros.. Con el mapa de LuggageHero, podrás encontrar fácilmente las tiendas que se encuentran más cerca de las estaciones de metro o de las atracciones, y dejar allí tus maletas. 
Guardamos todo tipo de equipaje, de cualquier tamaño y forma
Los usuarios de LuggageHero pueden guardar maletas de cualquier tamaño o forma en cualquiera de nuestros establecimientos de almacenamiento. Da igual si se trata de equipos para esquiar, equipos fotográficos o mochilas. Dicho de otro modo: puedes conseguir almacenamiento para equipajes, consigna de maletas, depósito de equipaje, o como quiera que nuestros satisfechos clientes lo llamen, ya que lo admitimos todo. Los clientes de LuggageHero pueden elegir entre tarifas por horas o diarias, independientemente de lo que necesiten guardar.
Podemos custodiar tu equipaje durante varios días
En LuggageHero, también tenemos consigna para maletas para varios días, ya que sabemos que la flexibilidad es esencial cuando estás de viaje.
LuggageHero dispone de una tarifa diaria más barata para guardar tus maletas durante más tiempo. A partir del segundo día, nuestros clientes únicamente pagan $7.95 por bulto y día.
Descarga gratis la app de consigna de equipaje de LuggageHero:
Para mayor comodidad y facilidad, descarga la app de consigna de equipaje de LuggageHero. Desde nuestra app, podrás ver todos los sitios donde guardar tus maletas cerca de ti.
Horarios de apertura
Tenemos una variedad de tiendas con distintos horarios de apertura para que puedas elegir la que mejor se adapte a ti. Elige qué tienda quieres aquí para ver los horarios de apertura.
¿Qué métodos de pago aceptamos?
Cuando pagas online, no tienes que preocuparte por si tienes o no las monedas justas. Se aceptan todas las tarjetas de crédito más utilizadas. Los establecimientos no aceptan dinero en efectivo por los servicios de LuggageHero. El seguro del equipaje solo es válido si el pago se hizo directamente a LuggageHero.
¿Hay alguna diferencia entre consigna de equipaje y almacenamiento de equipaje?
Los términos consigna de equipaje y almacenamiento de equipaje se refieren, básicamente, a lo mismo.  La preferencia entre un término y otro depende de la región donde te encuentres. Dicho esto, consigna de equipaje es el principal nombre con el que se conoce a este servicio. Sin embargo, ambos se refieren a lo mismo: un servicio para que las personas puedan guardar el equipaje y recogerlo más tarde. Estés donde estés y llamen como llamen a la consigna de equipaje, LuggageHero cuidará de tus pertenencias.
Seguridad
A diferencia de otros servicios de consigna de equipaje, todas nuestras tiendas en Seattle han sido comprobadas por un empleado de LuggageHero, tu equipaje se pueden asegurar hasta .
No encontrarás ningún otro servicio de consigna de equipaje en Seattle con las mismas prestaciones.
¿Por qué debo reservar mi consigna de equipaje en Seattle con LuggageHero?
Es práctico:

Somos el único servicio que ofrece tarifas por horas y diarias para que así puedas elegir la que mejor se adapte a tus planes al precio más asequible.

Es flexible: Puedes guardar tus maletas de un día para otro o durante unas horas, nuestras opciones de consigna de equipaje son totalmente flexibles. Incluso tenemos tiendas en las que no necesitas reserva.  Haz clic aquí

 para descubrir cuáles son.

Es asequible:

Nuestras consignas de equipaje ofrecen una muy buena relación calidad-precio

Es de confianza:

Nuestro servicio cuenta con el mayor número de comentarios y con las valoraciones más altas. 
Cancelación de reserva
Para cancelaciones en el mismo día o si finalmente no utilizas el servicio, se aplicará una tarifa equivalente a la tarifa diaria de $7.95 por maleta.
Gráfico de consigna de equipajes
Según el gráfico que verás a continuación, LuggageHero es la mejor opción de consigna de equipaje en Seattle. LuggageHero es el único servicio que ofrece tarifas diarias y por hora con la posibilidad de contratar un seguro. ¡Guardar las maletas en Seattle nunca había sido tan fácil!
El gráfico se ha creado según las opciones de consigna de equipaje más populares.
Name
Prices from
Insurance
Flexible arrival
Reviews
Name
Prices from
Insurance
Flexible arrival
Reviews
LuggageHero
$0.95/hour or $7.95/day
Up to $3000
Yes
+116.000
Name
Prices from
Insurance
Flexible arrival
Reviews
NannyBag
$6 day & no hourly option
Up to $1100
No
27,802
Name
Prices from
Insurance
Flexible arrival
Reviews
Vertoe
$5.95 day & no hourly option
Up to $5000
No
4,708
Name
Prices from
Insurance
Flexible arrival
Reviews
Radical Storage
$5 day & no hourly option
No
No
900
Descarga nuestra app gratis
Para mayor comodidad, puedes descargar la app de consigna de equipajes de LuggageHero, desde la que podrás ver fácilmente todos nuestros establecimientos en Seattle. Con nuestra app de consigna de equipaje, podrás guardar tus maletas en cualquiera de nuestros más de 1000 establecimientos.
Vales de descuento: Haz clic aquí para ver si hay alguno disponible en estos momentos en Seattle.
Descubre por qué KnockKnock recomienda guardar tus maletas con LuggageHero. También han hablado de nosotros en The New York Times, Lonely Planet y CNBC.
Frequently Asked Questions about Luggage Storage in Seattle
Is it possible to store luggage in Seattle?
Yes, you can easily store luggage all over Seattle. Use the LuggageHero app to easily book your storage online and only pay for the amount of hours you store your bag with a maximum daily cap of 8$ per day.
What is the price of storing luggage in Seattle?
The price for storing luggage in Seattle with LuggageHero is only an hour, per bag. The maximum daily fee will always be only $7.95 per day, per bag.
Will my luggage in Seattle be safe with LuggageHero?
All luggage storage locations are verified for safety and carefully trained by our team before being listed on the site.
Can I store my luggage in Seattle during COVID-19?
Yes, you can store your luggage in Seattle during COVID-19. However, you must pay extra attention to restrictions and doing your best to help prevent the spread of the virus. Read the full guide above to learn more about how to protect yourself and others when you store your bags in Seattle.
Can I store my luggage in Seattle-Tacoma International Airport?
Yes, there are luggage options in Seattle-Tacoma International Airport. You can store small bags for $8 and regular suitcases for $10. Find more information about storing luggage at Seattle-Tacoma International Airport by reading the article above.
I have a problem with my luggage storage booking in Seattle.
If you encounter a problem with a luggage storage booking, you can email us at contact@luggagehero.com and we will get back to you and solve the problem as quickly as possible.
Insurance and safe luggage storage
In the collaboration with First Marine Insurance Ltd., we are proud to be covering each piece of luggage free of charge every time you use our luggage service. The premium insurance is optional, you can easily add it when making your booking and it will cover your bags for up to $3,000/€2500 while being stored. On the other hand, if you decide not to add insurance, there is always a guarantee of $500. Make sure you do not pay cash in a drop-off/pick-up shop, because insurance will not cover any bookings that are not paid directly through LuggageHero
LuggageHero en la prensa
"LuggageHero, which offers online booking with a credit card — thus, eliminating the need for users to have local currency on hand — is one of the most recent players to expand its services. In December the company began operating in New York, where today it has some 250 locations."

"One solution is LuggageHero, which was already on the scene in Copenhagen and London, and has now expanded into New York. Its selling point is that it lets you store your luggage in a local shop, café or hotel, which is often more convenient than having to go to a storage facility at a train station."

"LuggageHero, which Jannik Lawaetz founded in 2016, currently has more than 300 storage locations in six cities (New York, London, Copenhagen, Lisbon, Madrid and Barcelona) and plans to expand to 39 cities by January 2020."

"LuggageHero founder and chief executive Jannik Lawaetz says that the concept was inspired by that mother of invention — necessity — and Airbnb. A couple of years ago, he and his girlfriend rented an apartment in Barcelona via the home-share service. They had a later flight on their day of departure and wanted to continue exploring the city, but didn't want to lug their suitcases around. "