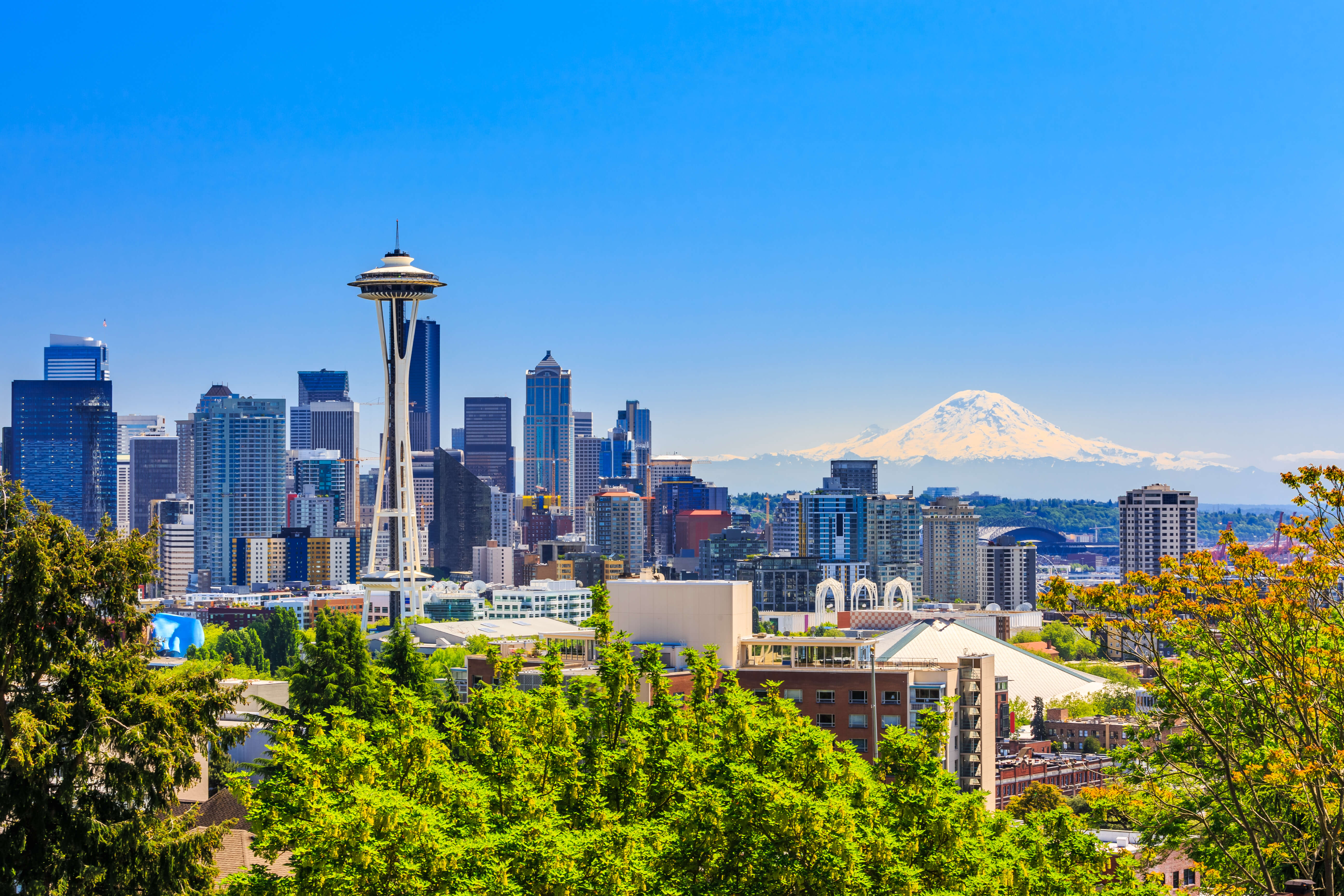 Luggage Storage Seattle
Carry Less, Do More
Luggage Storage Seattle
You've just arrived at Seattle airport, and you want to start your day? That can be difficult if you can't check in at your rental or hotel right away, and your suitcases are slowing you down. Instead, you can easily store your luggage in Seattle.
Next time you're in Seattle, remember that LuggageHero is here to save the day! You can check the map below to find the most convenient locations to store your luggage, and remember, LuggageHero is the only luggage storage service that offers hourly and daily rates for maximum flexibility. 
Drop off your bags by using LuggageHero's network of local shops and hotels located in Seattle. 
Luggage storage has never been more accessible! Just go to the LuggageHero reservation platform to find a handy storage site inside a shop or other business – all verified by us. Using our map, you can locate the shops close to transportation hubs and top visitor attractions and store your luggage there.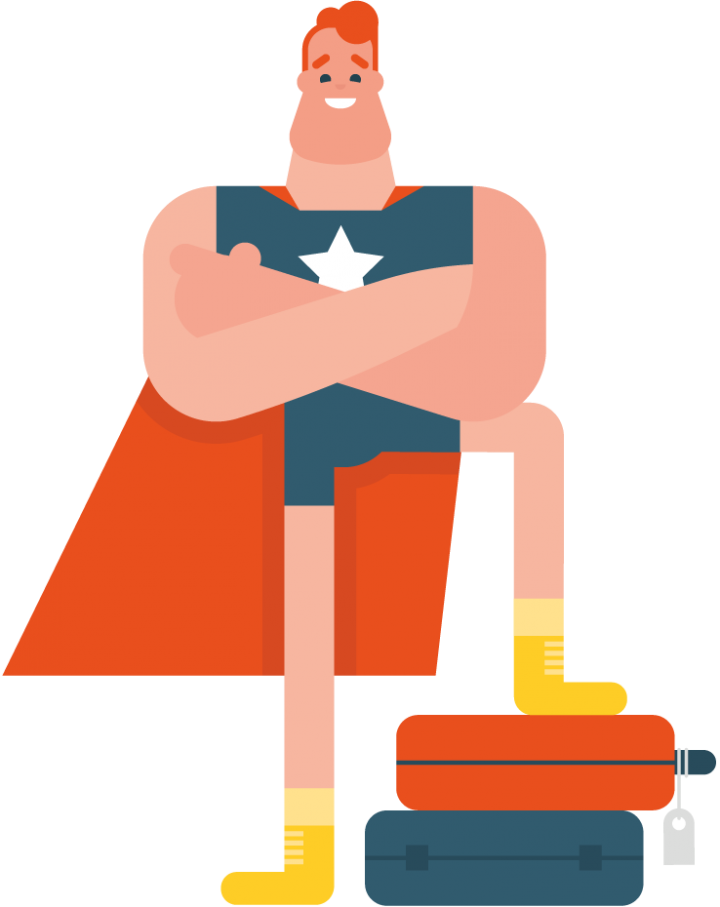 Luggage storage near Seattle-Tacoma International Airport
Seattle Airport Storage options:
If you find yourself in Seattle, chances are that you will be going through the Seattle-Tacoma International Airport (the main commercial airport of the Seattle metro area) and will be in need of luggage storage nearby. If you have a short layover and need to store luggage at the airport, then Smarte Carte's Baggage Storage has a luggage storage facility located on the arrivals level of Baggage Claim 9.  The opening hours for the luggage storage area are from 05:30 until 00:30. The prices start at $8 for a small carry-on bag and go up to $10 for regular suitcases. You can find a full price list here.
If you are looking to store your luggage closer to you as you explore the city, you should look into alternative options with LuggageHero as we offer locations throughout the city.
Remember to be careful when storing your luggage in Seattle! See the full guide here.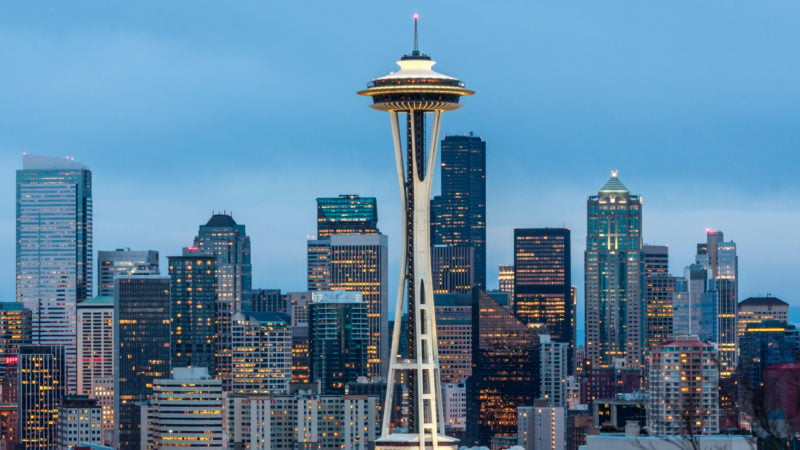 Seattle
Seattle, a Pacific Northwest metropolis on Puget Sound, is surrounded by sea, mountains, and evergreen woods, with thousands of acres of parkland. With Microsoft and Amazon located in its metropolitan region, it is Washington State's largest city and home to a huge tech economy. Its most famous feature is the futuristic Space Needle, which was built as part of the 1962 World's Fair.
It is the United States' northernmost significant city, located about 100 miles (160 km) south of the Canadian border. Seattle is the fourth-largest port in North America in terms of container throughput as of 2015. It is an important gateway for trading with East Asia.
Seattle is called as "Rain City," "The Coffee Capital of the World," and "Jet City" because of its lush forests.
Fun Facts about Seattle
The land that is now the city of Seattle has been inhabited for at least 4,000 years
Seattle is the birthplace of Starbucks, the world's largest coffee chain. If you ever visit, you can get yourself a unique coffee mug that you can only find there
Seattle is home to the world's first gas station, opened on East Marginal Way in 1907
Is Seattle a really sunny city? Apparently, people in Seattle buy more sunglasses per capita than any other US city
Major and popular stations in Seattle
Space Needle – is an observation tower in Seattle, Washington, United States. Considered to be an icon of the city and the Pacific Northwest, it has been designated a Seattle landmark. Located in the Lower Queen Anne neighborhood, it was built in the Seattle Center for the 1962 World's Fair, which drew over 2.3 million visitors.
King Street Station – It held the honors of being the city's first large, modern terminal when it opened during the early 20th century, replacing an earlier structure for the Great Northern and Northern Pacific
Westlake Station – It is a light rail station that is part of the Downtown Seattle Transit Tunnel in Seattle, Washington, United States. The station is located under Pine Street between the 3rd and 6th avenues in Downtown Seattle, near Westlake Center and Westlake Park.
By simply searching for luggage locker or locker rentals near me in your search bar you can easily find the closest storage near you.
2023 Guide: Luggage Storage Seattle
You may be confused with the rules and regulations and wonder where bags and luggage are allowed in your travel destination. LuggageHero understands your pain and is happy to give you a big help. You just simply click Find Luggage Storage & Lockers in Seattle and have a quick look to find all the updated information for your amazing trip.
Check out why KnockKnock recommends storing your baggage with LuggageHero!  Also been featured in The New York Times, Lonely Planet, and CNBC.
Pricing
Luggagehero is the ONLY luggage storage service that offers you a choice of hourly or daily rates in Seattle. A flat rate starting at $5.95 per day and from $0.95 per hour allows you to pick an option that will best suit your needs. If you're only planning on staying for a few hours in a city, why pay for an entire day, as you would with other luggage storage services?  All luggage is covered against damage, loss, and theft.
Half price compared to station lockers and airport lockers
Luggage lockers, also called city lockers, are generally at least double as expensive on a daily basis compared to LuggageHero's luggage storage service.
Until recently, travelers could only stow their bags in these luggage lockers offering very little flexibility in regard to pricing and where to go, and luggage deposit. Also, LuggageHero offers stores in countless places in order for you to always have the option of dropping off your luggage in a safe environment. Unlike luggage lockers in stations and airports, LuggageHero offers both hourly and daily rates. LuggageHero strives to offer flexible and cheap luggage storage nearby you at all times. 
We store all kinds of luggage – any size and any shape
LuggageHero's users can store luggage of any size and/or shape in any of our store locations. It doesn't matter if it is ski equipment, photo equipment, or backpacks. In other words, you can get baggage storage, suitcase storage, luggage deposit, or whatever our satisfied customers call it in a safe way as we accommodate it all. LuggageHero's customers can choose to be charged by the hour or choose our daily rate, regardless of what they store.
We can stow your bags for several days
LuggageHero also provides multi-day storage because we know flexibility is essential when you travel.
LuggageHero offers a lower daily rate when you store your luggage for longer. From the second day onwards, our customers pay from only $5.95 per bag per day.
Download LuggageHero's free luggage storage app
For even more comfort and ease, you can download LuggageHero's bag storage app. There you can see all our locations around you.
Opening hours
We have a variety of stores with different opening hours, so choose what fits you best! Go and pick the store here to see the opening hours.
Which payment methods are accepted?
You don't need to worry about having the right currency on hand when paying online. All major credit cards are accepted. The shops do not receive cash when using LuggageHero. The insurance on your luggage is valid only if the payment has been made directly to LuggageHero.
We provide the solution to your luggage storage problem in verified shops
LuggageHero is here to set you free from your luggage so you can explore Seattle without your bags. Just go to our booking platform and find the nearest and most handy storage space inside a shop, hotel, or another business.
All our luggage storage locations in Seattle and in our other cities are verified by us. Using the LuggageHero map, you can easily find the shops that are nearest to the metro stops and attractions and store your luggage there. 
Is there a difference between left luggage and luggage storage?
Left luggage and luggage storage are basically the same things.  The term "left luggage" is mostly used in the UK. Luggage storage is the most common name used internationally when referring to storing luggage. They are both defined by people's need to store luggage that can be collected at a later time. So whether you are looking for "left luggage" or "luggage storage," LugaggeHero is here to take care of your belongings.
Safety
Unlike other luggage storage services, all our shops in Seattle have been reviewed by a LuggageHero employee, and each piece of luggage and its contents can be insured for up to .
You will not find any other luggage storage providers in Seattle that offer the same.
Why book luggage storage in Seattle with LuggageHero?
Convenience:

We are the only service that offers both hourly and daily options,  so you can choose what best fits your plans for the most affordable price!

Flexibility: From overnight storage to just a few hours, our luggage storage options are as flexible as it gets! We even have some stores where you don't need a reservation.  Click here

 to check which stores.

Affordability:

Our luggage storage facilities offer the best value for money

Trust:

Our service has the best and the most reviews around. 
LuggageHero redefines convenience for travelers. Take advantage of our generous baggage allowance and leave your luggage and carry-on bags in our secure, innovative, and environmentally friendly locker storage. You can easily bounce into our store and embark on your adventures unburdened by heavy luggage! 
Cancellation of booking
For same-day cancellations, a fee of €5.00/$5.00/£5.00/DKK30.00 per bag will be charged for the booking, and for no-shows, there will be a fee that equals the daily rate at the selected storage location starting at $5.95 per bag.
Luggage storage chart
Based on the chart below, LuggageHero is the best luggage storage option in Seattle. LuggageHero is the only one that offers both hourly and daily prices with the possibility of insurance. Luggage storage in Seattle has never been so easy!
The chart is created based on the most popular luggage storage options.
Name
Pricing models
Insurance
Flexible arrival
Reviews
Name
Pricing models
Insurance
Flexible arrival
Reviews
LuggageHero
Daily, Hourly, & multi-day
Up to $3000
Yes
+140.000
Name
Pricing models
Insurance
Flexible arrival
Reviews
NannyBag
Daily
Up to $1100
No
27,802
Name
Pricing models
Insurance
Flexible arrival
Reviews
Vertoe
Daily
Up to $5000
No
4,708
Name
Pricing models
Insurance
Flexible arrival
Reviews
Radical Storage
Daily
No
No
900
Download our free app
For greater convenience,  you can download our LuggageHero bag storage app, where you can easily see all our locations around Seattle. With our luggage storage app, you are able to store your bags anywhere in our 1000+ locations.
Discount Vouchers – Click here to see if we have any available at the moment for Seattle.
Also been featured in The New York Times, Lonely Planet, and CNBC.
Frequently Asked Questions about Luggage Storage in Seattle
Is it possible to store luggage in Seattle?
Yes, you can easily store luggage all over Seattle. Use the LuggageHero app to easily book your storage online and only pay for the amount of hours you store your bag with a maximum daily cap of 8$ per day.
What is the price of storing luggage in Seattle?
The price for storing luggage in Seattle with LuggageHero is only an hour, per bag. The maximum daily fee will always be only $5.95 per day, per bag.
Will my luggage in Seattle be safe with LuggageHero?
All luggage storage locations are verified for safety and carefully trained by our team before being listed on the site.
Can I store my luggage in Seattle during COVID-19?
Yes, you can store your luggage in Seattle during COVID-19. However, you must pay extra attention to restrictions and doing your best to help prevent the spread of the virus. Read the full guide above to learn more about how to protect yourself and others when you store your bags in Seattle.
Can I store my luggage in Seattle-Tacoma International Airport?
Yes, there are luggage options in Seattle-Tacoma International Airport. You can store small bags for $8 and regular suitcases for $10. Find more information about storing luggage at Seattle-Tacoma International Airport by reading the article above.
I have a problem with my luggage storage booking in Seattle.
If you encounter a problem with a luggage storage booking, you can email us at contact@luggagehero.com and we will get back to you and solve the problem as quickly as possible.
Insurance and safe luggage storage
In the collaboration with First Marine Insurance Ltd., we are proud to be covering each piece of luggage free of charge every time you use our luggage service. The premium insurance is optional, you can easily add it when making your booking and it will cover your bags for up to $3,000/€2500 while being stored. On the other hand, if you decide not to add insurance, there is always a guarantee of $500. Make sure you do not pay cash in a drop-off/pick-up shop, because insurance will not cover any bookings that are not paid directly through LuggageHero
LuggageHero in the press
"LuggageHero, which offers online booking with a credit card — thus, eliminating the need for users to have local currency on hand — is one of the most recent players to expand its services. In December the company began operating in New York, where today it has some 250 locations."

"One solution is LuggageHero, which was already on the scene in Copenhagen and London, and has now expanded into New York. Its selling point is that it lets you store your luggage in a local shop, café or hotel, which is often more convenient than having to go to a storage facility at a train station."

"LuggageHero, which Jannik Lawaetz founded in 2016, currently has more than 300 storage locations in six cities (New York, London, Copenhagen, Lisbon, Madrid and Barcelona) and plans to expand to 39 cities by January 2020."

"LuggageHero founder and chief executive Jannik Lawaetz says that the concept was inspired by that mother of invention — necessity — and Airbnb. A couple of years ago, he and his girlfriend rented an apartment in Barcelona via the home-share service. They had a later flight on their day of departure and wanted to continue exploring the city, but didn't want to lug their suitcases around. "