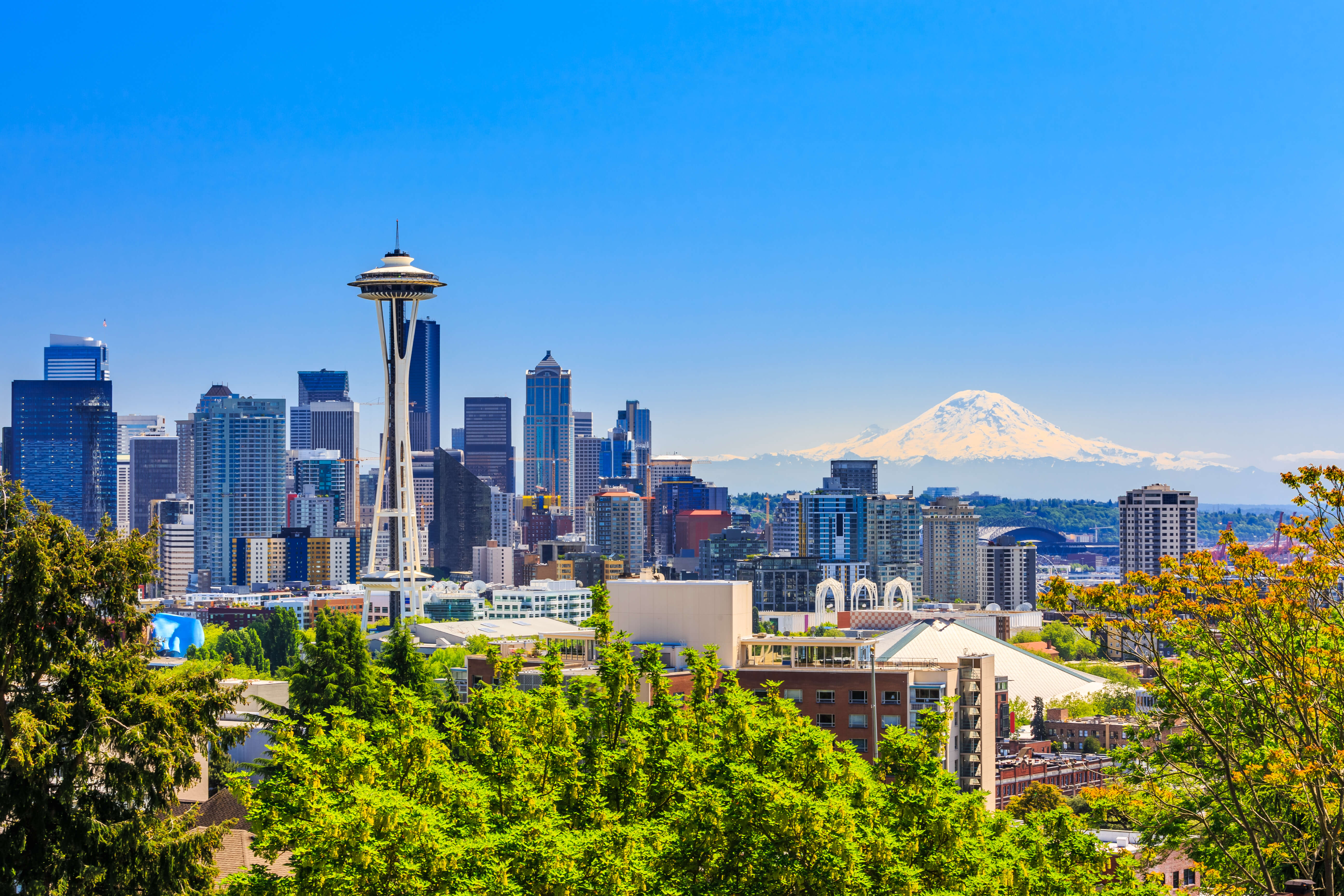 Bagageopslag Seattle
Bewaar je bagage op een gecertificeerde locatie vanaf $0.95 per uur
+1M tassen veilig opgeslagen
Bagageopslag Seattle
Je bent net geland op het vliegveld van Seattle en wil erop uit? Dat is niet altijd even eenvoudig als je nog niet kunt inchecken in je hotel of accommodatie, en koffers mee hebt. Sla je bagage daarom gewoon op in Seattle.
En de volgende keer dat je in Seattle bent, staat LuggageHero opnieuw voor je klaar! Bekijk de onderstaande kaart en vind de beste locaties voor het eenvoudig bewaren van je bagage. En vergeet niet: LuggageHero is de enige aanbieder van bagageopslag met uur- en dagtarieven voor maximale flexibiliteit. 
Bewaar je bagage in een van de vele lokale winkels en hotels in het netwerk van LuggageHero in Seattle. 
Bagage opslaan was nog nooit zo makkelijk! Ga simpelweg naar het reserveringsplatform van LuggageHero en kies de winkel of andere locatie die voor jou het gemakkelijkst is. Altijd door ons geverifieerd. Gebruik onze kaart om winkels te vinden in de buurt van verkeersknooppunten en toeristische attracties en bewaar je bagage daar.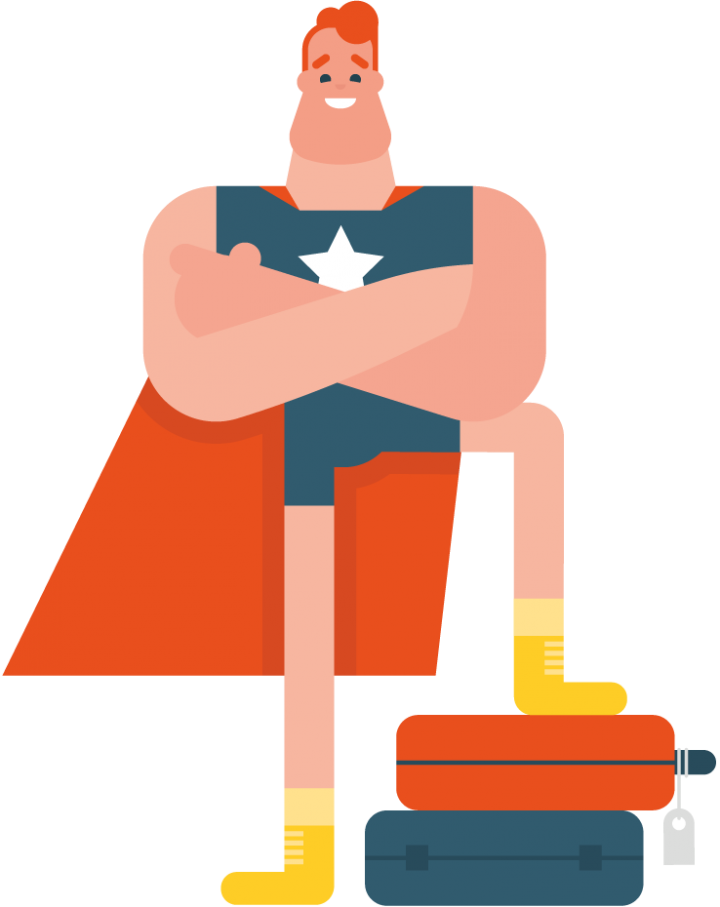 Luggage storage near Seattle-Tacoma International Airport
Seattle Airport Storage options:
If you find yourself in Seattle, chances are that you will be going through the Seattle-Tacoma International Airport (the main commercial airport of the Seattle metro area) and will be in need of luggage storage nearby. If you have a short layover and need to store luggage at the airport, then Smarte Carte's Baggage Storage has a luggage storage facility located on the arrivals level of Baggage Claim 9.  The opening hours for the luggage storage area are from 05:30 until 00:30. The prices start at $8 for a small carry-on bag and go up to $10 for regular suitcases. You can find a full price list here.
If you are looking to store your luggage closer to you as you explore the city, you should look into alternative options with LuggageHero as we offer locations throughout the city.
Remember to be careful when storing your luggage in Seattle! See the full guide here.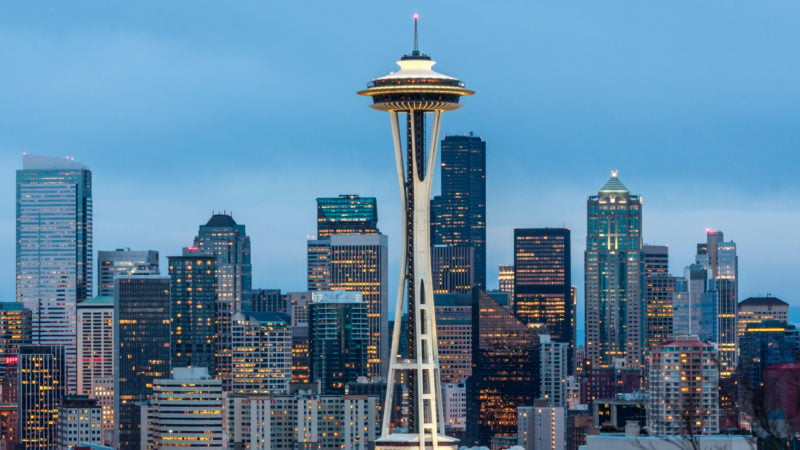 Seattle
Seattle, a Pacific Northwest metropolis on Puget Sound, is surrounded by sea, mountains, and evergreen woods, with thousands of acres of parkland. With Microsoft and Amazon located in its metropolitan region, it is Washington State's largest city and home to a huge tech economy. Its most famous feature is the futuristic Space Needle, which was built as part of the 1962 World's Fair.
It is the United States' northernmost significant city, located about 100 miles (160 km) south of the Canadian border. Seattle is the fourth-largest port in North America in terms of container throughput as of 2015. It is an important gateway for trading with East Asia.
Seattle is called as "Rain City," "The Coffee Capital of the World," and "Jet City" because of its lush forests.
Fun Facts about Seattle
The land that is now the city of Seattle has been inhabited for at least 4,000 years
Seattle is the birthplace of Starbucks, the world's largest coffee chain. If you ever visit, you can get yourself a unique coffee mug that you can only find there
Seattle is home to the world's first gas station, opened on East Marginal Way in 1907
Is Seattle a really sunny city? Apparently, people in Seattle buy more sunglasses per capita than any other US city
Major and popular stations in Seattle
Space Needle – is an observation tower in Seattle, Washington, United States. Considered to be an icon of the city and the Pacific Northwest, it has been designated a Seattle landmark. Located in the Lower Queen Anne neighborhood, it was built in the Seattle Center for the 1962 World's Fair, which drew over 2.3 million visitors.
King Street Station – It held the honors of being the city's first large, modern terminal when it opened during the early 20th century, replacing an earlier structure for the Great Northern and Northern Pacific
Westlake Station – It is a light rail station that is part of the Downtown Seattle Transit Tunnel in Seattle, Washington, United States. The station is located under Pine Street between the 3rd and 6th avenues in Downtown Seattle, near Westlake Center and Westlake Park.
By simply searching for luggage locker or locker rentals near me in your search bar you can easily find the closest storage near you.
2023 Guide: Luggage Storage Seattle
You may be confused with the rules and regulations and wonder where bags and luggage are allowed in your travel destination. LuggageHero understands your pain and is happy to give you a big help. You just simply click Find Luggage Storage & Lockers in Seattle and have a quick look to find all the updated information for your amazing trip.
Check out why KnockKnock recommends storing your baggage with LuggageHero!  Also been featured in The New York Times, Lonely Planet, and CNBC.
Prijzen
LuggageHero is de ENIGE aanbieder van bagageopslag waarbij je kunt kiezen tussen uur- en dagtarieven in Seattle. Dankzij de vaste prijs van $5.95 per dag of $0.95 per uur kun je altijd kiezen voor de optie die het best bij je past. Blijf je ergens maar een paar uur, dan wil je natuurlijk niet voor een hele dag betalen – zoals je bij andere aanbieders van bagageopslag wel zou doen.  Alle bagage is verzekerd tegen schade, verlies en diefstal. Een borgzegel kan worden verstrekt als je dit hebt toegevoegd aan je boeking. 
De helft van de prijs vergeleken met kluisjes op het treinstation en vliegveld
Bagagekluisjes of stadskluisjes zijn per dag meestal twee keer zo duur als het bewaren van je bagage bij LuggageHero.
Tot voor kort konden reizigers hun koffers alleen in deze kluisjes opbergen. Dat betekende dat er maar weinig keuze was als het aankwam op prijs en locatie. De bij LuggageHero aangesloten winkels bevinden zich overal in de stad, zodat je altijd de mogelijkheid hebt om je bagage op een veilige locatie te bewaren. In tegenstelling tot kluisjes op het treinstation en vliegveld, heb je bij LuggageHero de keuze uit uur- en dagtarieven. De missie van LuggageHero is om flexibele en goedkope opties voor bagageopslag te bieden, waar je ook bent. 
Onze geverifieerde winkels zijn de oplossing voor je bagageopslagprobleem
LuggageHero helpt je met je bagage, zodat jij Seattle eropuit kunt zonder je bagage mee te zeulen. Ga naar ons boekingsplatform en vind de dichtstbijzijnde bewaarlocatie in een winkel, hotel of bij een van onze andere partners.
Al onze locaties in Seattle en in onze andere steden zijn door ons geverifieerd. Gebruik de kaart van LuggageHero om eenvoudig een van onze partners te vinden en je bagage op te slaan in de buurt van metrohaltes of toeristische attracties. 
Wij bewaren alle bagage, van elke vorm en grootte
Gebruikers van LuggageHero kunnen alle soorten bagage bewaren bij een van onze partnerlocaties. Het maakt niet uit of het om skispullen, fotoapparatuur of rugtassen gaat. Met andere woorden: je kunt onze bagageopslag, kofferopslag, bagagedepot of hoe onze tevreden klanten het ook noemen, altijd op een veilige manier gebruiken. Klanten van LuggageHero kunnen kiezen uit uur- of dagtarieven, ongeacht hun type bagage.
We kunnen je bagage meerdere dagen bewaren
LuggageHero biedt ook de mogelijkheid om je bagage meerdere dagen te bewaren. We weten namelijk hoe belangrijk flexibiliteit is als je op reis bent.
Sla je je bagage voor langere tijd op, dan profiteer je van een lager dagtarief. Vanaf de tweede dag betalen klanten van LuggageHero slechts $5.95 per bagagestuk per dag.
Download de gratis app van LuggageHero:
Voor nog meer comfort en gebruiksgemak, download je de LuggageHero-app. In de app vind je al onze locaties bij jou in de buurt.
Openingstijden
We werken met verschillende winkels met verschillende openingstijden. Kies de partner die het beste bij je past! Klik hier om de openingstijden van onze partners te zien.
Welke betaalmethodes worden geaccepteerd?
Je hoeft je geen zorgen te maken over de juiste valuta als je online betaalt. We accepteren de meest gangbare creditcards. In de winkel hoef je niet contant te betalen om LuggageHero te gebruiken. Je bagageverzekering is alleen geldig als je de betaling direct aan LuggageHero hebt gedaan.
Is er een verschil tussen bagage achterlaten en bagage opslaan?
Bagage achterlaten en bagage opslaan is eigenlijk hetzelfde.  Beide termen worden door elkaar heen gebruikt. Bagage opslaan is internationaal echter de meestgebruikte term. Uiteindelijk draait het om hetzelfde: je hebt een plek nodig waar je je bagage kwijt kunt en later weer kunt ophalen. Dus, om welk type opslag het ook gaat: LuggageHero staat voor je klaar.
Veiligheid
In tegenstelling tot andere aanbieders van bagageopslag, zijn al onze winkels in Seattle geverifieerd door een medewerker van LuggageHero. Ook geven we je de optie om borgzegels toe te voegen aan je boeking voor elk bagagestuk en is de inhoud ervan verzekerd tot .
Geen enkele andere aanbieder van bagageopslag in Seattle doet ons dit na!
Waarom bagageopslag boeken in Seattle via LuggageHero?
Gemak:

Wij zijn de enige aanbieder die zowel uur- als dagtarieven hanteert. Je kunt dus altijd een betaalbare optie kiezen die past bij je reisplannen!

Flexibiliteit: Van meerdaagse opslag tot een paar uur, onze opties voor het bewaren van je bagage zijn ontzettend flexibel! Bij sommige van onze partners heb je zelfs geen reservering nodig.  Klik hier

 om te zien om welke partners het gaat.

Betaalbaarheid:

Onze bagageopslaglocaties bieden waar voor je geld

Vertrouwen:

Onze oplossingen hebben de beste en meeste beoordelingen. 
Boekingen annuleren
Voor annuleringen op dezelfde dag of als je niet komt opdagen, wordt een vergoeding gerekend gelijk aan het dagtarief van $5.95 per koffer.
Bagageopslagtabel
Op basis van de onderstaande tabel zie je dat LuggageHero de beste aanbieder van bagageopslag is in Seattle. LuggageHero is de enige aanbieder die zowel uur- als dagtarieven aanbiedt met de mogelijkheid tot verzekering. Bagageopslag in Seattle was nog nooit zo eenvoudig!
De tabel is gebaseerd op de populairste opties voor bagageopslag.
Name
Pricing models
Insurance
Flexible arrival
Reviews
Name
Pricing models
Insurance
Flexible arrival
Reviews
LuggageHero
Daily, Hourly, & multi-day
Up to $3000
Yes
+140.000
Name
Pricing models
Insurance
Flexible arrival
Reviews
NannyBag
Daily
Up to $1100
No
27,802
Name
Pricing models
Insurance
Flexible arrival
Reviews
Vertoe
Daily
Up to $5000
No
4,708
Name
Pricing models
Insurance
Flexible arrival
Reviews
Radical Storage
Daily
No
No
900
Download onze gratis app
Voor maximaal gemak download je onze LuggageHero-app. In de app zie je alle locaties in Seattle in één oogopslag. Met onze app kun je je bagage opslaan op een van onze 1.000+ locaties.
Kortingscodes: klik hier om te zien of er op dit moment kortingsacties zijn in Seattle.
Lees waarom KnockKnock aanraadt om bagage te bewaren met LuggageHero. Ook bekend van The New York Times, Lonely Planet en CNBC.
Frequently Asked Questions about Luggage Storage in Seattle
Is it possible to store luggage in Seattle?
Yes, you can easily store luggage all over Seattle. Use the LuggageHero app to easily book your storage online and only pay for the amount of hours you store your bag with a maximum daily cap of 8$ per day.
What is the price of storing luggage in Seattle?
The price for storing luggage in Seattle with LuggageHero is only an hour, per bag. The maximum daily fee will always be only $5.95 per day, per bag.
Will my luggage in Seattle be safe with LuggageHero?
All luggage storage locations are verified for safety and carefully trained by our team before being listed on the site.
Can I store my luggage in Seattle during COVID-19?
Yes, you can store your luggage in Seattle during COVID-19. However, you must pay extra attention to restrictions and doing your best to help prevent the spread of the virus. Read the full guide above to learn more about how to protect yourself and others when you store your bags in Seattle.
Can I store my luggage in Seattle-Tacoma International Airport?
Yes, there are luggage options in Seattle-Tacoma International Airport. You can store small bags for $8 and regular suitcases for $10. Find more information about storing luggage at Seattle-Tacoma International Airport by reading the article above.
I have a problem with my luggage storage booking in Seattle.
If you encounter a problem with a luggage storage booking, you can email us at contact@luggagehero.com and we will get back to you and solve the problem as quickly as possible.
Insurance and safe luggage storage
In the collaboration with First Marine Insurance Ltd., we are proud to be covering each piece of luggage free of charge every time you use our luggage service. The premium insurance is optional, you can easily add it when making your booking and it will cover your bags for up to $3,000/€2500 while being stored. On the other hand, if you decide not to add insurance, there is always a guarantee of $500. Make sure you do not pay cash in a drop-off/pick-up shop, because insurance will not cover any bookings that are not paid directly through LuggageHero
LuggageHero in de pers
"LuggageHero, which offers online booking with a credit card — thus, eliminating the need for users to have local currency on hand — is one of the most recent players to expand its services. In December the company began operating in New York, where today it has some 250 locations."

"One solution is LuggageHero, which was already on the scene in Copenhagen and London, and has now expanded into New York. Its selling point is that it lets you store your luggage in a local shop, café or hotel, which is often more convenient than having to go to a storage facility at a train station."

"LuggageHero, which Jannik Lawaetz founded in 2016, currently has more than 300 storage locations in six cities (New York, London, Copenhagen, Lisbon, Madrid and Barcelona) and plans to expand to 39 cities by January 2020."

"LuggageHero founder and chief executive Jannik Lawaetz says that the concept was inspired by that mother of invention — necessity — and Airbnb. A couple of years ago, he and his girlfriend rented an apartment in Barcelona via the home-share service. They had a later flight on their day of departure and wanted to continue exploring the city, but didn't want to lug their suitcases around. "