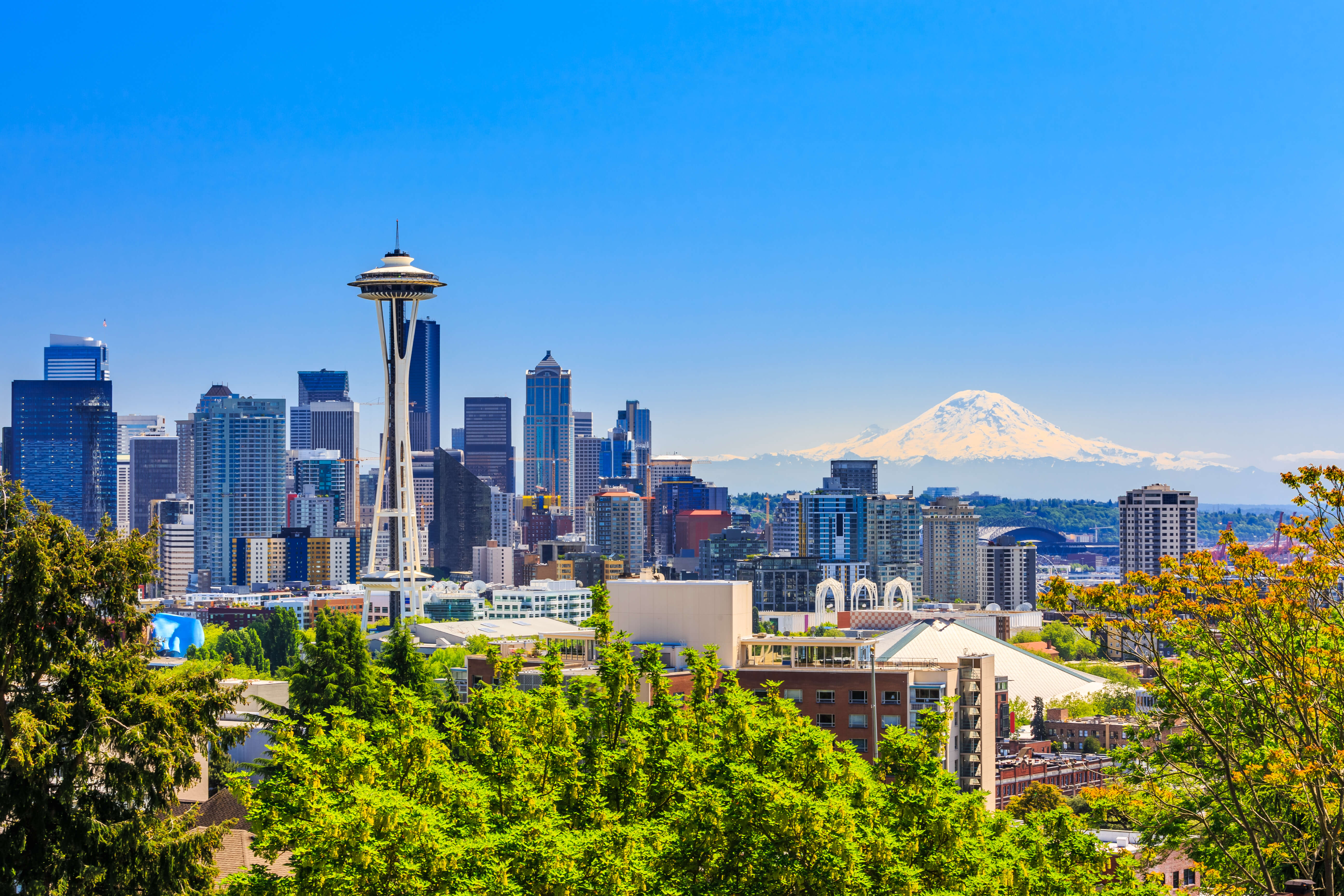 Depósito de Bagagem Seattle
Guarde as suas malas num hotel ou loja certificados a partir de $0.95/hora
+1M de sacolas armazenadas com segurança
Depósito de Bagagem Seattle
Acabou de chegar ao aeroporto de Seattle e pretende começar o seu dia? Tal pode ser difícil se não puder fazer logo o check-in onde irá ficar e as suas malas tornam-se um problema. Em vez disso, pode facilmente guardar a sua bagagem em Seattle.
Da próxima vez que estiver em Seattle, lembre-se de que a LuggageHero está aqui para salvar-lhe o dia! Consulte o mapa abaixo para encontrar os locais mais cómodos para guardar a sua bagagem e lembre-se: a LuggageHero é o único serviço de depósito de bagagem que oferece tarifas horárias e diárias para a máxima flexibilidade. 
Guarde comodamente a sua bagagem utilizando a rede de lojas e hotéis locais da LuggageHero em Seattle. 
Guardar a sua bagagem nunca foi tão fácil! Basta ir à plataforma de reservas LuggageHero para encontrar um local de depósito útil dentro de uma loja ou outro estabelecimento – tudo verificado por nós. Utilizando o nosso mapa, pode localizar as lojas mais próximas dos principais pólos de transportes e das atrações turísticas e guardar lá a sua bagagem.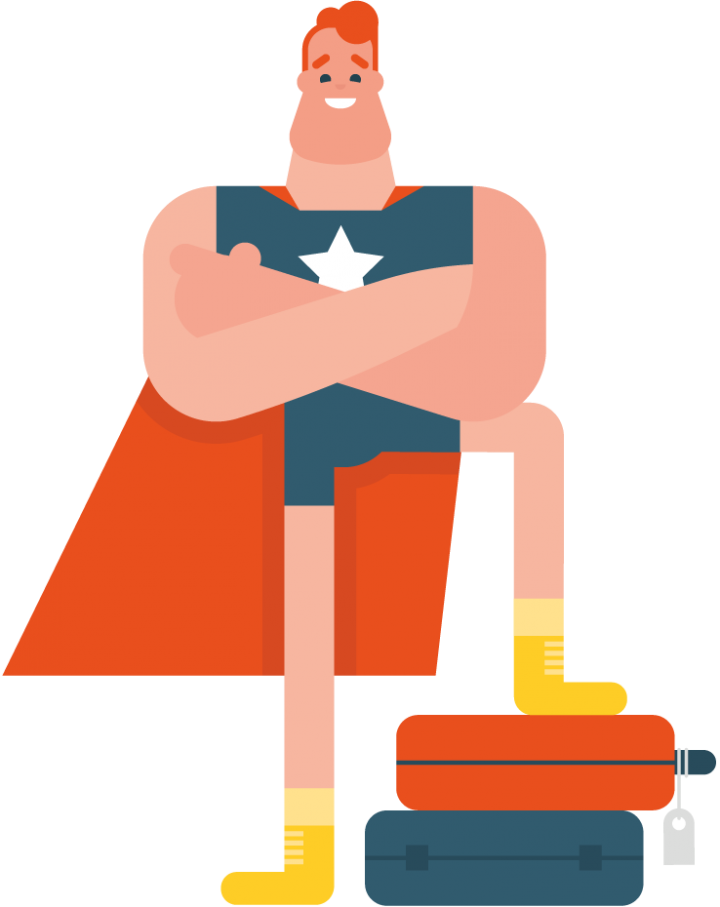 Luggage storage near Seattle-Tacoma International Airport
Seattle Airport Storage options:
If you find yourself in Seattle, chances are that you will be going through the Seattle-Tacoma International Airport (the main commercial airport of the Seattle metro area) and will be in need of luggage storage nearby. If you have a short layover and need to store luggage at the airport, then Smarte Carte's Baggage Storage has a luggage storage facility located on the arrivals level of Baggage Claim 9.  The opening hours for the luggage storage area are from 05:30 until 00:30. The prices start at $8 for a small carry-on bag and go up to $10 for regular suitcases. You can find a full price list here.
If you are looking to store your luggage closer to you as you explore the city, you should look into alternative options with LuggageHero as we offer locations throughout the city.
Remember to be careful when storing your luggage in Seattle! See the full guide here.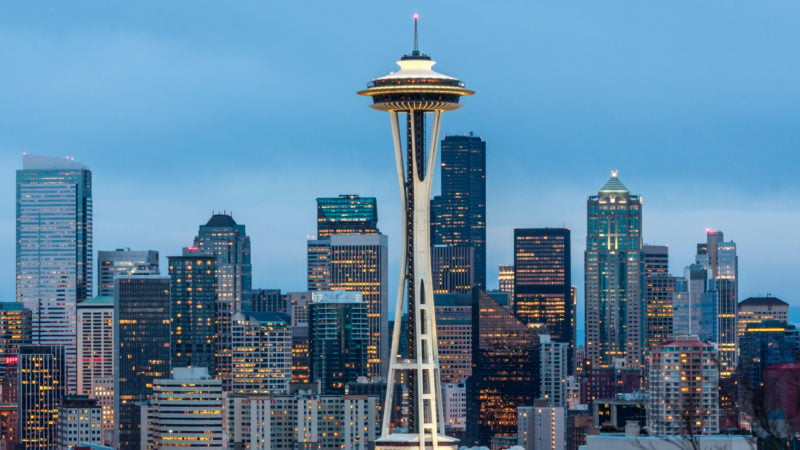 Seattle
Seattle, a Pacific Northwest metropolis on Puget Sound, is surrounded by sea, mountains, and evergreen woods, with thousands of acres of parkland. With Microsoft and Amazon located in its metropolitan region, it is Washington State's largest city and home to a huge tech economy. Its most famous feature is the futuristic Space Needle, which was built as part of the 1962 World's Fair.
It is the United States' northernmost significant city, located about 100 miles (160 km) south of the Canadian border. Seattle is the fourth-largest port in North America in terms of container throughput as of 2015. It is an important gateway for trading with East Asia.
Seattle is called as "Rain City," "The Coffee Capital of the World," and "Jet City" because of its lush forests.
Fun Facts about Seattle
The land that is now the city of Seattle has been inhabited for at least 4,000 years
Seattle is the birthplace of Starbucks, the world's largest coffee chain. If you ever visit, you can get yourself a unique coffee mug that you can only find there
Seattle is home to the world's first gas station, opened on East Marginal Way in 1907
Is Seattle a really sunny city? Apparently, people in Seattle buy more sunglasses per capita than any other US city
Major and popular stations in Seattle
Space Needle – is an observation tower in Seattle, Washington, United States. Considered to be an icon of the city and the Pacific Northwest, it has been designated a Seattle landmark. Located in the Lower Queen Anne neighborhood, it was built in the Seattle Center for the 1962 World's Fair, which drew over 2.3 million visitors.
King Street Station – It held the honors of being the city's first large, modern terminal when it opened during the early 20th century, replacing an earlier structure for the Great Northern and Northern Pacific
Westlake Station – It is a light rail station that is part of the Downtown Seattle Transit Tunnel in Seattle, Washington, United States. The station is located under Pine Street between the 3rd and 6th avenues in Downtown Seattle, near Westlake Center and Westlake Park.
By simply searching for luggage locker or locker rentals near me in your search bar you can easily find the closest storage near you.
2023 Guide: Luggage Storage Seattle
You may be confused with the rules and regulations and wonder where bags and luggage are allowed in your travel destination. LuggageHero understands your pain and is happy to give you a big help. You just simply click Find Luggage Storage & Lockers in Seattle and have a quick look to find all the updated information for your amazing trip.
Check out why KnockKnock recommends storing your baggage with LuggageHero!  Also been featured in The New York Times, Lonely Planet, and CNBC.
Preçário
O LuggageHero é o ÚNICO serviço de depósito de bagagem que lhe permite escolher entre tarifas diárias ou horárias em Seattle. Uma taxa fixa de $5.95 por dia e $0.95 por hora permite-lhe escolher a opção mais adequada às suas necessidades. Se planeia ficar apenas algumas horas numa cidade, porquê pagar por um dia inteiro como faria com outros serviços de depósito de bagagem?  Todas as bagagens estão protegidas contra danos, perda e roubo e é fornecido um selo de segurança se optar por adicioná-lo à sua reserva. 
Metade do preço em relação aos cacifos das estações e dos aeroportos
Os cacifos de bagagem, também chamados cacifos de cidade, correspondem normalmente ao dobro do preço diário, em comparação com o serviço de depósito de bagagem da LuggageHero.
Até recentemente, os viajantes só podiam arrumar as malas nestes cacifos de bagagem que oferecem muito pouca flexibilidade no que diz respeito aos preços, local e depósito de bagagem. Além disso, a LuggageHero disponibiliza o depósito em inúmeros locais para que tenha sempre a opção de deixar a sua bagagem num ambiente seguro. Ao contrário dos cacifos de bagagem nas estações e aeroportos, a LuggageHero oferece não só tarifas horárias como diárias. A LuggageHero esforça-se sempre por oferecer um depósito de bagagem flexível e barato perto de si. 
Fornecemos a solução ideal para o seu problema de depósito de bagagem em lojas verificadas
A LuggageHero está aqui para o ajudar a não ter de se preocupar com a sua bagagem, de forma a que possa explorar Seattle tudo livremente. Basta ir à nossa plataforma de reservas e encontrar o local de depósito mais próximo e cómodo dentro de uma loja, hotel, ou outro estabelecimento comercial.
Todas os estabelecimentos em Seattle e em outras cidades são verificados por nós. Ao utilizar o mapa LuggageHero, pode facilmente encontrar as lojas mais próximas das atrações turísticas e das estações de metro e guardar lá a sua bagagem. 
Guardamos todo o tipo de bagagem – qualquer tamanho ou formato
Os utilizadores da LuggageHero podem depositar bagagens de qualquer tamanho e/ou formato em qualquer uma das nossas lojas. Não importa se é equipamento fotográfico,de ski ou mochilas. Por outras palavras, pode depositar bagagens, malas, ou qualquer outro tipo de material de viagem de forma segura, pois guardamos tudo. Os clientes da LuggageHero podem optar pela tarifa horária ou diária, independentemente do que guardem.
Podemos guardar as suas malas durante vários dias seguidos
A LuggageHero também disponibiliza o depósito por vários dias porque sabemos que a flexibilidade é essencial quando se viaja.
A LuggageHero oferece uma tarifa diária mais reduzida quando guarda a sua bagagem por um período de tempo mais prolongado. A partir do segundo dia, os nossos clientes pagam apenas $5.95 por mala por dia.
Descarregue a app gratuita de depósito de bagagem da LuggageHero:
Para um maior conforto e comodidade, pode descarregar a app de depósito de bagagem da LuggageHero. Nela poderá ver a todos os locais perto de si.
Horário de funcionamento
Temos uma variedade de lojas com diferentes horários de funcionamento, por isso escolha a que melhor se adapta às suas necessidades! Consulte e escolha a loja aqui para ver o horário de funcionamento.
Que métodos de pagamento são aceites?
Se pagar online, não tem de se preocupar em ter a moeda certa. Todos os principais cartões de crédito são aceites. Os estabelecimentos não recebem numerário ao utilizar o LuggageHero. O seguro da sua bagagem só é válido se o pagamento for feito diretamente à LuggageHero.
Existe alguma diferença entre "armazenamento de bagagem" e "depósito de bagagem"?
"Armazenamento de bagagem" e "depósito de bagagem" são basicamente a mesma coisa.  O termo "armazenamento de bagagem" significa guardar uma bagagem para recolha posterior. "Depósito de bagagem" significa exatamente o mesmo é o nome mais comum utilizado internacionalmente quando se refere ao depósito de qualquer tipo de bagagem. Ambos os termos são definidos pela necessidade de depositar qualquer bagagem que possa ser recolhida posteriormente. Portanto, quer esteja à procura de "armazenamento de bagagem" ou "depósito de bagagem", a LuggageHero está aqui para tomar conta dos seus pertences.
Segurança
Ao contrário de outros serviços de depósito de bagagem, todas os nossos estabelecimentos em Seattle foram avaliados por um colaborador da LuggageHero. Fornecemos selos de segurança opcionais para cada bagagem e o seu conteúdo está assegurado até .
Não encontrará outro fornecedor de depósito de bagagem Seattle que ofereça o mesmo serviço.
Porquê fazer o depósito de bagagem em Seattle com a LuggageHero?
Comodidade:

Somos o único serviço que oferece tanto a opção de reserva horária como diária, para que possa escolher a que melhor se adapta aos seus planos ao preço mais acessível!

Flexibilidade: Desde o depósito noturno ao depósito por apenas algumas horas, as nossas opções para guardar a sua bagagem são as mais flexíveis! Até temos lojas onde não precisa de fazer reserva.  Clique aqui

 para consultar quais as lojas.

Preços acessíveis:

Os nossos estabelecimentos de depósito de bagagem oferecem a melhor relação custo-benefício

Confiança:

O nosso serviço tem as melhores avaliações do mercado. 
Cancelamento da reserva
Para cancelamentos no próprio dia e não comparência, será cobrada uma taxa diária de $5.95 por bagagem.
Gráfico de depósito de bagagem
Com base no gráfico abaixo, a LuggageHero é a melhor opção de depósito de bagagem em Seattle. A LuggageHero é a única que oferece tanto tarifas horárias como diárias com a possibilidade de seguro. Guardar a bagagem em Seattle nunca foi tão fácil!
O gráfico é criado com base nas opções mais populares de depósito de bagagem.
Name
Pricing models
Insurance
Flexible arrival
Reviews
Name
Pricing models
Insurance
Flexible arrival
Reviews
LuggageHero
Daily, Hourly, & multi-day
Up to $3000
Yes
+140.000
Name
Pricing models
Insurance
Flexible arrival
Reviews
NannyBag
Daily
Up to $1100
No
27,802
Name
Pricing models
Insurance
Flexible arrival
Reviews
Vertoe
Daily
Up to $5000
No
4,708
Name
Pricing models
Insurance
Flexible arrival
Reviews
Radical Storage
Daily
No
No
900
Descarregue a nossa app gratuita
Para uma maior comodidade, pode descarregar a app LuggageHero, onde pode consultar todas as nossas localizações perto de Seattle. Com a nossa app de depósito de bagagem, pode guardar as suas malas nos mais de 1000 locais disponíveis.
Cupões de Desconto – Clique aqui para ver se existe algum disponível neste momento para Seattle.
Verifique por que razão a KnockKnock recomenda guardar a sua bagagem com a LuggageHero. Também com destaque no The New York Times, Lonely Planet e CNBC.
Frequently Asked Questions about Luggage Storage in Seattle
Is it possible to store luggage in Seattle?
Yes, you can easily store luggage all over Seattle. Use the LuggageHero app to easily book your storage online and only pay for the amount of hours you store your bag with a maximum daily cap of 8$ per day.
What is the price of storing luggage in Seattle?
The price for storing luggage in Seattle with LuggageHero is only an hour, per bag. The maximum daily fee will always be only $5.95 per day, per bag.
Will my luggage in Seattle be safe with LuggageHero?
All luggage storage locations are verified for safety and carefully trained by our team before being listed on the site.
Can I store my luggage in Seattle during COVID-19?
Yes, you can store your luggage in Seattle during COVID-19. However, you must pay extra attention to restrictions and doing your best to help prevent the spread of the virus. Read the full guide above to learn more about how to protect yourself and others when you store your bags in Seattle.
Can I store my luggage in Seattle-Tacoma International Airport?
Yes, there are luggage options in Seattle-Tacoma International Airport. You can store small bags for $8 and regular suitcases for $10. Find more information about storing luggage at Seattle-Tacoma International Airport by reading the article above.
I have a problem with my luggage storage booking in Seattle.
If you encounter a problem with a luggage storage booking, you can email us at contact@luggagehero.com and we will get back to you and solve the problem as quickly as possible.
Insurance and safe luggage storage
In the collaboration with First Marine Insurance Ltd., we are proud to be covering each piece of luggage free of charge every time you use our luggage service. The premium insurance is optional, you can easily add it when making your booking and it will cover your bags for up to $3,000/€2500 while being stored. On the other hand, if you decide not to add insurance, there is always a guarantee of $500. Make sure you do not pay cash in a drop-off/pick-up shop, because insurance will not cover any bookings that are not paid directly through LuggageHero
LuggageHero en la prensa
"LuggageHero, which offers online booking with a credit card — thus, eliminating the need for users to have local currency on hand — is one of the most recent players to expand its services. In December the company began operating in New York, where today it has some 250 locations."

"One solution is LuggageHero, which was already on the scene in Copenhagen and London, and has now expanded into New York. Its selling point is that it lets you store your luggage in a local shop, café or hotel, which is often more convenient than having to go to a storage facility at a train station."

"LuggageHero, which Jannik Lawaetz founded in 2016, currently has more than 300 storage locations in six cities (New York, London, Copenhagen, Lisbon, Madrid and Barcelona) and plans to expand to 39 cities by January 2020."

"LuggageHero founder and chief executive Jannik Lawaetz says that the concept was inspired by that mother of invention — necessity — and Airbnb. A couple of years ago, he and his girlfriend rented an apartment in Barcelona via the home-share service. They had a later flight on their day of departure and wanted to continue exploring the city, but didn't want to lug their suitcases around. "