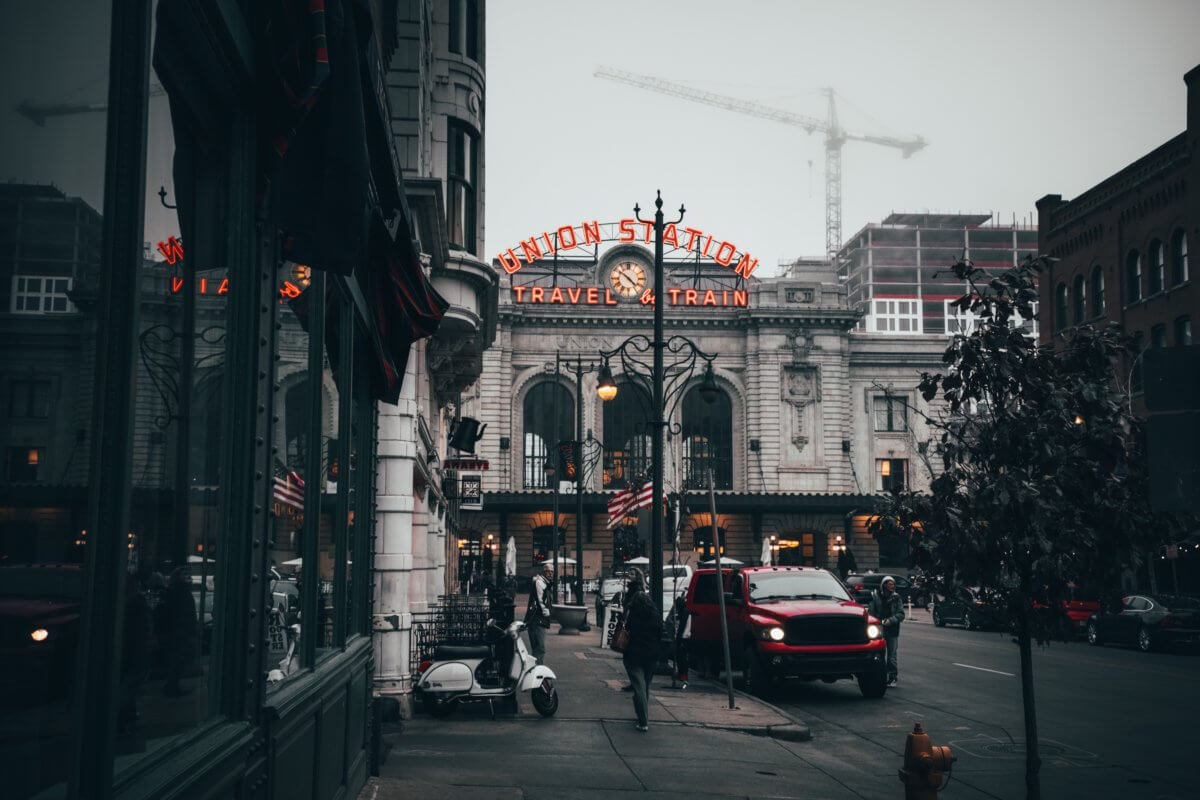 Guide: Luggage Storage in Denver
Look here if you are looking for lockers and places to leave your luggage in Denver:
If you love to travel, there's nothing more annoying than carrying your luggage through the entire city. Well, maybe you like to carry it around – if not, this is LuggageHero's coverage of where to store your luggage when you are in the picturesque Denver.

Note: There are limited self-service lockers at most stations due to safety regulations that have emerged in the last couple of years. 
Luggage Storage at Union Station
If you're traveling to or from San Diego by Amtrak, luggage storage is available at Union Station. If you have a valid ticket for Amtrak, bags are stored at around $10 per day. Selected Amtrak station in the US also offers luggage storage for customers who do not have a ticket for the train for a higher price. Not all Amtrak stations will allow luggage storage for individuals without a ticket to Amtrak. We advise you to contact the station in order to get the latest update on this matter. For customers holding an Amtrak ticket, prices are listed below:
$10 for 24 hours per bag
Bicycle Boxes: $15 per box
Ski Bags: $3 per bag
Shipping Boxes: $5 per box
LugDeb
Just arrived at Union Station and need to store a bag. LugDen is right across the street from the main entrance. You will see their van parked out front! With a range of different prices to suit your needs, starting at $3.00 an hour, they are sure to have an option for you.
Hotels
You might be lucky to stay in a hotel willing to store your bags. This is a great option if you need a little more time to look around the area where your hotel is located. If you want to explore places away from your hotel, it's possible that some hotels will let you store your bags for a fee even if you are not a guest. However, it's not all hotels that offer this service to people who are not staying at the hotel, but it never hurts to ask!
Alternative: Luggage storage at museums and galleries
If you're going to store luggage for more than just a few hours it's sometimes cheaper to use self-storage facilities at museums and galleries. But please be aware of any situational changes in Denver that might influence whether or not luggage storage is offered. 
Below we've gathered a collection of our favorite and must-visit museums and galleries in Denver where you are sometimes welcome to store luggage whilst visiting. Call ahead if you want to be 100% sure. Please note that most museums and galleries do not offer any insurance on luggage storage. 
Located at 2001 Colorado Blvd, Denver, CO
The opening hours are:
Daily 9:00 am–5:00 pm
The address is 100 W 14th Ave Pkwy, Denver, CO
The opening hours are:
Daily 10:00 am – 5:00 pm; Fridays until 8:00 pm
The address is 2300 Steele St, Denver, CO
The opening hours are:
09:00 am – 4:00 pm every day
The address is 1020 16th St Mall, Denver, CO
The opening hours are:
Monday to Friday 09:30 am – 4:00 pm daily; Weekends closed.
Luggage storage at Denver International Airport 
The main airport that services Denver is the Denver International Airport.  The airport does not currently offer luggage storage services any longer due to safety regulations, unfortunately.
Getting around Denver
Getting around the mile-high city can be a challenge. Besides traditional taxi services, rideshare apps such as Uber, Lyft, and Via offer cheaper alternatives.
Denver also has a fantastic public transport system, RTD,  that is able to get you to all the locations we have mentioned.
Rideshare electric scooters are taking the world by storm, and Denver is no different. Currently, there are a few options on the market so be sure to check out Spin, Bird, Jump, Lyft Scooters, and Lime.
Why you should store your luggage
Sightseeing and attractions just aren't the same with a suitcase in each hand and a backpack. This is the key reason why you should consider planning where to store your luggage while shopping and exploring the city of Denver. 
Besides the struggle with unhandy suitcases, they also put a physical strain on you as you carry them around with you. Therefore, luggage storage is the perfect service for you! While storing your luggage in a safe place you're able to enjoy your time in Denver.