Luggage Storage Istanbul
Store your bags in a certified hotel or shop from €0.95/hour
Look here if you are looking for lockers and places to leave your luggage in Istanbul in 2023:
If you love to travel, there's nothing more annoying than carrying your luggage through the entire city. Well, maybe you like to carry it around – if not, this is our coverage of where to store your luggage when you are in Istanbul, Turkey.

Note: In a few major railroad stations, you'll be able to find bright yellow baggage lockers. However, there's a limited number of lockers and no way to book ahead. No Turkish Train Stations provide left luggage/baggage storage facility anymore.
LuggageHero is half the price of station lockers and airport lockers.
Luggage lockers, also called city lockers, are at least twice as expensive daily as LuggageHero's luggage storage service. LuggageHero offers, as the only luggage storage service, both an hourly AND daily price for just; for an hour or for an entire day, depending on what kind of rate you prefer. This is maximum flexibility and freedom for the customers! 
Prijs per tas/koffer
Pay as you go
/hour
Per bag
Until recently, travelers could only store their bags in these luggage lockers, which offer little flexibility regarding pricing and location, where to go, and luggage deposit. Today, LuggageHero offers countless stores in various cities to ensure you always have the option of dropping off your luggage in a protected environment. Unlike luggage lockers in stations and airports, LuggageHero also offers both an hourly and daily rate for maximum flexibility. LuggageHero tries to offer safe and cheap luggage storage near you at all times. 
Luggage storage facility for suitcases, baggage, and odd-sized luggage
We check all our hotels and local shops for us to be able to offer space for whatever you need; ski equipment, photo equipment, backpacks, or whatever. This is simply another method for us to give you the most flexible baggage storage, suitcase storage, and luggage deposit.  
Our service is similar to hotel luggage storage
Many travelers who have been customers at hotels have asked the staff at the reception if they could store their luggage until they depart the city later in the day. For the most part, we offer the same service for everyone – no matter if they stay at a hotel, Airbnb or anywhere else. We are always ready to help you out. 
Is safety important to you?
LuggageHero offers 

€2500 

insurance per item stored!

Certified shops approved by LuggageHero.
What more can LuggageHero offer?
Great prices and a user-friendly platform.

No correct currency is needed. All major credit cards are accepted.

You will only pay for the time you actually store your luggage.

Book online or on our app and receive your directions. 
Four simple steps to leave your luggage with LuggageHero in Istanbul.
Book online or through our app.
Start the storage timer in your browser when arriving at the shop or use the link sent to you to access your booking page.
Enjoy yourself in

Istanbul

!
Pick up your luggage and stop the storage timer on your booking page.

Download our free luggage storage app:
For even more comfort and ease, you can download LuggageHero's bag storage app where you can see all our locations around Istanbul.
A specially designed map of all known luggage storage locations in Istanbul:

Luggage storage options in Istanbul.
The most popular luggage storage service for Istanbul: LuggageHero
Name
Prices from
Insurance
Flexible arrival
Reviews
Name
Prices from
Insurance
Flexible arrival
Reviews
LuggageHero
€0.95/hour or €8/day
Up to €2500
Yes
+116.000
Name
Prices from
Insurance
Flexible arrival
Reviews
NannyBag
$6 day & no hourly option
Up to $1100
No
27,802
Name
Prices from
Insurance
Flexible arrival
Reviews
Vertoe
$5.95 day & no hourly option
Up to $5000
No
4,708
Name
Prices from
Insurance
Flexible arrival
Reviews
Radical Storage
$5 day & no hourly option
No
No
900
We've listed the rest below:
1. Luggage storage in Istanbul Airports
If you're planning to visit Istanbul by plane you could consider storing some of your belongings at Istanbul Airport using the self-service lockers.
There is a luggage storage service at Ataturk Airport and you can use it with a fee named Baggage Custody Services. These services are offered on the Arrivals Floor of the International and Domestic Terminals 24 hours a day in two locations. Fees are charged on a daily basis and are due when retrieving stored items.
Istanbul Airport
Opening hours: 

Monday – Sunday: 24/7

Address: Use this Google Map link: Istanbul Airport
Price: Luggage storage at the airport is not cheap.

 You pay the following amounts to store an item for up to 24 hours:

Plastic bag 27 TL (€ 3.76)
Baggage

 

36 TL (€ 5)

Large Baggage 53 TL (€ 7.38)
Extra Large Baggage  72 TL (€ 10)
Istanbul Sabiha Gökcen Airport
You may leave your baggage, to the Left Baggage Office in the International Terminal on a charge. The baggage deposit office serves guests 24/7 and the price is charged on a daily basis and depending on the size of the baggage.
Use this Google Map link: Sabiha Gökcen Airport
Opening hours: Monday – Sunday: 24/7
2. Luggage storage in Istanbul Train Stations
Sirkeci Gar Train Station, Istanbul
Left baggage lockers at railway stations are bright yellow and easily recognizable. Just be aware that there's only a limited number of storage space and you can't book in advance.
To deposit your baggage:
Look for a locker with a GREEN indicator and place your baggage in it. Be sure it fits completely. Close the door and keep it closed until the indicator turns from GREEN to RED.
Go to the payment point and remember the number of your locker. Amend the hours you would like to use the locker and complete payment. Make sure to remember the costs for storage in case you leave your baggage beyond the maximum time.
Keep your receipt ticket and check the information on it. You need to keep your receipt in a safe place and ensure that it does not fold, crumple, or gets wet or you may be subject to a fine.
Attention:
Insert your ticket into the reader when collecting your bags and then withdraw it to prevent it from getting stuck. Don't leave your ticket in the reader for too long or you can lose it!
Costs:
Small luggage and handbags: 0-4 hours: 3 YTL (€0.50)
Large suitcases: 0-4 hours 4 YTL (€0.70)
4-14 hours:  For every hour 50 YKR (€0.09)
14-24 hours: + 4 YTL (€0.70)
24-36 hours: + 5 YTL (€0.80)
Opening hours: Monday – Sunday: 6 am – 1 pm
Use this Google Map link for address: Sirkeci railway station, Istanbul
3. Luggage storage in Istanbul Bus Stations
If you have a ticket with a bus company operating lines out from Istanbul's main bus station, Esenler Otagan, you might be able to leave it in the back of the bus company's office. There's also a Metro station on the site giving you direct access to Ataturk Airport.
4. Other: Istanberry
Opening hours: 24/7
Costs:
Daily: First piece 15 TL (€2.40) + each piece 10 TL (€1.60)
Weekly: First piece 105 TL (€16.80) + each piece 70 TL (€11.20)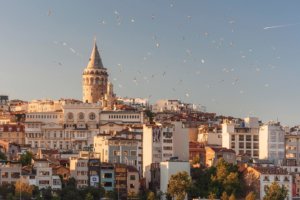 Luggage storage at museums and galleries in Istanbul :
With countless sights to see, Istanbul has so much to offer. However, it might be more difficult to enjoy it, if you suddenly find yourself unable to enter a place you've been dying to visit because of your trolley.
Luggage storage at museums and galleries in Istanbul
If you're going to store luggage for more than just a few hours it's sometimes cheaper to use self-storage facilities at museums and galleries. But please be aware of sudden changes as Istanbul is on high alert for not leaving luggage behind in public spaces.
It is known that the Istanbul Modern Art Museum has an option to store your luggage but call ahead if you want to be 100% sure.
Meer dan 100.000 reizigers hebben LuggageHero beoordeeld
FAQ about luggage storage in Istanbul
Here are some of the most often asked questions and answers on storing luggage in Istanbul
How do I find luggage storage near me?
It is easy to find storage lockers nearby if you search online for a luggage storage company in Istanbul. You can find sites where you can quickly locate a storage locker. This is easy to do because luggage storage companies have maps that show where their different storage locations are throughout the relevant city.
Can I leave my luggage at the Istanbul airport?
Luggage storage is available at the Istanbul Airport. The cost of storage for 24 hours is TL 12 for a plastic bag, TL 15 for hand baggage, TL 18 for a suitcase and TL 25 for big bags.
What is the price to store luggage in Istanbul?
Most luggage services in and around Istanbul charge their customers for an entire day. However, some newer luggage storage services provide customers with another pricing system, where they instead charge for each hour.
Can I leave luggage at hotel after check out?
Each hotel has different policies, so it is best to confirm that with your hotel. In case there is no such possibility, you can use Luggahero to store your luggage in Istanbul
Where can I keep my luggage during layover?
If you staying just for a few hours in the city then you should consider LuggageHero. We offer a flexible payment meaning your can either pay per hour or per day.