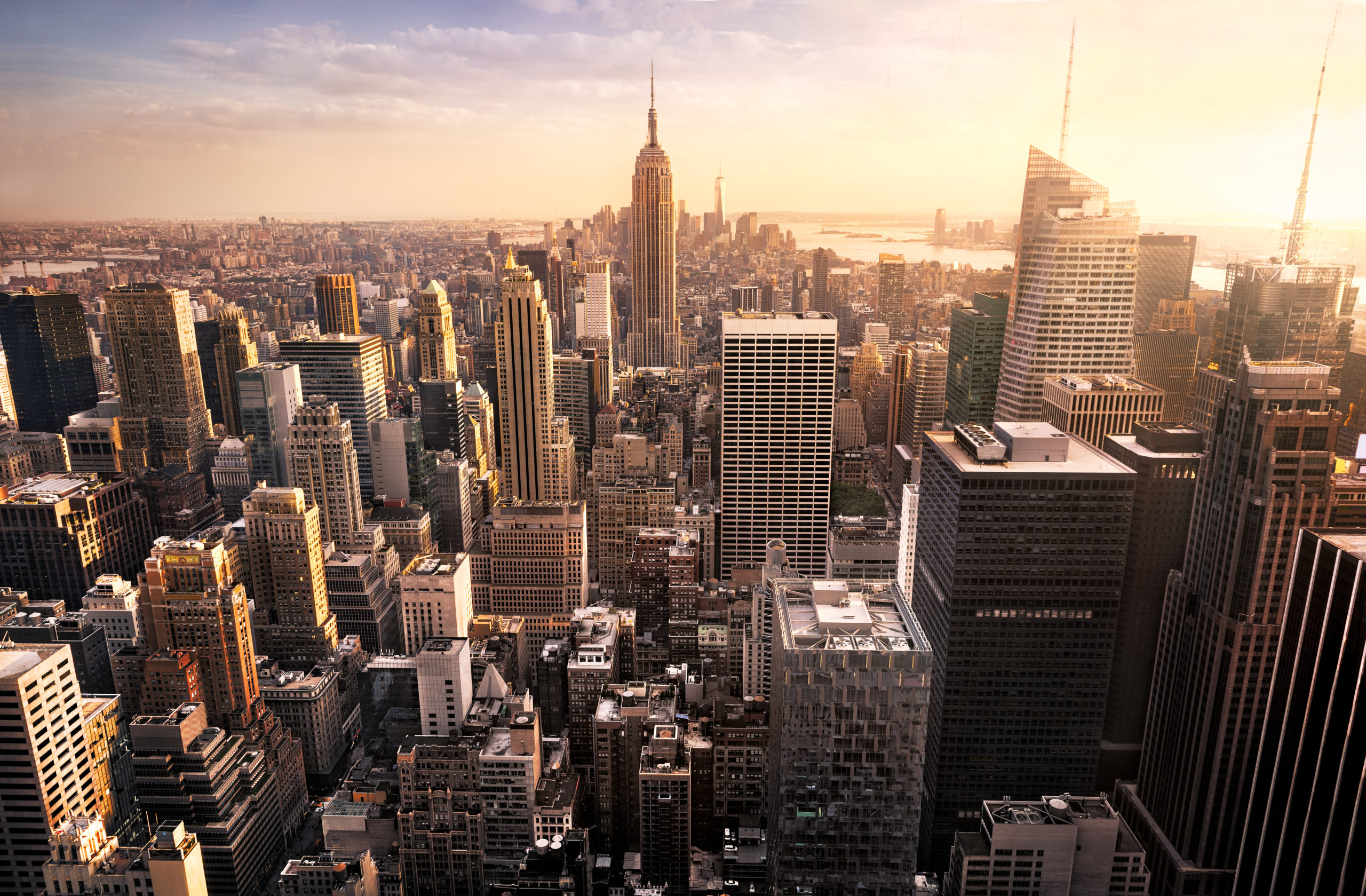 Luggage Storage in New York City
Choose from 130 locations in NYC - Manhattan - Brooklyn and store your luggage for as little as $1/hour
How and where to find the nearest and the most convenient lockers and sites to store your luggage in New York City, Manhattan, and Brooklyn.
Luggage storage chart
The chart is created based on the most popular luggage storage options
LuggageHero has gathered the best insider tips and tricks for you that want the easiest way to get around New York City. So by the time you have read this guide, you will already know that you no longer need to stand in the middle of New York and search for: "luggage storage near me"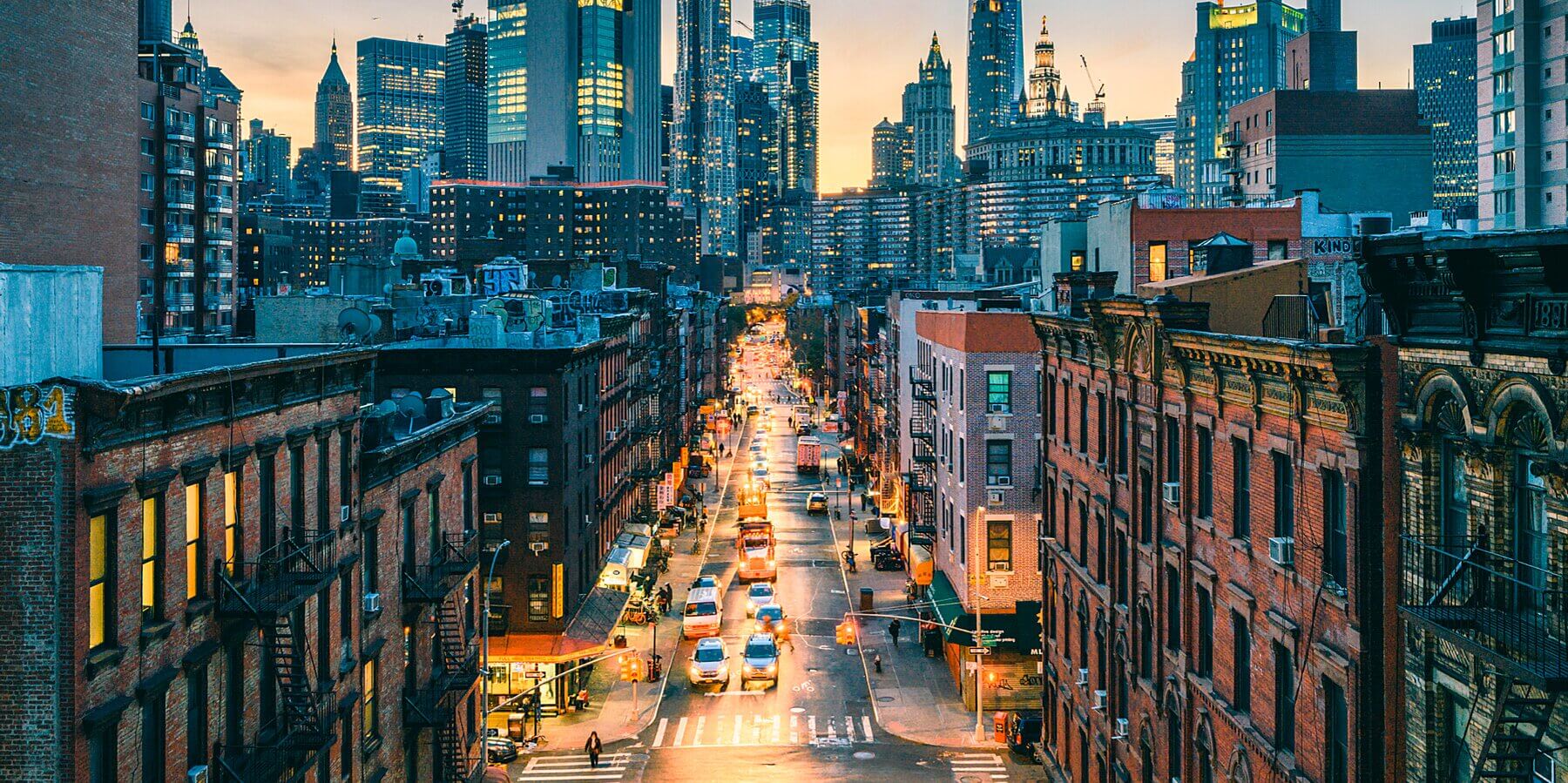 Use a local shop (coffee shops, souvenir shops, restaurants, and stores) in New York City to store your luggage for as low as . Avoid that luggage locker in NYC, where you have no guarantee for your belongings.
Download LuggageHero's free luggage storage app:
For even more comfort and ease, you can download LuggageHero's bag storage app where you can see all our locations around NYC.
We store all kinds of luggage – any size and any shape
LuggageHero's users can store luggage of any size and/or shape in any of our storage locations. It doesn't matter if it is ski equipment, photo equipment, or backpacks – our luggage stores can accommodate all. LuggageHero's customers can choose to be charged by the hour or choose our daily rate, no matter their left luggage.
We can store your luggage for several days
LuggageHero also provides multi-day storage to its customers because we know flexibility is essential when you travel.
LuggageHero offers a lower daily rate when you store your luggage for a longer period. From the second day onwards, our customers pay only $5 per bag per day.
Pricing
Luggagehero is the ONLY luggage storage service that offers you a choice of hourly or daily rates in 2021 Guide: Luggage Storage in New York City. Flat rate of $8 per day and $1 per hour which allows you to pick an option that will suit your needs best. If you're only planning on staying for a few hours in a city, why pay for an entire day as you would with other luggage storage services. No hidden fees and no need to pay in advance, pay only if you show up to the luggage drop off location.
Luggage storage NYC with LuggageHero

Featured in Lonely Planet and New York Times.
LuggageHero offers a place to store luggage in over 130 shops all over NYC and you are able to store your belongings for hours or even days if you need to.
Why LuggageHero is your best option :
Easy, quick, budget-friendly
When using LuggageHero in New York, we always keep your budget in mind; /hour per bag. It is never more than a day per bag
Security Seal for your luggage is provided in the shop
LuggageHero can offer $3000 insurance per item stored
There are no other hidden fees
Certified shops approved by LuggageHero
Online customer service 24/7
You will only pay for the time you actually store your luggage. You don't pay anything if you don't show up for your booking
Great prices and a user-friendly platform
No correct currency is needed. All major credit cards are accepted
Book online or download the app, and receive your directions
Also, LuggageHero NYC uses only certified shops and provides insurance and security seals at over 140 different Luggage Storage Locations in New York City. Storing luggage in New York is now very easy and diverse.
Claim your 1 Hour Free Luggage Storage Discount Voucher for NYC – here
Check out this comparison table
Safety is LuggageHero's  number 1 priority
Don't leave just your bags behind, but also your worries. Each piece of luggage left in any of our LuggageHero locations in New York can be insured so you don't have to worry about a single thing and just enjoy your trip.
Not only that, but we have also designed a custom security seal that makes sure no one has tampered with your belongings. Click here to read about our specially designed security seal, which is provided for free at all our locations.
Quality-checked partner locations
Luggage storage sites are located inside existing businesses, including retail outlets, hotels, cafes, and more. All are vetted by LuggageHero's local employee, who performs regular quality checks. Every piece of luggage is stored away from any public access and secured with a security seal every time.
Enjoy New York with no time limit
If anything, you should be the boss of your own schedule while on vacation. This is why we have partnered up with locations that are open around the clock so that you can make the most of your visit without having to think of closing times.
Traveling with friends and family made easy
Traveling with friends or family? Then don't miss the chance to get a special discount for storing 10 or more pieces of luggage. Write us a quick message and you're all set to go.
Is there a difference between left luggage and luggage storage?
Left luggage is luggage that people have left in a designated luggage storage facility. The term 'left luggage' is mostly being used in the UK. And luggage storage is a storage facility where people leave their luggage. Luggage storage is the most common term used internationally when referring to storing luggage.
The 4 simple steps to leave your luggage with LuggageHero in NYC
When booking online you are always guaranteed space
Start the storage timer in your browser or app once you have dropped off your luggage, or use the link sent to you to access your booking page
Enjoy yourself in New York
Pick up your luggage and stop the storage timer on your booking page
What more can LuggageHero offer?
Online customer service 24/7

Great prices and a user-friendly platform

No correct currency is needed. All major credit cards are accepted

You will only pay for the time you actually store your luggage. You don't pay anything if you don't show up for your booking

Book online or through our app, and receive your directions, or simply download our app
Want to know more about LuggageHero? Get to know the concept by reading this FAQ and or by reading about the team behind here.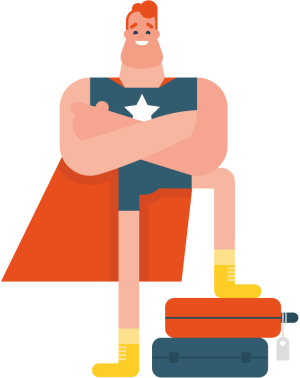 Luggage storage NYC
A lot of the locations work 24/7 so finding space for your baggage at any time should not be a problem. Finding luggage storage is particularly useful when you are waiting for a flight, need to check into your Airbnb later, or had to check out too early. In any case, you shouldn't be dragged down by your luggage. When you leave your luggage at the luggage storage facility, you are able to enjoy the city hands-free and explore all attractions such as The Statue of Liberty, The MoMA, The Brooklyn Bridge, and a lot more.
You can begin your search on finding a luggage keeper in NYC by reading this article. Your other option is to try a luggage storage guide such as this one. Simply checking out Google or Google Maps by typing luggage storage near me in NYC should also give you a lot of options on finding luggage storage around the city.
Press the icons to see details about each location, insurance, and price. This map includes all locations to store luggage in NYC.  However, the map does not include luggage lockers in New York City as there aren't any. To open up this map in full screen: Click here
Other luggage storage providers in NYC
You can find luggage storage in NYC in various different luggage storage facilities. LuggageHero has a network of over 130 locations all around New York City. Usually, you can leave your luggage in many different coffee shops, restaurants, bike shops, souvenir shops, hotels, and others. These include Grand Central Terminal, Port Authority Bus Terminal, Penn Station, and Times Square. Due to the high number of locations for luggage storage in NYC, you can always find a place to store your luggage.
Alternative luggage storage options in New York City.
We've listed them below:

Luggage storage in New York Airports
Luggage storage at museums and galleries
If you're going to store luggage for more than just a few hours it's sometimes cheaper to use self-storage facilities at museums and galleries. But please be aware of last-minute changes as NYC high-alert can make these things change fast.
Below we've gathered a collection of museums and galleries in New York that might keep your small back bag but not larger luggage. Please make sure to call ahead if you want to be 100% sure.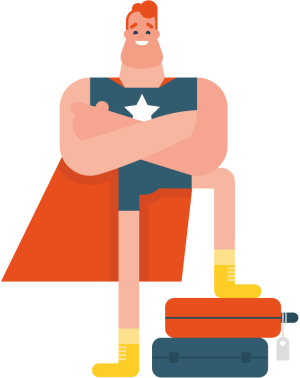 All these companies can also offer you bag storage in NYC – We've listed them below:
CityCoPilot
It has two locations where you are able to store your luggage. It's located on Times Square and Lower East Side.
These are the locations:
Schwartz luggage and storage
It has two locations in the heart of Manhattan.
Short Term Show
You are able to store your luggage at their location 270 W 36th St, between 7th and 8th Ave. Aside from storing, there is free WIFI and it is possible to use a printer at a cost of $1. 
LuggageKeeper
It is located close to Times Square, 357 W 36th St, 2nd Floor.
CBH Luggage Storage
It offers a range of services including left baggage storage and it is located at 43 West 46th Street, between 5th & 6th Avenue.
LuggageHero is waiting for you
Discount Vouchers – Click here to see if we have any available at the moment.
Store your luggage with LuggageHero in New York no matter if you're at Grant Central Station, Port Authority, Penn Station, or any other location.
Luggage Storage Near Me
There are a few simple methods for finding luggage storage near you. The simplest method is to download the LuggageHero app, which will automatically show the locations in New York that are nearest to you.
Alternatively, you can use the GO button at the top of the page to locate bag storage near you. The Go button will take you to a map where you can see all of the surrounding storage facilities and locate the one that is closest to you.
Reminder: Due to the current COVID19 pandemic, it is important that you use extra caution when dropping off and picking up your bags in NYC.
Why are you searching for a luggage storage service in NYC?
Maybe you have to check out of your Airbnb apartment, rental place, or hotel and your flight isn't until tonight? In that case, luggage drop-off in NYC is something that you have probably been thinking about.
Or… You just arrived in NYC, ready to find the iconic trademarks you know from TV, but your rental place isn't ready for you for 5 more hours, therefore you need luggage storage near Grand Central station, maybe? Most travelers have been in similar situations and experienced the struggle of luggage first hand.
NYC offers a range of possibilities when it comes to the luggage storage service
Therefore there is no reason for you to carry around heavy luggage when you should be enjoying the Big Apple.
If you didn't find what you were searching for, this is another great guide to refer to:
More information about luggage storage in NYC
You might be interested in more information about where to store your luggage in NYC in greater detail? If yes, then check out the following New York guide Luggage Storage or  KnockKnock. At the mentioned websites, you can check out different stations, attractions, etc. for more information about what to do with your bags when visiting the Big Apple.
Meer dan 55.000 reizigers hebben LuggageHero beoordeeld
FAQ about luggage storage in New York City
Here are some of the most often asked questions and answers on storing luggage NYC.
Are there storage lockers in New York
Yes, there are many storage lockers in New York. Most train stations and airports provide facilities to store luggage. Also, nowadays there are numerous luggage storage companies that provide storage lockers all over New York. It is therefore easy to find luggage storage nearby if you have access to the internet.
How do I find luggage storage near me? 
It is easy to find storage lockers NYC nearby if you search online for a luggage storage company. You can find sites where you can quickly locate a storage locker NYC. This is easy to do because luggage storage companies have maps that show where their different storage locations are throughout the relevant city. 
What is the price to store luggage in New York?
Most luggage services in and around New York charge their customers for an entire day. However, some newer luggage storage services provide customers with another pricing system, where they instead charge for each hour.
Is there luggage storage in the Port Authority Bus Terminal? 
There are several opportunities to store luggage in and around the Port Authority Bus Terminal. But the Port Authority Bus Terminal does not offer facilities to store luggage. However, luggage storage companies offer many locations near the station where customers can store their luggage and pay on an hourly basis, which you cannot do at the Port Authority Bus Terminal. 
Are there any storage lockers at Penn Station?
There are several opportunities to store luggage near Penn Station. Several luggage storage companies provide many locations near Penn Station where customers can drop off their luggage and pay hourly for safe luggage storage.
Do all luggage storage companies in New York provide insurance?
Most of the luggage storage companies do provide some sort of insurance but always remember to check before booking.
Is LuggageHero safe to use?
LuggageHero is very safe to use as each time you store your luggage, you can have insurance for up to 3000$ on your belongings.