Bagageopslag Heathrow Airport
Bewaar je bagage op een gecertificeerde locatie vanaf £1 per uur
Meer dan 55.000 reizigers hebben LuggageHero beoordeeld
Bagageopslag Heathrow Airport
Loop je door Heathrow Airport en wil je je bagage ergens kwijt? Geen zorgen! 
Breng je spullen naar een van de dichtstbijzijnde locaties van LuggageHero.
Bij LuggageHero sla je je bagage veilig en betaalbaar op. Al onze partners zijn gecertificeerd door LuggageHero. Bovendien is LuggageHero de enige aanbieder van bagageopslag waarbij je de keuze hebt uit een uur- of dagtarief voor maximale flexibiliteit. 
Imagine this traveling problem
You just landed at Heathrow Airport, and now you will take public transport to get to the city so you can start exploring London. But why do that while dragging your luggage around? Let us take care of your luggage in the meantime!
We have great locations just around the corner from Paddington Station, to where you can get straight taking The Heathrow Express. Another option for you can be to leave your luggage at our certified locations around Victoria Station. Perhaps there is a Harry Potter fanatic traveling with you; in that case, you can always visit King's Cross Station, and leave your luggage on one of the certified shops around there! The map below helps you navigate where is it best for you to store your luggage.
We have the solution to your luggage storage
You can store your luggage 24/7 in one of our certified locations. Use the search bar up top to specify a station or area in which you wish to leave your bags.
Our partner locations will take good care of your baggage while you explore the surroundings. Don't waste your day sitting in the airport waiting for your departure. Explore London hassle-free with LuggageHero.
Heathrow Aiport is within easy reach of Central London by public transport. The Heathrow Express will take you straight to Paddington Station. If you have a bit more time on your hand the District Line and Piccadilly line will get you back and forth from Victoria Station to Heathrow Airport.
Check out why LuggageStorage recommends storing your baggage with LuggageHero here!
Our service is similar to hotel luggage storage
Many travelers who have been customers at hotels have asked the staff at the reception if they could store their luggage until they depart the city later in the day. For the most part, we offer the same service for everyone – no matter if they stay at a hotel, Airbnb or anywhere else. We are always ready to help you out. 
Stow your bags in verified stores with discount codes
We offer our loyal customers and new customers a discount code for two hours of FREE luggage storage. The discount code works the rest of 2022 in ALL cities and ALL stores – including Premium Partner stores! 
Simply use the following discount code when you are booking: 
LOVE2
Check out why KnockKnock recommends storing your baggage with LuggageHero. Also featured in The New York Times, Lonely Planet, CNBC.
Left luggage with LuggageHero at Heathrow Airport
Find your LuggageHero, book online, and receive directions. All of our locations are certified, all bags are insured for up to  and sealed off with our security seals.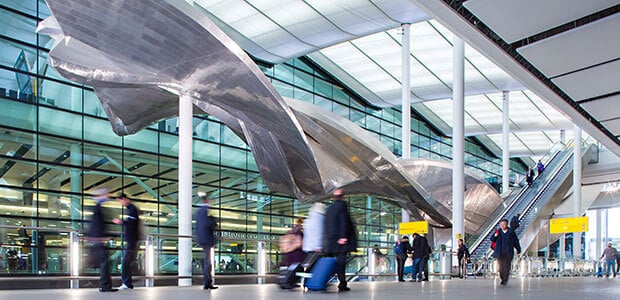 Heathrow
LuggageHero can help you transform your travel days into holidays. We use local shops, Hotels, hostels, and cafes as temporary storage units giving you a convenient, cheap, and easy service to use on your travels. So far LuggageHero has helped travelers with more than 300.000 hours worth of experiences.
While traditional storage facilities gave you few options to explore your destination without spending precious time commuting back and forth, you can now bring your luggage with you and store it nearby while you are out on adventures.
There are left luggage/baggage storage facilities in each terminal at Heathrow Aiport. Baggage and luggage can be stored for a few hours or up to 90 days. 0-3 hours will cost you £7.50 and 3-24 hours will cost you £12.50. Read more here about the options for luggage storage inside the Airport.
We don't think you have to pay for hours you don't spend. This is why our counter clock will count the hours you use for luggage storage and thereby calculate the total price. With  per bag and , LuggageHero is the cheapest luggage storage solution in London. We use tamper-proof security seals to seal off your luggage and it is insured for up to 
Prijzen
LuggageHero is de ENIGE aanbieder van bagageopslag waarbij je kunt kiezen uit uur- en dagtarieven in Heathrow Airport.
Dankzij de vaste prijs van £7 per dag of £1 per uur kun je altijd kiezen voor de optie die het best bij je past. Blijf je ergens maar een paar uur, dan wil je natuurlijk niet voor een hele dag betalen – zoals je bij andere aanbieders van bagageopslag wel zou doen. 
De helft van de prijs vergeleken met kluisjes op het treinstation en vliegveld
Bagagekluisjes of stadskluisjes zijn per dag meestal twee keer zo duur als het bewaren van je bagage bij LuggageHero. Tot voor kort konden reizigers hun bagage alleen in deze kluisjes opbergen. Dat betekende dat er weinig keuze was als het aankwam op prijs en locatie.
De bij LuggageHero aangesloten winkels bevinden zich overal in de stad, zodat je altijd de mogelijkheid hebt om je bagage op een veilige locatie te bewaren. In tegenstelling tot kluisjes op het treinstation en vliegveld, heb je bij LuggageHero de keuze uit uur- en dagtarieven. De missie van LuggageHero is om flexibele en goedkope opties voor bagageopslag te bieden, waar je ook bent. 
Wij bewaren alle soorten bagage, in elke vorm en van elke grootte, op geverifieerde locaties
Gebruikers van LuggageHero kunnen alle soorten bagage bewaren bij een van onze opslaglocaties. Het maakt niet uit of het om skispullen, fotoapparatuur of rugtassen gaat. Met andere woorden: je kunt onze bagageopslag, kofferopslag, bagagedepot of hoe onze tevreden klanten het ook noemen, altijd op een veilige manier gebruiken. Klanten van LuggageHero kunnen kiezen uit uur- of dagtarieven, ongeacht hun type bagage.
We kunnen je bagage meerdere dagen bewaren
LuggageHero biedt bovendien de mogelijkheid om je bagage meerdere dagen te bewaren. We weten namelijk hoe belangrijk flexibiliteit is als je op reis bent.
Sla je je bagage voor langere tijd op, dan profiteer je van een lager dagtarief. Vanaf de tweede dag betalen klanten van LuggageHero slechts £5 per bagagestuk per dag.
Download de gratis app van LuggageHero:
Voor maximaal gemak download je onze LuggageHero-app. In de app vind je alle locaties bij jou in de buurt in één oogopslag.
Openingstijden
We werken met verschillende winkels met verschillende openingstijden. Kies de partner die het beste bij je past! Klik hier om de openingstijden van onze partners te zien.
Welke betaalmethodes worden geaccepteerd?
We accepteren de meest gangbare creditcards. Let op dat je onze partner niet contant betaalt voor het gebruiken van LuggageHero en dat je bagage alleen verzekerd is als je de betaling direct aan LuggageHero hebt gedaan.
Boekingen annuleren
Voor annuleringen op dezelfde dag of als je niet komt opdagen, wordt een vergoeding gerekend gelijk aan het dagtarief van £7 per bagagestuk.
Lees waarom KnockKnock aanraadt om bagage te bewaren met LuggageHero. Ook bekend van The New York Times, Lonely Planet en CNBC.
Frequently asked Questions about Heathrow Airport
Here are some of the most often asked questions and answers about Heathrow Airport.
How far is London from Heathrow Airport?
The distance between Heathrow airport and the city centre of London is approximately 24 km. The journey will take around 30 minutes by taxi, 15 minutes by train, 35 minutes by London underground and 50 minutes by bus.
How much does a taxi cost from London to Heathrow Airport?
London taxis are available outside each terminal. The cost to central London is £45–£70 and the journey time is approximately one hour.
Which airlines are flying from Terminal 3 in Heathrow Airport?
Terminal 3 is used by the majority of the members of the Oneworld airline alliance: American Airlines, Cathay Pacific, Finnair, Japan Airlines, LATAM, Qantas, Royal Jordanian, and SriLankan Airlines. British Airways, which also uses Terminal 5, also offers some flights from this terminal.
Does the London Underground go to Heathrow?
The London Underground comes out to Heathrow in the form of the Piccadilly Line. The big attraction is price, frequency and speed. It takes 45-60 minutes to reach most hotels in Central London with trains around every 5 minutes
Are there showers at Heathrow Airport?
No. There are no free public shower facilities landside in any of the five terminals. The lounge that would cost 100 pounds per person is the Number 1 Lounge, it's 30 pounds entry but that's only for the 3 hours directly preceding your outbound flight and costs quite a lot per extra hour.
Is Heathrow Airport open all night?
If you have an early morning flight or a connecting flight with a long layover, the London Heathrow airport offers facilities that make it possible for you to stay overnight without having to book for a hotel outside the grounds. All terminals remain open 24 hours a day and are connected to each other by buses.
Does Heathrow Airport have a hotel?
Day rooms at London Heathrow Airport are routinely available at several of the hotels at Heathrow, serving all passenger terminals (which are numbered 2, 3, 4 and 5). There are only two hotels at Heathrow attached to Terminals 4 and 5 that you can walk to from a passenger terminal that offer day rooms.
Is the Heathrow Expres free?
Heathrow Express trains are free for travel between Heathrow Central station (Terminals 2 & 3) and Terminal 5. There's a train every 15 minutes. Frequent London Underground trains also run between the terminals. The transfer is only free if you use a Transport for London Oyster card or a contactless payment card.
How early should I arrive at Heathrow for my flight?
London Heathrow recommends arriving three hours prior to departure for long-haul and El Al flights, and two hours prior to departure for UK and European flights.
All luggage storage locations are verified for safety and carefully trained by our team before being listed on the site. Aside from that, we provide you with individually tagged tamper-proof seals for your baggage when you arrive. To offer an extra sense of security, every bag is covered by insurance that is up to £2200 per bag if you chose if you chose to add it to your booking, but there is always a guarantee.
Can I cancel my booking with LuggageHero?
Of course! We know that plans can change, therefore our customers have the option to cancel their booking up until midnight of the day before without any charges. For same-day cancellations and no-shows, there will be a fee which equals to the daily rate of £8.