Luggage storage in local shops
Low hourly rate
Luggage storage in local shops
Since we started in the summer 2016, more than 300 shops in New York, London, and Copenhagen have signed on to provide you with the easiest, cheapest, and most convenient luggage storage solution available.
We have compiled the most frequently asked questions below. If you are not satisfied with the answers or need more information, feel free to reach us at contact@luggagehero.com or click the 24/hour support chat button.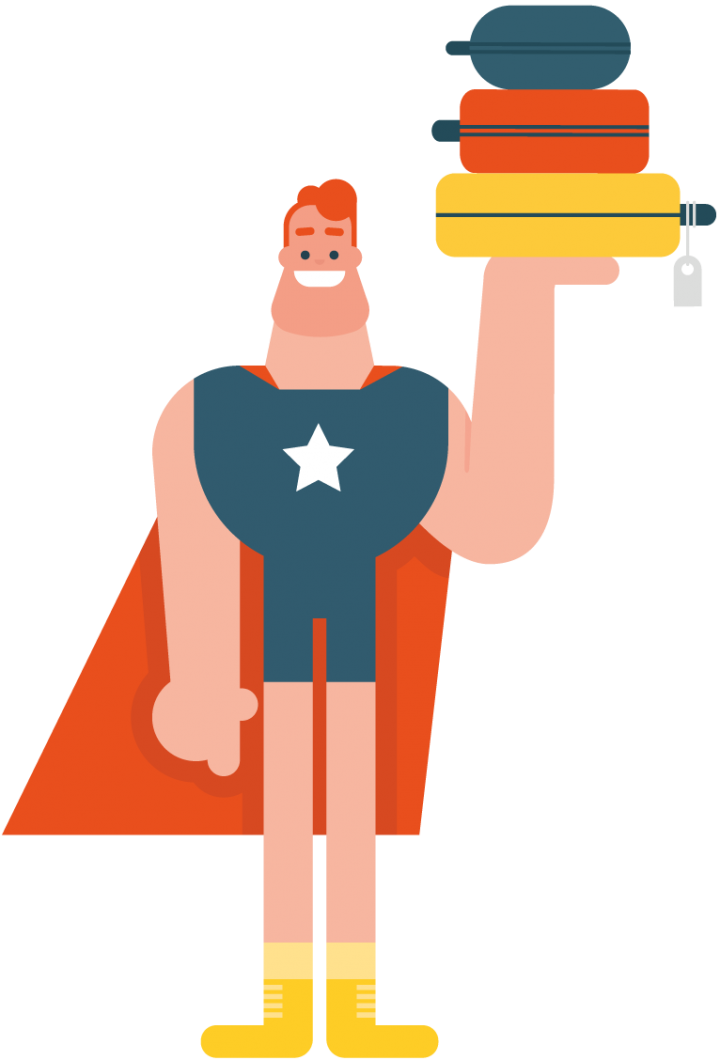 FAQ
What is LuggageHero?
LuggageHero is luggage storage in local shops - with more than 300 shops and venues across New York, London, and Copenhagen, luggage storage has never been as easy and convenient as now.

By using our online search engine, you are able to locate luggage storage hubs near you or in a specific area in New York City, London, or Copenhagen. Specify your drop-off date and the amount of luggage you want to be stored, and the shops that are ready to receive you will be shown. Make sure they know you'll be arriving by reserving your space via a booking online. (But if you cancel or don't show up, you won't be charged anything.)

Our LuggageHeroes has all been certified by an employee of LuggageHero and is therefore under our insurance policy, ensuring your luggage for up to $3.000/€2.500.
How to store your luggage with LuggageHero
1. Press "Find" at the top of this page to start browsing your ideal spot for your luggage or Click "Near me". Use the map or browse the list of shops.

2. Amend the number of bags you wish to be stored and the drop-off date.

3. By clicking next and confirming the booking, directions will be sent to you by email and SMS (if chosen). The directions are also available on your booking screen.

4. Start the storage timer once you arrive in the shop. Only available if a booking has been made.

5. Attach security seal, found in the shop, through the zippers of your bag. This will ensure your bags up to $3,000/€2.500/£2.200. Take a picture of the seal attached to your bag as a receipt for delivered luggage.

6. Click Stop storage timer when you pick up your bags. This will process payment.

No reason to find correct currency. Everything is paid online for your safety and convenience.
Payment
Submit your credit card information for swift drop-off and pick-up at a LuggageHero location. You don't need to worry about having the right currency on hand when paying online. All major credit cards are accepted. The shops do not receive cash when using LuggageHero. The insurance on your luggage is valid only if the payment has been made directly to LuggageHero.
Insurance and safe luggage storage
In the collaboration with First Marine Insurance Ltd., cover holders for Lloyd's of London, one of the world's largest insurance companies, we are proud to be covering each piece of luggage free of charge every time you use our luggage service. The insurance is covered up to $3,000/€2500 per item of luggage. Make sure you do not pay cash in a drop-off/pick-up shop, because insurance will not cover any bookings that are not paid directly to LuggageHero. You must pay directly to LuggageHero to be covered.

Each piece of luggage is sealed with a unique identification number for your complete reassurance and to guarantee that no one has accessed your belongings. When you arrange for drop-off and pick-up of your luggage, you will receive an automatic receipt via email. The shop will ask to see a valid receipt before returning any luggage to you.
What do you mean by risk-free booking policy?
You don't pay unless you drop off your baggage at a LuggageHero shop. We do this because it's how we personally would like to be treated. Therefore, no amount will be charged if you cancel or fail to show up for your booking. That is what we call risk-free booking.
Can I change the number of pieces of luggage I want stored after I have made a booking?
Unfortunately, this isn't possible yet. But, since we have a risk-free booking policy, simply make a new booking and cancel the original.
Do I have to download an app?
No, you don't need to download anything to use LuggageHero. You simply book using our website. Once you are at the shop, you check yourself in using the link provided when booking.
Commission to our shops
Our LuggageHeroes receives a commission from all the luggage they store. Because, of course, without them none of this would be possible. LuggageHero is using the principles of the sharing economy, making it possible for local shops, hotels, hostel, cafes, and etc. to offer luggage storage to travelers.
I accidentally started the storage timer!
No Worries, we can easily stop the timer and thereby cancel your mistaken check-in. Just reach out to us at contact@luggagehero.com.
I started and stopped the storage timer as I wanted to change something in my booking!
Just reach out to us at contact@luggagehero.com and we'll quickly make a refund of the wrongfully charged amount.
I can't find the address of the shop where I want to leave my luggage.
In order to receive directions to any of our shops, a booking must be made prior to drop off.

By clicking on one of the shops, the shop info page will appear, giving you an overview of the opening hours and whether the shop provides Wifi (also shown below each shop on the booking page). Specify the amount of luggage you want stored, the drop-off date and continue by clicking "next."

Submit your phone number and directions to the shop will be sent to you as a text message as well.
Does LuggageHero have any size limitations?
Our LuggageHeroes can store almost any kind of luggage. However, a few of our local shops are rather small. You can see the storage capacity listed beneath each shop suggestion on your booking page to get an idea of the shop size.
Can I leave my bike with LuggageHero?
If (and only if) your bike is in a bike travel case or bike bag, our LuggageHeroes can easily store it for you. Please be aware of the shop luggage capacity before making the booking. We advise that you find a shop with a capacity above 10.
Where is the luggage stored?
Luggage storage sites are located inside existing businesses, including retail outlets, hotels, cafes, and more. All are vetted by LuggageHero's local employee, who performs regular quality checks. Every piece of luggage is stored away from any public access and secured with an insurance seal every time.
Pricing per bag
/hour* or /day in
*plus one-time handling fee of per bag.
How It Works 1, 2, 3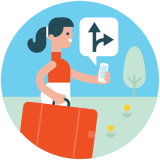 Book online and receive directions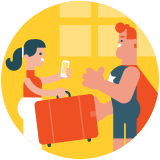 Drop off the luggage at a LuggageHero shop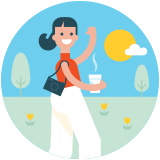 Enjoy your time without the weight of your luggage
Turn your travel days into holidays
We let you store your luggage in a local shop, café or hotel.
Low hourly-rate including full insurance coverage. 
Our cities are:
In the press:

Recommended by the official tourist information