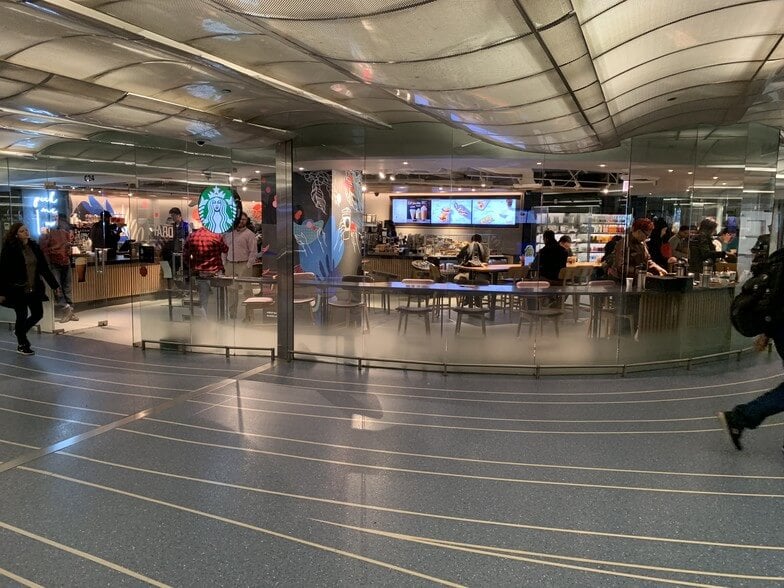 Luggage Storage Millennium Station
Only luggage storage to offer choice of hourly or daily rates in Millennium Station
Most-reviewed luggage storage service
Luggage storage Millennium Station
Are you looking for luggage storage near Millennium Station? You can store your bags with one of LuggageHero's luggage storage locations in Chicago, even just around Millennium Station. Explore Chicago hassle-free.
LuggageHero storage sites are certified hotels, cafes, and shops. Advance bookings ensure space for your bags. The address and directions to our partner shops are available at the time of booking. All bags are sealed off with our security seals insuring each piece of luggage for $3000 once you have dropped off your bags and started our storage timer on your booking page.
Download the LuggageHero App
Download our free bag storage app and book storage quickly wherever you are.
We store all kinds of luggage – any size and any shape
LuggageHero's users can store luggage of any size and/or shape in any of our storage locations. It doesn't matter if it is ski equipment, photo equipment, or backpacks – our luggage stores can accommodate all. LuggageHero's customers can choose to be charged by the hour or choose our daily rate – no matter of their left luggage.

We can store your luggage for several days
LuggageHero also provides multi-day storage to its customers because we know flexibility is an essential part when you travel. LuggageHero offers a lower daily rate when you store your luggage for a longer period. From the second day onwards, our customers pay only $5 per bag per day.
Pricing
Luggagehero is the ONLY luggage storage service that offers you a choice of hourly or daily rates near Millennium Station in Chicago. A flat rate of $8.3 per day and $0.95 per hour allows you to pick an option that will suit your needs best. If you're only planning on staying for a few hours in a city, why pay for an entire day as you would with other luggage storage services. No hidden fees and no need to pay in advance, pay only if you show up at the luggage drop-off location. All luggage is insured against damage, loss, and theft & a security seal is provided.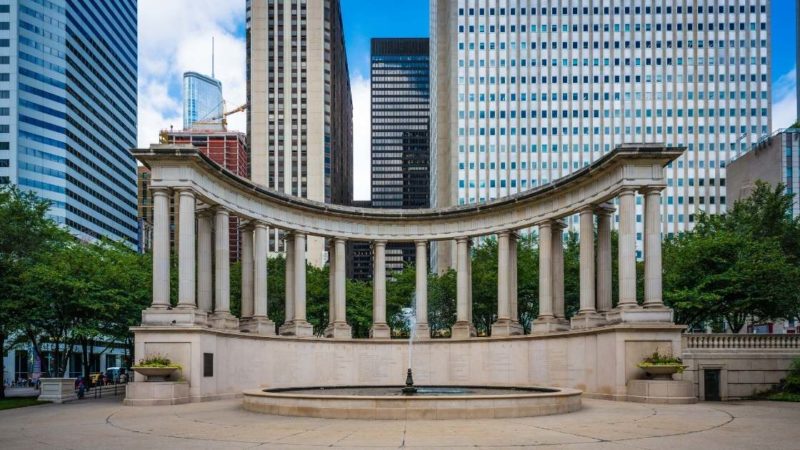 Millennium Station Chicago
Millennium Station (formerly Randolph Street terminal; sometimes called Randolph Street station or Randolph/South Water Street station) is a large commuter rail terminal that can be found in downtown Chicago.
Located under Millennium Park, where you can also find the Millennium monument (photo above), the terminal was created in the 1800s by the Illinois Central Railroad (IC). Most recently, it was rebuilt in the early 21st century and is owned by Metra, the Northeast Illinois Regional Commuter Railroad Corporation. Over 18,000 people board Metra trains at Millennium Station each day and during peak periods, trains leave the terminal as frequently as twice a minute. Millennium Station is the third-busiest train station in Chicago. If you are visiting Chicago, chances are that you will go through Millennium Station at least once. If you exit Millennium Station and decide to explore the beautiful surroundings, you would not want to drag your bags around through the park. Enjoy your trip hands-free by dropping off your luggage.
Luggage Storage Millennium Station
Are you wondering "Where can I store my bags near Millennium Station"? Maybe you just arrived in Chicago or you are soon catching a flight out of Chicago (or a train) and you need a place to store your bags while you enjoy the last few hours in the city. It is not possible to store your bags inside Millennium Station, which is why LuggageHero is here to help you out!
There are many possible storage options with LuggageHero for the price of only $0.95 per hour!
Use our map to find the nearest certified shops near Millennium Station
The difference between left luggage and luggage storage is the geographic location
Left luggage is luggage that people have left in a designated luggage storage facility. The term 'left luggage' is mostly being used in the UK. And luggage storage is a storage facility where people leave their luggage. Luggage storage is the most common name used internationally when referring to storing luggage.
In other words, there is absolutely no difference between the two concepts. They are both defined by people's need of storing luggage which can be collected at a later time. So whether you are looking for left luggage or luggage storage, LugaggeHero is here to take care of your belongings
What to do near Millennium Station 
After you drop off your bags, you will surely want to explore a bit around Millennium station as the place has a lot to offer. You can start by going towards Millennium Park and checking out the Millennium monument –  a curved row of Doric-style columns framing a fountain, commemorating the founders of Wrigley Park.  In the park, you can also check out the Jay Pritzker Pavilion which is designed by architect Frank Gehry, this bandshell in Millennium Park hosts various musical events. Further, you can check out the Art Institute of Chicago which is a renowned art museum holding nearly 300,000 works from all over the world, spanning many centuries.
Millennium Station is located very close to the waterfront so there is a lot to explore in the vicinity. You can also check out Maggie Daley Park which is a popular recreational area with winter ice skating, a climbing wall & playground equipment. If you continue and walk a bit down the waterfront, you can also find the Buckingham Fountain which is among the world's largest, Grant Park's 3-level rococo fountain (1927) and offers light & water shows.
If you walk all the way down to the waterfront, you can also enjoy the Field Museum, Shedd Aquarium, Gold Star Families Park And Memorial, and even Northerly Island Park. Don't let your bags drag you down when there is so much to explore in Chicago!
From and To Chicago Midway International Airport
Getting to and from Midway International Airport from Millennium Station is incredibly easy. All you have to do is take the orange line from Washington/Wabash and ride the metro for 9 stops (23 minutes) until you arrive in Midway – right at the airport.
Other Stations in Chicago 
Why choose LuggageHero for luggage storage?
LuggageHero offers you flexible pricing per hour you get a security seal on your bag, which ensures each of your bags is up to . That way, your luggage is safely and conveniently stored at a location near you and you can pick it up any time you like. You can stop searching for lockers near Millennium Station and simply book online your bag storage today.
With more than 30 storage options around Chicago, you have more than enough reasons to leave your luggage behind while you explore the city. Overnight storage can also easily be handled so if you need to drop off your bags for a few days in Chicago. A few days or a few hours, it is up to you!
Check what KnockKnoch says about LuggageHero!
Luggage storage near Millennium Station with LuggageHero
Luggage storage chart
Based on the chart below, LuggageHero is the best luggage storage option in Chicago. LuggageHero the only one that offers both hourly and daily prices with the possibility of insurance. Luggage storage in Chicago has never been so easy!
The chart is created based on the most popular luggage storage options.
Name
Price
Insurance
Flexible arrival
Reviews
Name
Price
Insurance
Flexible arrival
Reviews
LuggageHero
$0.95/hour or $7.95/day
Up to $3000
Yes
67.050
Name
Price
Insurance
Flexible arrival
Reviews
NannyBag
$6 day & no hourly option
Up to $1100
No
27,802
Name
Price
Insurance
Flexible arrival
Reviews
Vertoe
$5.95 day & no hourly option
Up to $5000
No
4,708
Name
Price
Insurance
Flexible arrival
Reviews
Radical Storage
$5 day & no hourly option
No
No
900
Download the LuggageHero App
Download our free bag storage app and book storage quickly wherever you are.
Frequently Asked Questions About Millennium Station
Where can I store luggage near Millennium Station?
You can store luggage nearby with the help of LuggageHero. All you need to do is go to www.luggagehero.com, click on the book now button and find the closest location to you. Alternatively, you can also use the LuggageHero luggage storage app.
How much does it cost to store bags near Millennium Station?
It is incredibly cheap to store your bags with LuggageHero. It costs only $1 per hour, per bag, with a maximum fee of $8 per day!
Are there storage lockers near Millennium Station?
Yes, there are many options for storage near Millennium Station such as LuggageHero. You can store your bags for only 1$ an hour and explore the city hands-free.
Where are the best parks near Millennium Station?
The best parks to check out near Millennium Station are Millennium Park, and Grant Park.
How long does it take to get to Chicago Midway International Airport from Millennium Station?
It only takes 23 minutes to make that journey if you take the orange line. Only 9 stops and you will arrive at the airport.
What if there is no space for my bags?
If you book your luggage storage online, a space for your bag is always guaranteed. You don't need to worry about that when you book with LuggageHero.
If anything happens to my luggage, what can LuggageHero do?
When you choose us, you select a risk-free option. If something unexpected occurs, our insurance covers your luggage up to $3000.