Luggage Storage Union Station
Only luggage storage to offer choice of hourly or daily rates in Union Station
Most-reviewed luggage storage service
Luggage storage Union Station
Are you looking for luggage storage at Union Station? You can store your bags with one of LuggageHero's luggage storage locations all around the station and explore Chicago hassle-free. No need to let your bags drag you down – explore on your own terms instead.
Download the free bag storage app 
You can download our free bag storage app and store your belongings near Union Station with ease. It only takes a few clicks and you will be ready to explore the city!
LuggageHero storage sites are certified hotels, cafes, and shops. Advance bookings ensure space for your bags. The address and directions to our store locations are available at the time of booking. All bags are sealed off with our security seals and the bad and its content can be insured for $3000 once you have dropped off your bags and started our storage timer on your booking page. With LuggageHero you can find more than 30 luggage storage locations all around Chicago.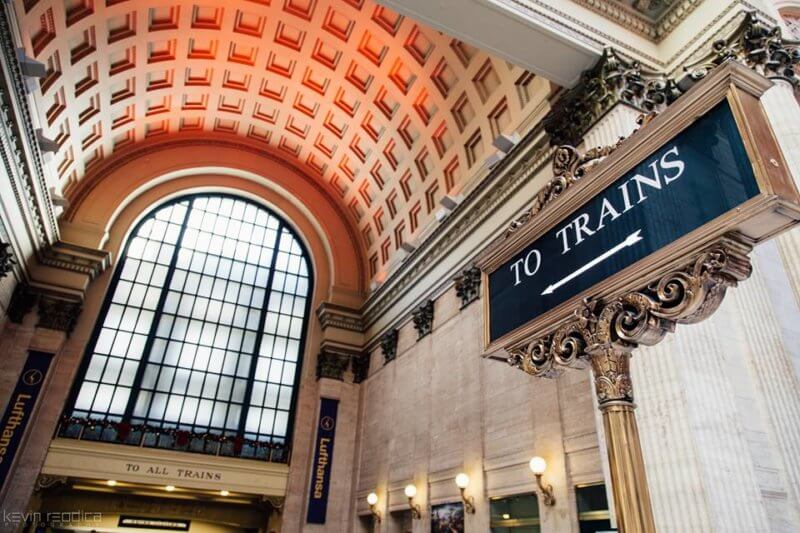 We store all kinds of luggage – any size and any shape
LuggageHero's users can store luggage of any size and/or shape in any of our storage locations. It doesn't matter if it is ski equipment, photo equipment, or backpacks – our luggage stores can accommodate all. LuggageHero's customers can choose to be charged by the hour or choose our daily rate – no matter of their left luggage.

We can store your luggage for several days
LuggageHero also provides multi-day storage to its customers because we know flexibility is an essential part when you travel. LuggageHero offers a lower daily rate when you store your luggage for a longer period. From the second day onwards, our customers pay only $5 per bag per day.
Pricing
Luggagehero is the ONLY luggage storage service that offers you a choice of hourly or daily rates in Union Station. A flat rate of $8.3 per day and $0.95 per hour allows you to pick an option that will suit your needs best. If you're only planning on staying for a few hours in a city, why pay for an entire day as you would with other luggage storage services. No hidden fees and no need to pay in advance, pay only if you show up at the luggage drop-off location. All luggage is insured against damage, loss, and theft & a security seal is provided.
Check out why KnockKnock recommends using the services of LuggageHero.
Union Station
Union Station is an iconic building and a marvel of modern transportation for nearly a century. The station is located at 225 S Canal St and the west side of the Chicago River between Adams Street and West Jackson Boulevard very close to the city center and just next to the Chicago Greyhound Bus station.
The station serves Amtrak with more than 500 destinations and Metra the commuter rail service for the Chicagoland area. The Chicago Transit Authority, or CTA, provides train and bus service throughout Chicago and dozens of neighboring communities. The CTA is more commonly referred to as the 'L' Train which crosses the city providing rapid transit services.
From Union Station, you can reach most of Chicago but if you are heading to McCormick Place you'll have to change at Michigan & Randolph Station.
There are 3 types of tickets available at Union Station.
Amtrak tickets: You can buy Amtrak tickers at the Passenger Services Office in between the Great Hall and the Concourse. Another option is that you can print and get ticket assistance at the blue Amtrak ticketing kiosks which can be found in The Great Hall.
Metra tickets: Metra tickets can be bought on the Concourse Level of the station. Tickets can further be bought through the mobile Ventra app.
Greyhound tickets: Greyhound ticketing can be found in the South Concourse.
Things to do near Union Station, Chicago 
To begin with, after you drop off your bags, you can take a stroll down the canals and enjoy a walk near the water. You can go check out the Van Buren Street Bridge continue onto it and then arrive at the other side of the canal.
After you're on the other side, you can check out the Willis Tower – the iconic, 110-story skyscraper featuring expansive views of Chicago from its 103rd-story Skydeck.
Just a few minutes' walk away, you can visit the Federal Reserve Bank and the Rookery Building. If you are traveling with children, you'd be happy to know that the Federal Reserve Bank offers educational, kid-friendly displays about money.
If you use the subway, you can easily get to the Art Institute of Chicago – a renowned art museum holding nearly 300,000 works from all over the world, spanning many centuries. Just a few blocks away, you can enjoy the Millenium Park with the iconic 24.5-acre green space with a video display, the reflective "Bean" sculpture & an outdoor theater. Then you can move on to Maggie Daley Park, a popular recreational area with winter ice skating, a climbing wall & playground equipment, after which you can retire to the waterfront and take a nice long deserved rest before you pick up your bags again. 
Luggage storage Union Station
You can store your bags at Union Station in Chicago for the price of $20 per item. Baggage Check is located on the Concourse level and baggage claim is located in the South Concourse.
This can be a very expensive option if you need more than one bag stored or if you need storage for a shorter period of time. That is why you can use an alternative like LuggageHero where you can store your bag for only  $0.95 an hour! It is way cheaper than using the standard station option!
Find the closest bag drop-off location to you
Explore the map and find the closest location for baggage storage near Union Station or wherever in Chicago you are!
Store your bags with LuggageHero
Unlike similar options, all our shops in Chicago have been reviewed by a LuggageHero employee. We further provide security seals for each piece of luggage, and each piece of luggage and its contents can be insured for up to $3000. You will not find any other luggage storage providers in Chicago that offer the same perks. If you are having issues or problems in Chicago, our online customer chat support is available for you 24/7.
The difference between left luggage and luggage storage is the geographic location
Left luggage is luggage that people have left in a designated luggage storage facility. The term 'left luggage' is mostly being used in the UK. And luggage storage is a storage facility where people leave their luggage. Luggage storage is the most common name used internationally when referring to storing luggage.
In other words, there is absolutely no difference between the two concepts. They are both defined by people's need of storing luggage which can be collected at a later time. So whether you are looking for left luggage or luggage storage, LugaggeHero is here to take care of your belongings
Here is how you book luggage storage at LuggageHero
Ready to book your Luggage Storage in Chicago? Whether you are near Greyhound Bus Station or Union Station, choose from our more than 20 locations throughout the beautiful city of Chicago! Find a bag storage location on our luggage storage booking engine or through our app.

Want to know more about LuggageHero? Get to know the concept by reading this FAQ and or by reading about the team behind it here.
Discount Vouchers – Click here to see if we have any available at the moment.
Luggage storage chart
Based on the chart below, LuggageHero is the best luggage storage option in Chicago. LuggageHero the only one that offers both hourly and daily prices with the possibility of insurance. Luggage storage in Chicago has never been so easy!
The chart is created based on the most popular luggage storage options.
Name
Price
Insurance
Flexible arrival
Reviews
Name
Price
Insurance
Flexible arrival
Reviews
LuggageHero
$0.95/hour or $7.95/day
Up to $3000
Yes
67.050
Name
Price
Insurance
Flexible arrival
Reviews
NannyBag
$6 day & no hourly option
Up to $1100
No
27,802
Name
Price
Insurance
Flexible arrival
Reviews
Vertoe
$5.95 day & no hourly option
Up to $5000
No
4,708
Name
Price
Insurance
Flexible arrival
Reviews
Radical Storage
$5 day & no hourly option
No
No
900
Download the free bag storage app 
You can download our free bag storage app and store your belongings near Union Station with ease. It only takes a few clicks and you will be ready to explore the city!
Frequently Asked Questions about Union Station
Can I store my luggage at Union Station?
Yes, you can store your luggage for $10 per bag at Union Station. It can be quite expensive if you have several bags which is why you can use a service like LuggageHero where you only pay $1 per hour, per bag.
Where are the tracks at Union Station located?
Odd Numbered Tracks are located in the North Concourse. Even Numbered Tracks are located in the South Concourse.
Are there restrooms at Union Station?
estrooms are available in the following areas: Metra ticketing, the Jackson/Clinton ramp off of the Great Hall, and the Food Court.
Does Metro go to Union Station Chicago?
Yes, Metra provides commuter rail service for Northeast Illinois: six of Metra's eleven routes originate and terminate at Chicago Union Station so it would be fairly easy to get there from whichever point in Chicago you start at.
How early should I arrive at Chicago Union Station if I need to pick up luggage?
If you have to pick up luggage, we recommend arriving at least 50 minutes before your train in case there are lines at the pick up location. If you book with LuggageHero you can avoid lines and pick up your bags more quickly.
Is luggage storage with LuggageHero safe?
All luggage storage locations are verified for safety and carefully trained by our team before being listed on the site. Aside from that, we provide you with individually tagged tamper-proof seals for your baggage when you arrive. To offer an extra sense of security, every bag is covered by a $3000 insurance.
Is there a limit to the size of luggage that may be stored with LuggageHero?
LuggageHero's baggage storage network has no size restrictions. All sizes of luggage, big or small, can be accommodated.