Luggage Storage in Østerbro
Turn your travel days into holidays
1-2-3 How does it work?
Check In When Arriving at the Shop
Attach Free Insurance Tag Found in Shop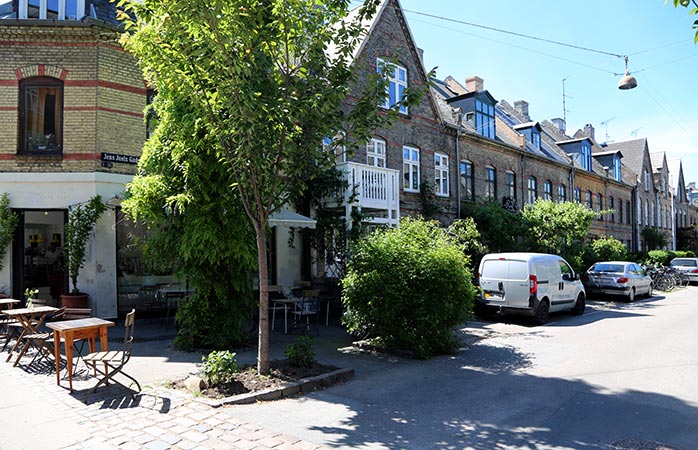 Luggage Storage in Østerbro:
Need to store your luggage in Østerbro, Copenhagen?
Luggage storage with LuggageHero is as convenient as ever. We provide safe, insured and easy luggage storage.
When storing with LuggageHero, local shops around Østerbro will take care of your luggage. All bags are sealed with our tamper proof luggage tags and insured for up to €2500.
Find your shop, book storage online, go to the shop and check-in. Turn your travel days into holidays and explore Copenhagen hassle-free.
Our Pricing
/hour per bag
+ one time handling fee of per bag.
The price includes insurance with coverage up to for each bag
This is how easy it is:
How to store your luggage at LuggageHero
1. Press book in the top of this page to start browsing your ideal spot for your luggage. Use the map or browse the list of shops.
2. Book risk-free to be guaranteed your spot. You only pay if you end up using your booking
3. Check-in when you arrive at the shop. Directions are forwarded by email and SMS
4. Your bag is secured with a security seal and insurance for up to €2500/$3000
5. Pick up your luggage when convenient and click check-out in your booking.

No reason to find correct currency. Everything is paid online for your safety and convenience.
Where is the luggage stored?
Luggage storage sites are located inside existing businesses, including retail outlets, hotels, cafes, and more. All are vetted by LuggageHero's local employee, who performs regular quality checks. Every piece of luggage is stored away from any public access and secured with an insurance seal every time.
Insurance and safe luggage storage
In the collaboration between cover holder First and one of the world's largest insurance companies, Lloyd's of London, we are proud to be covering each piece of luggage free of charge every time you use our luggage service. The insurance is covered up to $3,000/€2500 per item of luggage. Make sure you do not pay cash in a drop-off/pick-up shop, because insurance will not cover any bookings that are not paid directly to LuggageHero. You must pay directly to LuggageHero to be covered.

Cash-free
Submit your credit card information for swift drop-off and pick-up at a LuggageHero location. You don't need to worry about having the right currency on hand when paying online. All major credit cards are accepted. The shops do not receive cash when using LuggageHero. The insurance on your luggage is valid only if the payment has been made directly to LuggageHero.
Only pay if you show up
You don't pay unless you drop off your baggage at a LuggageHero shop. We do this because it's how we personally would like to be treated. Therefore, no amount will be charged if you fail to show up for your booking.
No download necessary
You don't need to download anything to use LuggageHero. You simply book using our website. Once you are at the shop, you check yourself in using the link provided when booking.
How do I calculate the price?
LuggageHero is the only luggage storage service in the world to only charge you for the hours you spend storing your luggage and at a low hourly rate. No more pre-paying for hours not spend. The price is listed on each shop profile before booking and incl. insurance.
Our customers are saying
Great shop in a central Kobenhavn location. Had a great experience leaving our luggage here. The central location is close to Norreport station and to Torvehallern market. They were out of luggage tags but many people had their luggage there.
Great service and access to having a luggage storage at various locations near the train station. The transportation of our heavy luggage made it easy for us to drop off at local shops rather than hailing for a cab or going too far to drop off at major train stations with storage facilities.

I think it is also a great idea for shop owners to be participating in this concept. Not only does it provide extra income but also increase their business and attraction.

I used this service in Copenhagen, near the NORREPORT train station. I am sure there are other places in the world that major train stations do not have luggage storage access. This is perfect if you have to check out early and have a late flight.
Luggage Hero is a great idea and service for tourists! We made use of it during our time in Denmark, Copenhagen. Smooth check in and check out at this hotel location right next to the central station. First time using the service but instructions were pretty clear to follow. Everything via email was easy to use. Guy at the counter was nice and helpful. Adequate shelves in the storage room and you can put in your luggage yourself so there's no need to worry about others mishandling it. Price is reasonable and you save more by paying only for what you need, hourly. Would recommend!
Would 100% use again.
It was extremely easy to set up online. I liked the online system though was worried that I wouldn't have internet connection to check out, but this proved fine. The location was extremely accessible to the metro station and made life so simple and easy. Would 100% use this in any city I visit and would even be happier getting later flights as I would know my luggage was safe on the final day.
Copenhagen Central Station, Hotel Astoria

It couldn't have been any easier to drop off my luggage! Got off a flixbus with too many bags and about 6 hours to kill before my flight. Walked a few meters to the Hotel Astoria, dropped off my bags in just a few minutes, and in a flash, I was out exploring the city with ease.
On hand to support everyday
Live Chat 24/7
Østerbro
LuggageHero is the biggest luggage storage provider in Copenhagen and by partnering up with local shops, you have convenient and multiple solutions to store your bags while you explore the city.
Founded in 2016, LuggageHero quickly became the leading solution for luggage storage while visiting Copenhagen and is recommended by the official tourist organization VisitCopenhagen.
Choose one of our suggested locations up top or search for any area in Copenhagen to find a LuggageHero that suits your travel plans better.
Featured in the international press
Recommended by the official tourist information