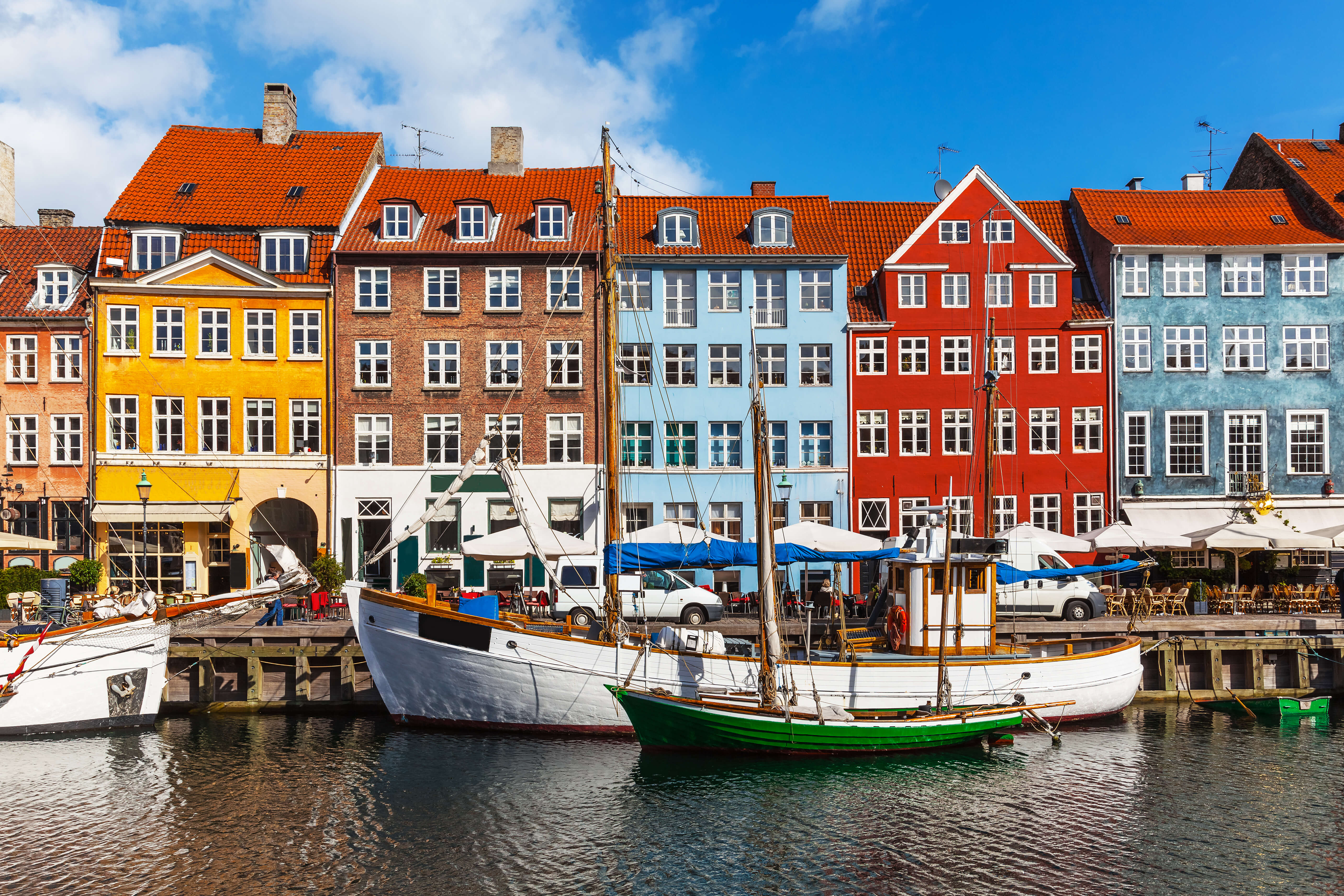 Luggage Storage in +30 shops around Copenhagen
Only luggage storage to offer choice of hourly or daily rates in Copenhagen
Most-reviewed luggage storage service
Luggage storage Copenhagen
No more hunting for places to leave your bags. LuggageHero is here to save the day when you're visiting Copenhagen!
With our network of more than 40 local shops and hotels conveniently located near traffic centers, we offer travelers a choice of where to leave their luggage. Drop-off spots include Nørreport Station, Nyhavn, and Copenhagen Central Station.
For example, if you arrive from Copenhagen International Airport or by train before your rental is ready, you would want to explore the sights of Copenhagen without being weighed down by your baggage. Maybe you also want to visit Tivoli Gardens, the National Museum of Denmark, Carlsberg Visitors Center; maybe to check out some shops in Frederiksberg, or take a canal tour. Whatever you choose, LuggageHero is here to lighten your load.
All you need to do is visit the LuggageHero booking site or download our app to find a convenient and verified place to store your luggage inside a shop or other business. Using our online map further down this page, you can easily locate the shops near metro stations or whatever spot is the most convenient for you.
Quick & cheap
You've never seen luggage storage so quick, easy, and affordable.
That's because LuggageHero offers to its users to be charged by the hour whereas most other luggage services charge for the entire day. However, if you prefer to drop your bags for a day or more, we offer an affordable daily maximum at only 59.95DKK.
A 3-step easy guide on storing luggage in Copenhagen

Download LuggageHero's free luggage storage app:
For greater convenience, you can download LuggageHero's app, where you can see all our locations near you.
We store all kinds of luggage – any size and any shape
LuggageHero's users can store luggage of any size and/or shape in any of our storage locations. It doesn't matter if it is ski equipment, photo equipment, or backpacks – our luggage stores can accommodate all. LuggageHero's customers can choose to be charged by the hour or choose our daily rate, regardless of what they store.
We can store your luggage for several days
LuggageHero also provides multi-day storage, because we know flexibility is essential when you travel. LuggageHero offers a lower daily rate when you store your luggage for a longer period. From the second day onwards, our customers pay only 49.5DKK per bag per day.
Pricing
Luggagehero is the ONLY luggage storage service that offers you a choice of hourly or daily rates in Copenhagen. A flat rate of 59.95DKK per day and 8.95DKK per hour allows you to pick an option that will best suit your needs. If you're only planning on staying for a few hours in a city, why pay for an entire day as you would with other luggage storage services. 
Half the price of station lockers and airport lockers
Luggage lockers, also called city lockers, are generally at least twice as expensive on a daily basis as LuggageHero's luggage storage service. Until relatively recently, travelers could only stow their bags in these luggage lockers, which offer very little flexibility in regard to pricing and location. where to go and luggage deposit. Today, LuggageHero offers countless stores in various cities to ensure you always have the option of dropping off your luggage in a protected environment. Unlike luggage lockers in stations and airports, LuggageHero also offers both an hourly and daily rate for maximum flexibility. LuggageHero tries to offer safe and cheap luggage storage near you at all times. 
Luggage storage facility for suitcase, baggage and odd-sized luggage
We check all our hotels and local shops in order for us to be able to offer space for whatever you need; ski equipment, photo equipment, backpacks or whatever. This is simply another method for us to give you the most flexible baggage storage, suitcase storage and luggage deposit.  
Our service is similar to hotel luggage storage
Many travelers who have been customers at hotels have asked the staff at the reception if they could store their luggage until they depart the city later in the day. For the most part, we offer the same service for everyone – no matter if they stay at a hotel, Airbnb or anywhere else. We are always ready to help you out. 
Stow your bags in verified stores with discount codes
We offer our loyal customers and new customers a discount code for two hours of FREE luggage storage. The discount code works the rest of 2022 in ALL cities and ALL stores – including Premium Partner stores! 
Just use the following discount code when you are booking: 
LOVE2
Opening hours
We have a variety of stores with different opening hours, so choose what fits you best! Go and pick the store here to see the opening hours.
Which payment methods are accepted?
All major credit cards are accepted. Be aware that the shops do not receive cash when using LuggageHero and remember that the insurance on your luggage is valid only if the payment has been made directly to LuggageHero.
Cancellation of booking
We know that plans can change, therefore our customers have the option to cancel their booking up until midnight of the day before without any charges.
For same-day cancellations and no-shows, there will be a fee equal to  the daily rate of 59.95DKK per bag.
Check out why KnockKnock recommends storing your baggage with LuggageHero. Also featured in The New York Times, Lonely Planet, CNBC.
Try it out with discount Vouchers. Click here to see the discount code and use it in Copenhagen for an even cheaper luggage storage experience.
Download our free app
For even more comfort you can download our LuggageHero bag storage app where you can easily see all our locations around Copenhagen. With our luggage storage app, you are able to store your bags anywhere in our 1000+ locations.
Costs and Discount Vouchers in Copenhagen 
per hour + a one-time handling fee of – maximum  
Want to know more about LuggageHero? Get to know the concept by reading this FAQ and or by reading about the team behind it here.
Interesting places to visit while staying In the happiest city in the world
Hans Christian Andersen's Grave – Writer of The Little Mermaid and other Danish favorite stories is Hans Christian Andersen who himself is buried in the 

Assistens Kirkegård

 Cemetery in 

Nørrebro. You can visit any time of year and it's 

one of the most lovely green spaces in Copenhagen.

Den Blå Planet (or the Blue Planet) – is the biggest Aquarium in Northern Europe The building's architecture is inspired by a whirlpool and is situated on the seafront at Amager. With over 20,000 fish and marine animals and 7 million liters of water. They have shark feeding, Sea Otters playing, 100s of piranhas, and more! Only 20 minutes by bus from the town center.
2021 Guide: Luggage Storage Copenhagen
You may be confused with the rules and regulations and wonder where bags and luggage are allowed in your travel destination. LuggageHero understands your pain and is happy to give you a big help. You just simply click Find Luggage Storage & Lockers in Copenhagen and have a quick look to find all the updated information for your amazing trip.
Check out the latest Coronavirus information in Copenhagen.
FAQs
LuggageHero is completely safe to use for luggage storage as the shops are monitored by our employees with regular checks performed. On top of that, you have the option to add insurance on your luggage and bags which covers up to 18000DKK.
Can I cancel my booking with LuggageHero?
Of course! We know that plans can change, therefore our customers have the option to cancel their booking up until midnight of the day before without any charges. For same-day cancellations and no-shows, there will be a fee which equals the daily rate of 59.95DKK.