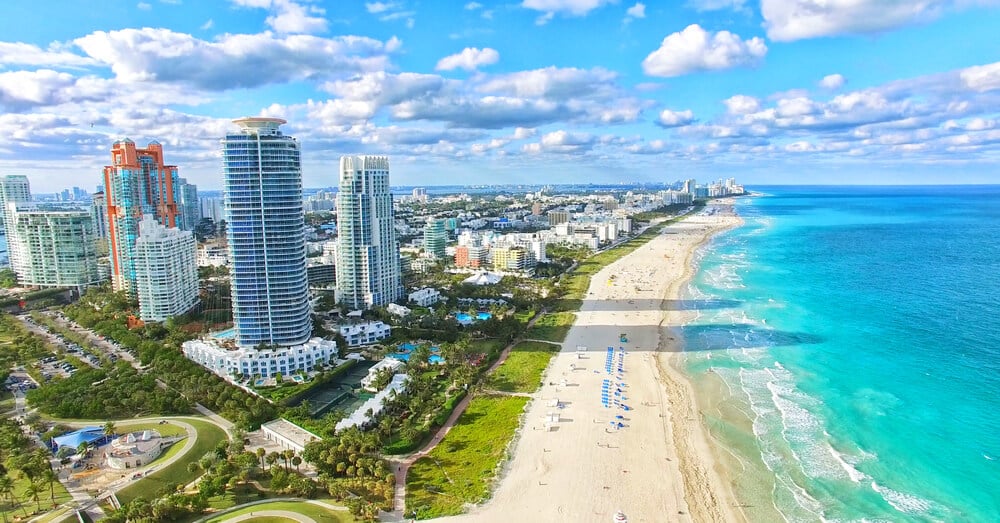 Luggage Storage in +20 shops around Miami
Only luggage storage to offer choice of hourly or daily rates in Miami
Most-reviewed luggage storage service
Luggage storage Miami
Luggage Storage in Miami
The days of searching for "store luggage", "storage in lockers", "Miami baggage storage", "luggage storage South beach" or "luggage lounge Miami" are over. LuggageHero is here to save the day when you're visiting the city of Miami or you need luggage storage by the beach.
Download LuggageHero's free luggage storage app here:
You can download our LuggageHero luggage storage app where you can see all our locations around Miami. Your days wasting time searching for lockers are over!
Travelers can leave luggage in Miami with LuggageHero by making use of its network of more than 25 local shops (coffee shop, souvenir shop, restaurant, bike shop, etc) spread across important traffic hubs. These include Government Center Station, Downtown Miami, American Airlines Arena, and Miami Central.
Imagine that you arrive from Miami International Airport and you want to explore the sights without dragging your luggage around Miami. Maybe you want to visit Miami Beach, watch a game at Hard Rock Stadium, enjoy a day in the North Beach, or go shopping at the Bayside Marketplace. Whatever you choose, we're here to lighten your load.
No need to search for luggage lockers at Miami Airport that will be restrictive, simply go to the LuggageHero booking platform or download our app, and locate a convenient storage site inside a verified shop or other business. From the map service, you can find the nearest subway stops and find the most convenient venue to store your luggage. It is easy and simple with just a few clicks.
Activities you need to do in Miami
Miami is an amazing city, it is the financial and cultural center of the international level, located in the Southeast of the state of Florida. By being here, you can ask yourself what activities to do, what activities to focus on. So if you dropped off your luggage at the port of Miami luggage storage, luggage storage Miami airport or not, we have listed above attractions and activities to do if you have time to spend in this city :
If you want to live like a local, you can spend an evening on one of Miami's rooftops, they offer stunning views for a Florida sunrise or sunset. You can also visit Coral Gables or cycle the Shark Valley Trail in The Everglades. It's a 15-mile loop that takes you to an observation post whose view is absolutely magnificent. You will see extraordinary fauna and flora.
Pay by the hour – a unique service!
We offer a speedy, convenient, and low-cost service.
In comparison to other luggage storage services where you pay for the entire day, you can choose to only pay for the hours spent with LuggageHero. If you want to store your luggage all day or longer, we offer you a low daily cap of .
We store all kinds of luggage – any size and any shape
LuggageHero's users can store luggage of any size and/or shape in any of our store locations. It doesn't matter if it is ski equipment, photo equipment, or backpacks – our luggage stores can accommodate all. LuggageHero's customers can choose to be charged by the hour or choose our daily rate – no matter of their left luggage.
We can store your luggage for several days
LuggageHero also provides multi-day storage to its customers because we know flexibility is an essential part when you travel. LuggageHero offers a lower daily rate when you store your luggage for a longer period. From the second day onwards, our customers pay only $5 per bag per day!
We're looking out for you
Our top priority is your safety and security! All our shops in Miami have been carefully reviewed and certified by the LuggageHero team and each bag stored is sealed with a unique security seal to keep them tamper-free. Your luggage can also be insured for up to on every bag and its contents. If you need to talk to someone at LuggageHero, we're here for you 24/7 through our online chat.
Check out why KnockKnock recommends storing your baggage with LuggageHero!
Are you ready to store your bags in one of our many Miami luggage storage locations?
Find your perfect place and choose between more than 25 locations throughout Miami!
Book risk-free
Traveling has to be easy and convenient. This is why you only pay if you show – NO FEES are charged to you until your luggage is dropped off.
Find luggage storage sites all around Miami that are most convenient to your location and schedule by using our online search engine. Book online in advance and you're guaranteed a space for your luggage.
Sometimes plans change, especially when you're on the road. If you don't show up, there's no charge.
Storing luggage in Miami during COVID19:
Many shops and locations in Miami are open for storing luggage
Be responsible and make sure to sanitize before and after using any kind of luggage storage service or locker in Miami
Whenever possible, remember to use a face mask when dropping off your bags in luggage stores in Miami
When you store your luggage in local shops in Miami, you are helping support local businesses in these difficult times. Thank you!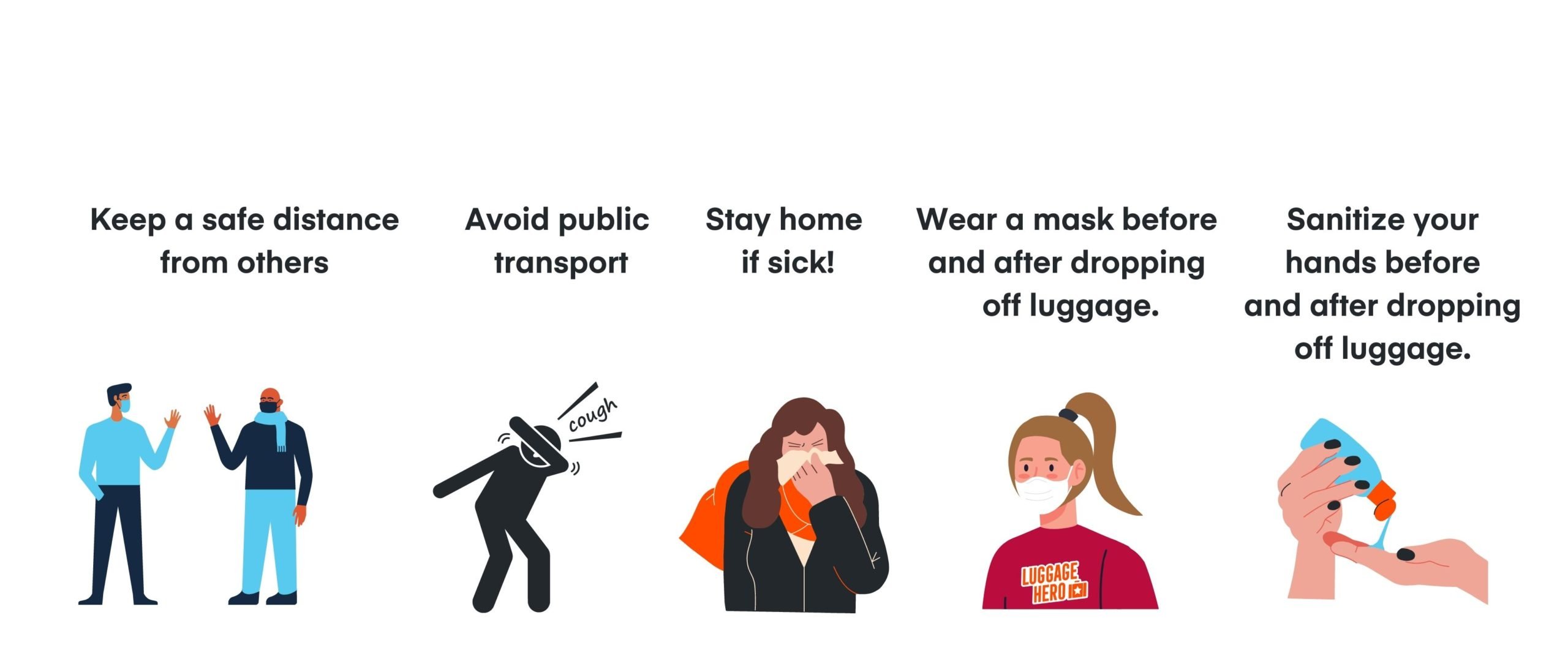 Remember to be careful when storing your luggage in Miami! See the full guide here.
Download LuggageHero's free bag storage app for Miami
For even more comfort on your trip, can download our LuggageHero bag storage app where you can easily see all our locations for storing luggage around Miami. With our luggage storage app, you are able to store your bags in any of our 20+ locations in Miami with just a few clicks. For example, finding luggage storage in Miami Beach has never been easier
Major and popular stations in Miami
Bayfront Park – It now spans 32 acres in the heart of Downtown Miami and sits right on Biscayne Bay. Perfect for families who want to relax, play or exercise, this iconic park has open lawn spaces, a wide bay-walk, winding walkways, a sandy beach area, a stunning fountain, performance venues with special event lighting and VIP seating areas, a tropical rock garden, a waterfall that dates back to 1926 and so much more.
South Beach – is known for its beaches and the glamorous scene around its happening nightspots and celebrity-chef eateries. Chain stores and indie fashion shops line pedestrian shopping strip Lincoln Road Mall. On Ocean Drive, known for its well-preserved art deco architecture, outdoor cafes offer a ringside view of the scene
Cruise Port Miami – Miami Cruise Port is one of the USA's main turnaround/departure port destinations for roundtrip Caribbean Cruises. The port is located on Dodge Island, just east of Miami.
Luggage Storage Guide Miami
We at LuggageHero made a guide as well as a specially designed map of where to store your luggage when visiting the great city of Miami- click the following to learn more about where and how to store your luggage in Miami: 2021 Guide: Find Luggage Storage & Lockers in Miami
Ready to book your Luggage Storage in Miami? Search the list here to find your spot and guarantee space for your luggage.
Frequently Asked Questions for Luggage Storage in Miami
Questions and answers for luggage storage in Miami
Does Miami Beach have lockers?
Yes - you can find safety lock-boxes available from select kiosks along the beach. The lock-boxes can be securely locked to the back of a beach chair or remain locked at the rental kiosk, making it easy for you to store your belongings while enjoying the beach.
Can you store luggage at Miami International Airport?
Yes, you can find a Miami international airport luggage storage, you can leave your luggage at the Baggage Checkroom in Central Terminal E, open from 5 a.m. to 9 p.m. Prices start from $8 depending on the size of your luggage. For a more flexible and cheaper price, we recommend you to find our certified shops near you and let us take care of your luggage.
When is the best time to visit Miami?
Hurricane season typically goes from June to November, so to keep it safe, it is recommended to visit Miami between November and May. Temperatures usually don't go down 20ºC, making it the perfect weather.
When is Spring Break happening?
It depends on the school, but March and April are usually the busy months. Miami, Panama City Beach and Key West are the areas where most Spring Break activities are held.
Miami is a very attractive city in the United States, you can stroll around Miami Beach, see museums, street art or even stroll the streets of the city.
Will my luggage be safe with LuggageHero ?
Yes, all LuggageHero locations have been personally and regularly checked by LuggageHero staff.
Can I drop off my luggage by hour with LuggageHero ?
Yes LuggageHero is an hourly service, It's $1 an hour and never more than $6 a day.