Luggage Storage in +30 locations around Chicago
Only luggage storage to offer choice of hourly or daily rates in Chicago
Most-reviewed luggage storage service
Luggage storage Chicago
The days of searching for luggage storage or storage lockers near me are over. LuggageHero is here to save the day when you're visiting the city of Chicago!
Travelers can leave luggage with LuggageHero in Chicago by making use of its network of more than 30 local shops (coffee shop, souvenir shop, restaurant, bike shop, etc) spread across important traffic hubs. These include Union Station, the Greyhound bus station, Clark/lake, and Washington/Wabash station.
Download LuggageHero's free luggage storage app:
For even more comfort and ease, you can download LuggageHero's bag storage app where you can see all our locations around you.
We store all kinds of luggage – any size and any shape
LuggageHero's users can store luggage of any size and/or shape in any of our storage locations. It doesn't matter if it is ski equipment, photo equipment, or backpacks – our luggage stores can accommodate all. LuggageHero's customers can choose to be charged by the hour or choose our daily rate – no matter of their left luggage.

We can store your luggage for several days
LuggageHero also provides multi-day storage to its customers because we know flexibility is an essential part when you travel. LuggageHero offers a lower daily rate when you store your luggage for a longer period. From the second day onwards, our customers pay only $5 per bag per day.
Is there a difference between left luggage and luggage storage?
Left luggage is luggage that people have left in a designated luggage locker facility. The term 'left luggage' is mostly being used in the UK. And luggage storage is a storage facility where people leave their luggage. Luggage storage is the most common name used internationally when referring to storing luggage. In other words, there is absolutely no difference between the two concepts. They are both defined by people's need of storing luggage which can be collected at a later time. So whether you are looking for left luggage or luggage storage, LugaggeHero is here to take care of your belongings.
Pricing
Luggagehero is the ONLY luggage storage service that offers you a choice of hourly or daily rates in the Grand Central terminal. A flat rate of €8 per day and €1 per hour allows you to pick an option that will suit your needs best. If you're only planning on staying for a few hours in a city, why pay for an entire day as you would with other luggage storage services. No hidden fees and no need to pay in advance, pay only if you show up at the luggage drop-off location. All luggage is insured against damage, loss, and theft & a security seal is provided.
Do you want to enjoy the city of Chicago hands-free? It's simple!
Imagine that you arrive from O'hare International Airport or Chicago Midway Airport and you want to explore the sights without dragging your luggage around Chicago. Maybe you want to visit Millenium Park, watch a game at Wrigley Field, stroll down the Magnificent Mile, or maybe you have an important day at McCormick Place. Whatever you choose, we're here to lighten your load.
How?
Simply go to the LuggageHero booking platform or download the app, to locate a convenient storage site inside a verified shop or other business. From the map service, you can find the nearest Subway stops and find the most convenient baggage storage in Chicago.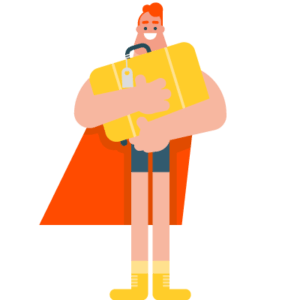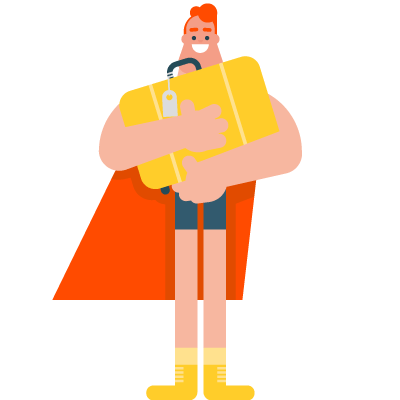 Easy & affordable
Chicago baggage storage has never been quicker, easier, or more affordable. LuggageHero users can choose to be charged by the hour , unlike most luggage lockers or facilities, which charge for the day. We also offer a reasonable daily maximum , and luggage can be stored for multiple days.
Safety
Unlike similar concepts, all our shops in Chicago have been reviewed by a LuggageHero employee, we provide security seals for each piece of luggage, and each piece of luggage and its contents can be insured for up to . You will not find any other luggage storage providers in Chicago that offer the same. Our customer online chat support is available 24/7.
We made it easy for you to compare all companies offering luggage storage in Chicago – find the list here.
How to safely store luggage during COVID-19 in Chicago
Remember to comply with the current COVID-19 guidelines and to make sure that you are being careful when storing your luggage in Chicago.
Chicago baggage storage is safe as long as you follow the rules and regulations.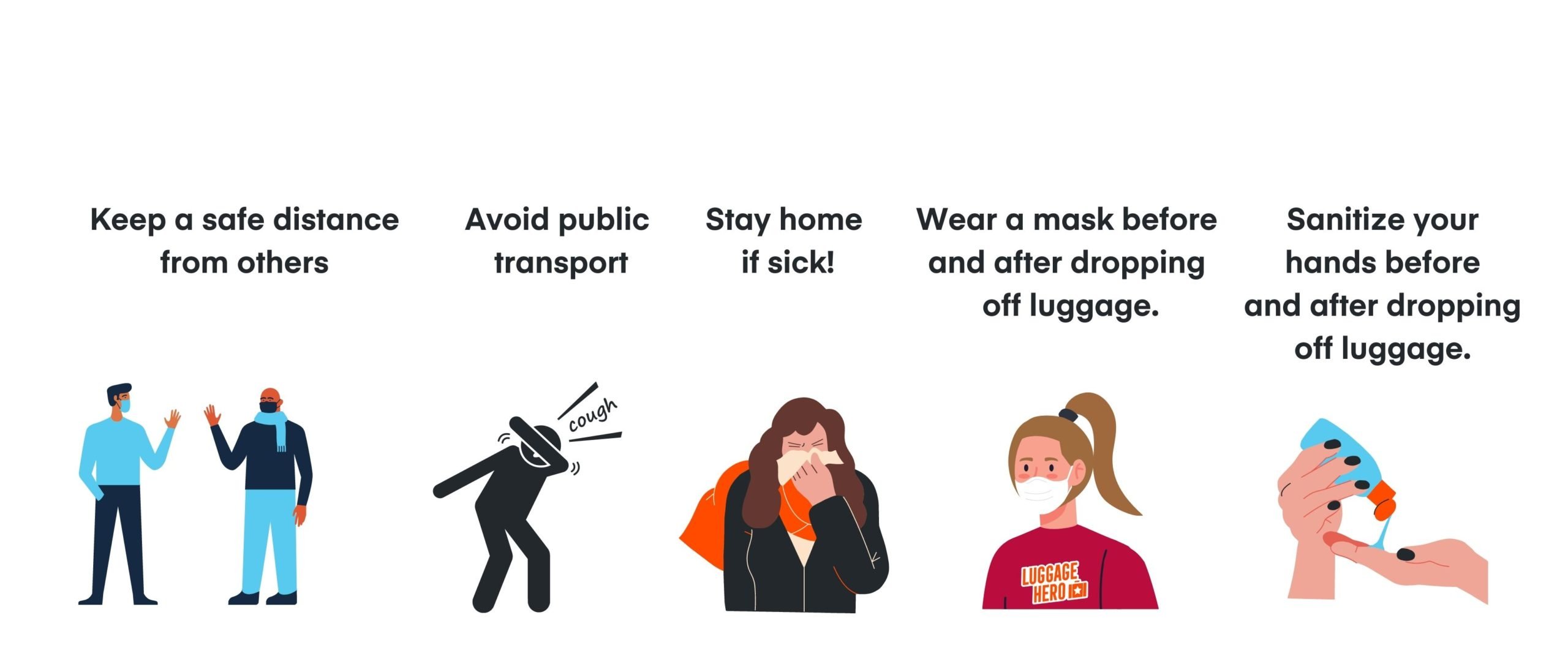 Download the LuggageHero free app 
For even more comfort you can download our LuggageHero bag storage app where you can easily see all our locations around Chicago. With our luggage storage app, you are able to store your bags anywhere in our 1000+ locations. Find the location closest to you and book now.
Luggage Storage Chicago: Costs and Discount Voucher
per hour + a one-time handling fee of – maximum for the first 24 hours and €5 for each additional day including your free luggage storage insurance
Want to know more about LuggageHero? Get to know the concept by reading this FAQ and or by reading about the team behind it here.
Discount Vouchers – Click here to see if we have any available at the moment for Chicago.
Things to do in Chicago
If you have spare time, you can easily spend it at Navy Pier. There are so many fun and interesting things to do, like taking a ride in the famous Ferris Wheel, walking through the Chicago Children's Museum, or just walking around the area.
Chicago Riverwalk is a nice place to take a walk along the river and take pictures of Chicago's stunning and historical architecture. Moreover, it gives a  great view of the city, the bridges, and the monuments.
We also recommend Frank Lloyd Wright's famous Robie House, the Art Institute of Chicago, the Willis Tower where you can check the Skydeck, and the Millennium Park, to visit Anish Kapoor's "Cloud Gate".
If looking for some green spaces, you can enjoy a walk in Grant Park, which offers a view of the lake and the marina on one side, and Chicago's unique Skyline on the other.
LuggageHero is waiting for you
Sightseeing and attractions just aren't the same with a suitcase in each hand and a backpack on your shoulders. Hence, free yourself from baggage to fully enjoy your time in Chicago.
2021 Guide: Luggage Storage Chicago
You may be confused with the rules and regulations and wonder where bags and luggage are allowed in your travel destination. LuggageHero understands your pain and is happy to give you a big help. You just simply click Find Luggage Storage & Lockers in Chicago and have a quick look to find all the updated information for your amazing trip.
Ready to book your Luggage Storage in Chicago? Choose from our more than 30 locations throughout Chicago! Search the list here to find your spot.
Frequently asked questions about Chicago
Can you store luggage at O'Hare International airport?
Unfortunately, there is no luggage storage available at O'Hare International airport. Luckily for you, LuggageHero is an affordable and safe choice to store your luggage, starting from $1/hour.
There are many places you can choose to visit while in Chicago. We recommend Frank Lloyd Wright's famous Robie House, the Art Institute of Chicago, the Willis Tower where you can check the Skydeck, and the Millennium Park, to visit Anish Kapoor's "Cloud Gate".
How do I get around in Chicago?
Public transport in Chicago is a good option, specifically the L train. The Blue Line that operates between downtown and O'Hare International airport runs 24 hours a day, so this one might be your best choice when coming from the airport.
Is it possible to store my luggage at Union Station?
Yes, to find Union Station Chicago luggage storage, Go visit https://luggagehero.com/chicago/union-station/ for more.
What is Chicago best known for?
Chicago is famous for its unique architecture, skyline and museums. Also, it is highly recommended to try the Chicago-style hot-dogs and Chicago-style pizza.
Chicago is the third-biggest city in the United States, with almost 3 million inhabitants.
Where can I find luggage storage near me?
To find the nearest location to you, you can visit the LuggageHero website and click book now. Apart from that, you can download LuggageHero's app for even more convenience when booking your luggage storage on the go.