Luggage Storage Copenhagen
Store your bags in a certified hotel or shop from 7 DKK/hour
How and where to find lockers and places to store your luggage in Copenhagen 2021:
While on vacation, you're not supposed to carry your worries around with you. So why should you carry your bags around? With several locations around Copenhagen, conveniently close to all the main tourist attractions, LuggageHero is a quick, safe and easy solution to store your bags.
Claim your 1 Hour Free Luggage Storage Discount Voucher for Copenhagen
Use our map to find the nearest certified shops
Click on the icons to get more info on locations, prices, and insurance. The map includes all locations from LuggageHero™
Best rated in Copenhagen: LuggageHero
LuggageHero is the best luggage storage option in Copenhagen. Use a local shop (coffee shops, souvenir shops, restaurants, and stores) in Copenhagen to store your luggage for as low as . Avoid that luggage locker in Copenhagen, where you have no guarantee for your belongings.
Use a local shop (coffee shops, souvenir shops, restaurants, and stores) in Copenhagen to store your luggage for as low as 7 DKK per hour.
Download LuggageHero's free luggage storage app:
For even more comfort and ease, you can download LuggageHero's bag storage app where you can see all our locations around Copenhagen.
Also, LuggageHero uses only certified shops and provides insurance and security seals at over 40 different Luggage Storage Locations in Copenhagen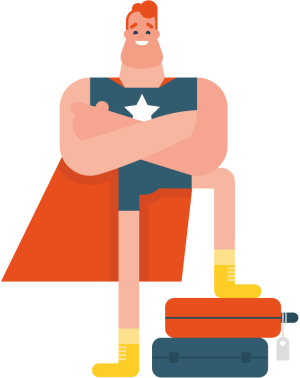 Luggage storage with LuggageHero

Featured in Lonely Planet and New York Times.
LuggageHero offers storage options in over 40 shops all over Copenhagen which means you can stow away your belongings for hours or even days if you need to.

LuggageHero: always in the neighborhood
Don't spend your time looking for a place where to drop off your suitcases. Leave it in one of our partner locations, conveniently located all throughout the city. This way your time is best spent enjoying the city rather than traveling to and from where you left your suitcases.
Easy to find, easy to use, easy to budget
When using LuggageHero in Copenhagen, you only pay a maximum of 60 DKK/ day: 7 DKK/ hour and a one-time handling fee of 15 DKK. We are budget-friendly so that you can splurge on what matters – having a good time
The handling fee includes security seals and we can provide insurance coverage of up to €2500 for each bag
If you store your luggage for several days, you only pay a maximum of 60 DKK/bag on the first day and only 45 DKK/ day afterward
You will only pay for the time you actually store your luggage. You don't pay anything if you don't show up for your booking
Book online and receive your directions, OR simply download LuggageHero's app
Safety first
We care about making your holidays not just hands-free, but also worry-free. Each piece of luggage left in one of our LuggageHero locations in Copenhagen can be insured for up to €2500 per bag, the highest insurance coverage in the industry.
More than that, we have designed a custom security seal that makes sure no one has tampered with your belongings. Click here to read about our specially designed security seal, which is provided for free at all our locations.
Quality-checked partner locations
Luggage storage sites are located inside existing businesses, including retail outlets, hotels, cafes, and more. All are vetted by LuggageHero's local employee, who performs regular quality checks. Every piece of luggage is stored away from any public access and secured with a security seal every time.
There's no curfew when you're on vacation
We all hate it when the alarm waked us upright in the middle of a great dream. Don't let that be the case on your Danish holidays: why leave your bags somewhere and be rushed to pick them up before their closing time at 18:00 (the hour when it's scientifically proven that beer tastes the best)? We here at LuggageHero have partnered up with several central locations in Copenhagen that are open around the clock so that you can have a dreamy holiday with no timer stressing you out.
Traveling with friends and family made easy
Traveling in a group? Then don't pass up the chance to get a special discount for storing 10 or more pieces of luggage. Write us a quick message and you're all set to go.
Four simple steps to leave your luggage with LuggageHero
When booking online you are always guaranteed space
Start the storage timer in your browser when arriving at the shop or use the link sent to you to access your booking page.
Enjoy yourself in Copenhagen
Pick up your luggage and stop the storage timer on your booking page.

Costs and Discount Voucher
per hour + a one-time handling fee of – maximum for the first 24 hours and 45DKK for each additional day.
Want to know more about LuggageHero? Get to know the concept by reading this FAQ and or by reading about the team behind it here.
Discount Vouchers – Click here to see if we have any available at the moment.
Download LuggageHero's free luggage storage app:
For even more comfort and ease, you can download LuggageHero's bag storage app where you can see all our locations around Copenhagen.
Luggage storage in Copenhagen Airport – Københavns Lufthavn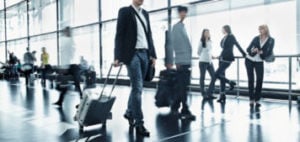 As in most cases, the Copenhagen Airport also offers a space where to stow away your trolleys. The prices vary according to not only bag size but also to time service is used. Take care that for this service you can only pay with Visa or Mastercard cards. For more information or assistance using the service, go to the Info Desk in Terminal 3.
The prices are:
Small bags DKK 60/ €8.07 (under 4 hours) or DKK 80/ €10.71 (more than 4 hours)
Large bags DKK 80/ €10.71 (under 4 hours) or DKK 100/ €13.39 (more than 4 hours)
Ski or golf bags DKK 100/ €13.39 (under 4 hours) or DKK 120/ €16.07 (more than 4 hours)
Location: in the airport's P4 parking garage. Click here for a map of where you can find the lockers.
Luggage storage in Copenhagen Central Station – Københavns Hovedbanegård
The Copenhagen Central Station offers two options for leaving your luggage: luggage or storage with personal service (meaning your bags will be stored and supervised by dedicated personnel). The prices vary according to luggage size.
The prices for lockers are:
DKK 70/ day for a small bag (€9.37/day)
DKK 80/ day for a large bag (€10.71/day)
DKK 85/ day for bikes (€11.38/day)
If you want to leave your suitcases in the staffed storage area, then the costs are:
DKK 75/ day for a small piece of luggage (€10.04/day)
DKK 85/ day for a large piece of luggage or baby carriages €11.38/day)
The baggage center can be found at the exit of Reventlovsgade.
Opening hours: 05:30 – 01:00 (Monday to Saturday) & 06:00 – 01:00 (Sunday and on bank holidays)
Location: Banegårdspladsen 1, 1570 København V. (Open in Google Maps)
Alternative: Luggage storage at museums and galleries in Copenhagen
Most museums and galleries offer the option to leave your bags at the cloakroom or even have designated lockers for their visitors. It's a convenient way to enjoy art pieces without worries. However, be mindful of the fact that lockers in most places tend to be of smaller size, to be able to cater to a larger number of visitors. So either be sure to pack your essentials in a handbag.
Better safe than sorry – give them a call to make sure the option to leave some bags at the entrance is available at the moment of your visit.
Here's the locker situation at Copenhagen's top cultural tourist attractions:
Christiansborg Palace – large travel items are not allowed inside, but they do have lockers and a cloakroom next to the ticketing office
National Museum of Denmark – offers lockers to store large trolleys. For those traveling with children, strollers might need to be left at the entrance and swapped for one of theirs
The National Gallery of Denmark (Statens Museum for Kunst) – in the basement you can find free lockers to store your things
Amalienborg Palace – bags and coats must be left at the entrance, in one of the lockers they provide
Great Tip for how to get yourself luggage storage in Copenhagen
TIP: The demand for luggage storage in Copenhagen is high and therefore it can be tricky to find places where you can store your belongings, but it is not impossible!
Travel Hack: Walk into a random hotel and act as you are staying there. Some hotels offer luggage storage for their guests and sometimes even for people who are not staying at the hotel, just ask! And remember to give a great tip in case they want to store it.
Why are you searching for luggage storage in Copenhagen?
Maybe you have to check out of your Airbnb apartment, rental place, or hotel and your flight isn't until tonight?
Or… You just arrived in Copenhagen, ready to explore everything the city has to offer, but your rental place isn't ready for you for 5 more hours? Most travelers have been in similar situations and experienced the struggle of luggage first hand.
Copenhagen offers a range of possibilities when it comes to luggage storage and we have gathered everything into this guide to help you.
Therefore there is no reason for you to carry around heavy luggage when you should be enjoying the city.
Most-reviewed luggage storage service
FAQ about luggage storage in Copenhagen
Here are some of the most often asked questions and answers for storing luggage in Copenhagen
How do I find luggage storage near me?
It is easy to find storage locations in Copenhagen if you search online for a luggage storage company. You can find sites where you can quickly locate a storage location. This is easy to do because luggage storage companies have maps that show where their different storage locations are throughout the relevant city.
Is LuggageHero safe to use?
LuggageHero is very safe to use as each time you store your luggage, you have insurance for up to 18000 DKK for each bag.
Can I leave my luggage at Copenhagen Central Station?
ockers for luggage storage are located by the exit to Istedgade street at Copenhagen Central Station. The luggage storage is open during these hours: Monday-Saturday 05:30 - 01:00. Sunday and bank holidays 06:00 - 01:00.