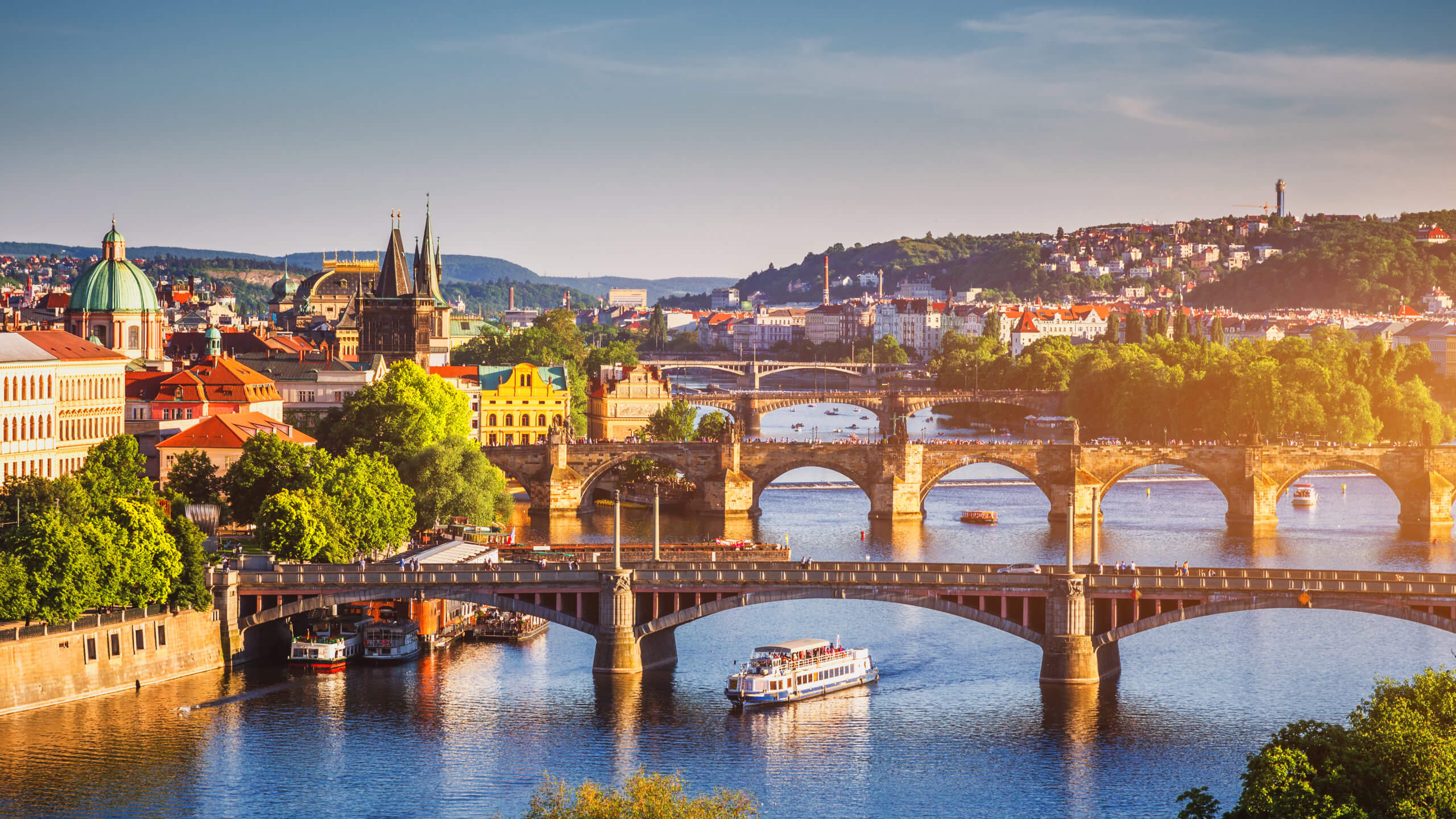 Luggage Storage Prague
Book Ahead and Save: Prices Rise as Bookings Fill Up - From €0.95/hour
Most-reviewed luggage storage service
Luggage Storage Prague
You've just arrived at Prague airport, and you want to start your day? That can be difficult if you can't check in at your rental or hotel right away, and your suitcases are slowing you down. Instead, you can easily store your luggage in Prague.
Next time you're in Prague, remember that LuggageHero is here to save the day! You can check the map below to find the most convenient locations to store your luggage, and remember, LuggageHero is the only luggage storage service that offers hourly and daily rates for maximum flexibility. 
Drop off your bags by using LuggageHero's network of local shops and hotels located in Prague. 
Luggage storage has never been more accessible! Just go to the LuggageHero reservation platform to find a handy storage site inside a shop or other business – all verified by us. Using our map, you can locate the shops close to transportation hubs and top visitor attractions and store your luggage there.
Use luggage storage service at LuggageHero local shops and cafés around Prague. You can find LuggageHero storage shops near to main station Praha Hlavní Nádraží. Metro is a popular way of transportation in Prague, in a couple of minutes you will get anywhere you want. The Prague metro system has a very good connection to all the popular tourists areas, so you can get off and store your bags around any of these stations: Praha Masarykovo Nádraží, Náměstí Republiky, Můstek, Florenc, and Staroměstská.
Luggage Storage in Prague
There are so many cool things to check out before your Airbnb lets you check in so don't hesitate and use leave your suitcase at the nearest LuggageHero location. If you arrive early, you can avoid the crowds and visit Prague's famous Charles Bridge and get your portrait drawn or buy a souvenir from local artists, have a delicious breakfast or coffee under the Prague Castle. At Old Town Square, you can find the Astronomical Clock, which provides the theatre every hour from 9 am to 11 pm. Just a 5-minute walk from the clock is The Clementinum and the beautiful National Library, where you can get a guided tour, find out more about astronomy a get a great 360 view of Prague from the tower. If you like art, you should definitely not miss out on the National Gallery, which exhibits national masterpieces as well as international fine art. Prague's architecture is very rich and you can feast eyes on the St. Victus Cathedral as well as a colorful Jewish Quarter, topping it up with a walk on the Wenceslas Square.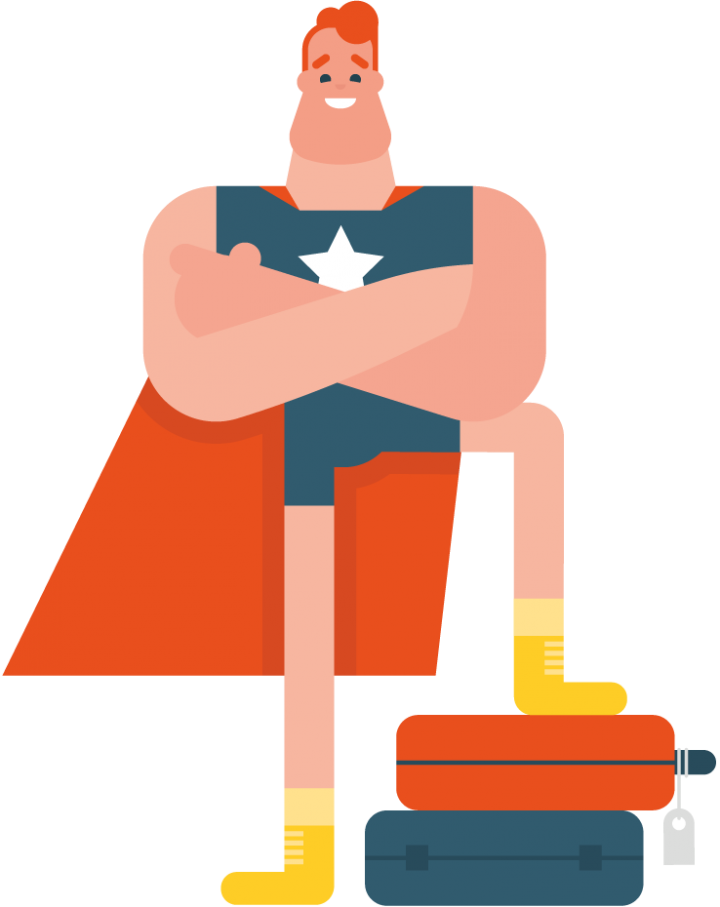 Major stations in Prague
Prague has several major metro stations. The stations are located around the Prague center or on the edge of central Prague. The connections are very good and the metro operates in an interval of a couple of minutes.
LuggageHero's looking out for you
The safety of your belongings is our priority. Therefore our LuggageHero employees personally review and certify all our storage partner shops in Prague. We can ensure every piece of your luggage and everything that is inside for up to . If you have any questions or need help with your booking, we are here for you 24/7 through our online chat system.
Pricing
Luggagehero is the ONLY luggage storage service that offers you a choice of hourly or daily rates in Prague. A flat rate starting at €5 per day and from €0.95 per hour allows you to pick an option that will best suit your needs. If you're only planning on staying for a few hours in a city, why pay for an entire day, as you would with other luggage storage services?  All luggage is covered against damage, loss, and theft.
Half price compared to station lockers and airport lockers
Luggage lockers, also called city lockers, are generally at least double as expensive on a daily basis compared to LuggageHero's luggage storage service.
Until recently, travelers could only stow their bags in these luggage lockers offering very little flexibility in regard to pricing and where to go, and luggage deposit. Also, LuggageHero offers stores in countless places in order for you to always have the option of dropping off your luggage in a safe environment. Unlike luggage lockers in stations and airports, LuggageHero offers both hourly and daily rates. LuggageHero strives to offer flexible and cheap luggage storage nearby you at all times. 
We store all kinds of luggage – any size and any shape
LuggageHero's users can store luggage of any size and/or shape in any of our store locations. It doesn't matter if it is ski equipment, photo equipment, or backpacks. In other words, you can get baggage storage, suitcase storage, luggage deposit, or whatever our satisfied customers call it in a safe way as we accommodate it all. LuggageHero's customers can choose to be charged by the hour or choose our daily rate, regardless of what they store.
We can stow your bags for several days
LuggageHero also provides multi-day storage because we know flexibility is essential when you travel.
LuggageHero offers a lower daily rate when you store your luggage for longer. From the second day onwards, our customers pay from only €5 per bag per day.
Download LuggageHero's free luggage storage app
For even more comfort and ease, you can download LuggageHero's bag storage app. There you can see all our locations around you.
Opening hours
We have a variety of stores with different opening hours, so choose what fits you best! Go and pick the store here to see the opening hours.
Which payment methods are accepted?
You don't need to worry about having the right currency on hand when paying online. All major credit cards are accepted. The shops do not receive cash when using LuggageHero. The insurance on your luggage is valid only if the payment has been made directly to LuggageHero.
We provide the solution to your luggage storage problem in verified shops
LuggageHero is here to set you free from your luggage so you can explore Prague without your bags. Just go to our booking platform and find the nearest and most handy storage space inside a shop, hotel, or another business.
All our luggage storage locations in Prague and in our other cities are verified by us. Using the LuggageHero map, you can easily find the shops that are nearest to the metro stops and attractions and store your luggage there. 
Is there a difference between left luggage and luggage storage?
Left luggage and luggage storage are basically the same things.  The term "left luggage" is mostly used in the UK. Luggage storage is the most common name used internationally when referring to storing luggage. They are both defined by people's need to store luggage that can be collected at a later time. So whether you are looking for "left luggage" or "luggage storage," LugaggeHero is here to take care of your belongings.
Safety
Unlike other luggage storage services, all our shops in Prague have been reviewed by a LuggageHero employee, and each piece of luggage and its contents can be insured for up to .
You will not find any other luggage storage providers in Prague that offer the same.
Why book luggage storage in Prague with LuggageHero?
Convenience:

We are the only service that offers both hourly and daily options,  so you can choose what best fits your plans for the most affordable price!

Flexibility: From overnight storage to just a few hours, our luggage storage options are as flexible as it gets! We even have some stores where you don't need a reservation.  Click here

 to check which stores.

Affordability:

Our luggage storage facilities offer the best value for money

Trust:

Our service has the best and the most reviews around. 
LuggageHero redefines convenience for travelers. Take advantage of our generous baggage allowance and leave your luggage and carry-on bags in our secure, innovative, and environmentally friendly locker storage. You can easily bounce into our store and embark on your adventures unburdened by heavy luggage! 
Cancellation of booking
For same-day cancellations, a fee of €5.00/$5.00/£5.00/DKK30.00 per bag will be charged for the booking, and for no-shows, there will be a fee that equals the daily rate at the selected storage location starting at €5 per bag.
Luggage storage chart
Based on the chart below, LuggageHero is the best luggage storage option in Prague. LuggageHero is the only one that offers both hourly and daily prices with the possibility of insurance. Luggage storage in Prague has never been so easy!
The chart is created based on the most popular luggage storage options.
Name
Pricing models
Insurance
Flexible arrival
Reviews
Name
Pricing models
Insurance
Flexible arrival
Reviews
LuggageHero
Daily, Hourly, & multi-day
Up to €2500
Yes
+140.000
Name
Pricing models
Insurance
Flexible arrival
Reviews
NannyBag
Daily
Up to $1100
No
27,802
Name
Pricing models
Insurance
Flexible arrival
Reviews
Vertoe
Daily
Up to $5000
No
4,708
Name
Pricing models
Insurance
Flexible arrival
Reviews
Radical Storage
Daily
No
No
900
Download our free app
For greater convenience,  you can download our LuggageHero bag storage app, where you can easily see all our locations around Prague. With our luggage storage app, you are able to store your bags anywhere in our 1000+ locations.
Discount Vouchers – Click here to see if we have any available at the moment for Prague.
Also been featured in The New York Times, Lonely Planet, and CNBC.
Frequently asked questions about Prague
Here are some of the most frequently asked questions about Prague and luggage storage.
Can I store my luggage in Prague?
Yes, you can store your luggage in several places in Prague. The biggest stations such as Hlavní Nádraží main station and Florenc provide luggage storage services where you pay a fixed price per day. You can also use on-demand luggage storage service by LuggageHero and store your luggage in certified shops and cafés located in popular spots in Prague and with an insurance included in the price.
Is it possible to store my luggage at the Prague Airport?
Yes, you can use luggage storage located in departure hall Terminal 2 open 24/7. It is possible to pay for the storage with a card or in cash.
Can I drink water from tap in Prague?
Yes, it is safe to drink tap water in Prague as well as in the entire Czech Republic. The quality of Czech tap water is very good and you don't need to buy water at all and just refill your bottle, it's also much better for the environment.
When is the best time to visit Prague?
If you want to avoid the touristy season, the best time for visiting Prague is in May or September when the temperatures are very pleasant around 18 and 20°C.
How much should I tip in Prague?
Tipping from foreigners is expected in Czech Republic, mainly in Prague. At least 10% of tip is expected or when your bill is e.g. 291 CZK you leave 300 CZK rounding it up.
What is the typical Czech meal I should try while in Prague?
Trying local cousin is part of the travel experience. When if Prague, we recommend to try their apple strudel, goulash, roast sirloin in sour cream sauce with dumplings and Pilsner Urquell beer.
Prague city is a relatively safe city aside from property crime. It is safe to walk around after dark but be careful on Wenceslas Square when there it's packed with tourists, there tend to be pickpockets around this area.
LuggageHero in the press
"LuggageHero, which offers online booking with a credit card — thus, eliminating the need for users to have local currency on hand — is one of the most recent players to expand its services. In December the company began operating in New York, where today it has some 250 locations."

"One solution is LuggageHero, which was already on the scene in Copenhagen and London, and has now expanded into New York. Its selling point is that it lets you store your luggage in a local shop, café or hotel, which is often more convenient than having to go to a storage facility at a train station."

"LuggageHero, which Jannik Lawaetz founded in 2016, currently has more than 300 storage locations in six cities (New York, London, Copenhagen, Lisbon, Madrid and Barcelona) and plans to expand to 39 cities by January 2020."

"LuggageHero founder and chief executive Jannik Lawaetz says that the concept was inspired by that mother of invention — necessity — and Airbnb. A couple of years ago, he and his girlfriend rented an apartment in Barcelona via the home-share service. They had a later flight on their day of departure and wanted to continue exploring the city, but didn't want to lug their suitcases around. "