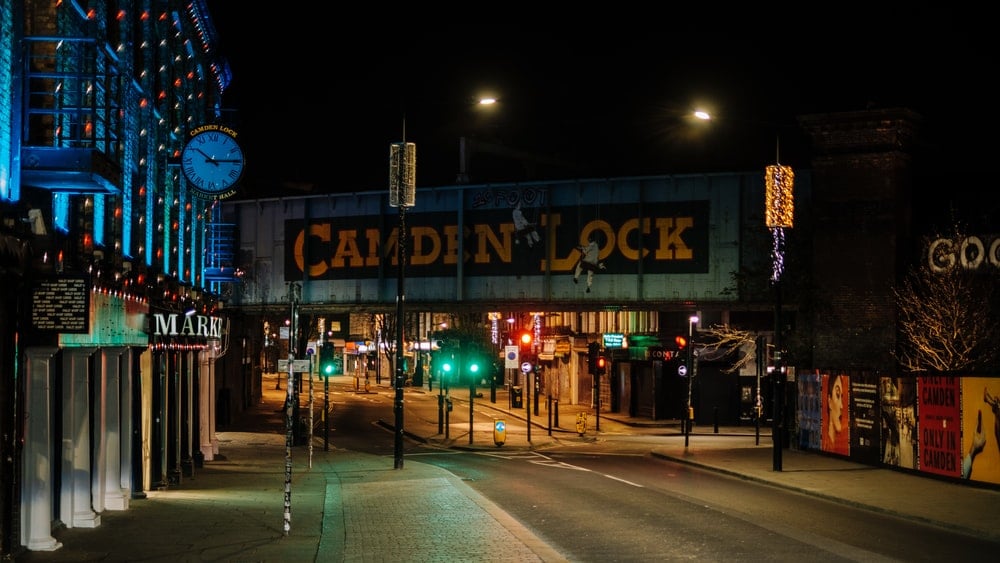 Luggage Storage Camden Town
Store your bags in a certified hotel or shop from £1/hour
Most-reviewed luggage storage service
Luggage Storage Camden Town
Are you walking around and need to store your luggage near Camden Town? Don't worry, we got you! 
Drop off your items at one of LuggageHero's luggage storage locations just around the corner.
At LuggageHero, we offer secured and cheap luggage storage. All our shops are certified by LuggageHero. And remember; LuggageHero is the only luggage storage service that offers an hourly and daily rate for maximum flexibility. 
Need to store your luggage in Camden Town? Drop off your items at one of LuggageHero's luggage storage locations just around the corner. Our partner locations will take good care of your luggage while you explore Camden.
Check it out on our map:
Download LuggageHero's free luggage storage app here:
You can download our LuggageHero luggage storage app where you can see all our locations around Camden Town. Your days of wasting time searching for luggage lockers are over!
Skip booking and go straight to our store!
If visiting Camden Town was a spontaneous decision and did not get the chance to book luggage storage in advance, do not worry.
We offer a "walk-in" solution just 2 minutes away from Camden Town. This means that there is no need for advanced booking and no change in price.
Camden Town has been turned into a bustling part of London. Today, visitors and locals gather here to hunt for treasures in Camden Town markets, stroll by Regent's Canal, sample cuisine from around the world and listen to live music.
This makes Camden Town a very attractive location for visitors and therefore, it is very convenient to have the option to store your bags nearby while you explore and enjoy the surroundings. You can visit Camden on your arrival or departure day and you don't have to be held back by your luggage. Simply turn your travel day into a holiday.
When storing your luggage with our local certified shops, all bags are insured for £2 per bag and our tamper-proof security seals are attached to all bags. Book online or through the app, and receive directions.
Check out why LuggageStorage recommends storing your baggage with LuggageHero.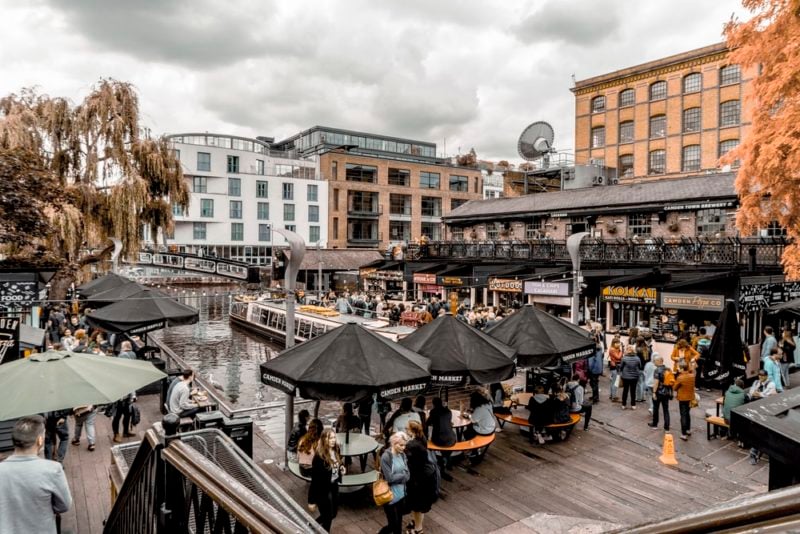 Camden Town
While your luggage is stored with one of our LuggageHeroes you can go explore Camden Town which has a labyrinth of open-air markets and other stores that will keep even the keenest shoppers busy, such as Camden Lock Market, Camden Lock Village, Camden Market, or the Inverness Street Market.
You'll find food from around the globe at Camden's many eateries and street vendors. If you're are planning to catch a performance, The Roundhouse has a great pre-theatre menu.
Travel to Camden Town is easy. Use the Camden Town Tube Station on the Northern Line or Chalk Farm Tube station to visit the Camden area. There are also many nearby bus routes.
The difference between left luggage and luggage storage is the geographic location
Left luggage is luggage that people have left in a designated luggage storage facility. The term 'left luggage' is mostly being used in the UK. And luggage storage is a storage facility where people leave their luggage. Luggage storage is the most common name used internationally when referring to storing luggage.
In other words, there is absolutely no difference between the two concepts. They are both defined by people's need of storing luggage which can be collected at a later time. So whether you are looking for left luggage or luggage storage, LugaggeHero is here to take care of your belongings.
Luggage storage chart
Based on the chart below, LuggageHero is the best luggage storage option in London. LuggageHero the only one that offers both hourly and daily prices with the possibility of insurance. Luggage storage in London has never been so easy!
The chart is created based on the most popular luggage storage options.
Name
Price
Insurance
Flexible arrival
Reviews
Name
Price
Insurance
Flexible arrival
Reviews
LuggageHero
$0.95/hour or $7.95/day
Up to $3000
Yes
67.050
Name
Price
Insurance
Flexible arrival
Reviews
NannyBag
$6 day & no hourly option
Up to $1100
No
27,802
Name
Price
Insurance
Flexible arrival
Reviews
Vertoe
$5.95 day & no hourly option
Up to $5000
No
4,708
Name
Price
Insurance
Flexible arrival
Reviews
Radical Storage
$5 day & no hourly option
No
No
900
Download our free app for left luggage at Camden Town
For even more comfort you can download our LuggageHero bag storage app where you can easily see all our locations for Camden Town bag storage. With our luggage storage app, you are able to store your bags anywhere in our 1000+ locations. You can find more information on how to use the bag storage app in London right here. 
Pricing
LuggageHero is the ONLY luggage storage service that offers you a choice of hourly or daily rates in Camden Town.
A flat rate of £7 per day and £1 per hour allows you to pick an option that will best suit your needs. If you're only planning on staying for a few hours in a city, why pay for an entire day as you would with other luggage storage services. 
Half price compared to station lockers and airport lockers
Luggage lockers, also called city lockers, are generally at least double as expensive on a daily basis compared to LuggageHero's luggage storage service. Until recently, travelers could only stow their bags in these luggage lockers offering very little flexibility in regard to pricing and where to go, and luggage deposit.
Also, LuggageHero offers stores in countless places in order for you to always have the option of dropping off your luggage in a safe environment. Unlike luggage lockers in stations and airports, LuggageHero offers both hourly and daily rates. LuggageHero strives to offer flexible and cheap luggage storage nearby you at all times. 
We store all kinds of luggage – any size and any shape in verified stores
LuggageHero's users can store luggage of any size and/or shape in any of our storage locations. It doesn't matter if it is ski equipment, photo equipment, or backpacks. In other words, you can get baggage storage, suitcase storage, luggage deposit, or whatever our satisfied customers call it in a safe way as we accommodate it all. LuggageHero's customers can choose to be charged by the hour or choose our daily rate, regardless of what they store.
We can stow your bags luggage for several days
LuggageHero also provides multi-day storage, because we know flexibility is essential when you travel.
LuggageHero offers a lower daily rate when you store your luggage for a longer period. From the second day onwards, our customers pay only £5 per bag per day.
Download LuggageHero's free luggage storage app
For greater convenience, you can download LuggageHero's app, where you can see all our locations near you.
Opening hours
We have a variety of stores with different opening hours, so choose what fits you best! Go and pick the store here to see the opening hours.
Which payment methods are accepted?
All major credit cards are accepted. Be aware that the shops do not receive cash when using LuggageHero, and remember that the insurance on your luggage is valid only if the payment has been made directly to LuggageHero.
Cancellation of booking
For same-day cancellations and no-shows, there will be a fee equal to the daily rate of £7 per bag.
Check out why KnockKnock recommends storing your baggage with LuggageHero. Also featured in The New York Times, Lonely Planet, and CNBC.
Frequently asked questions about Camden Town
Here are some of the answers to the most frequently asked questions
Do you need cash for Camden Market?
The vast majority of the shops and a high proportion of the stalls take cards. There are also several free-to-use cash machines at the Market.
What days is Camden market open?
Camden Market is open 7 days a week. Friday, Saturday and Sunday are the days where a lot of stalls and shops are usually open, and If you like to experience the lively hustle and bustle among like-minded people, you should choose the weekend.
Which line do you need to take to get to Camden Town?
Which line do you need to take to get to Camden Town? There are two underground stations at which to get off, Camden Town and Chalk Farm Road, both of which are on the Northern Line.
How can I find the nearest location to Camden Town for storing luggage?
To find the nearest location to you, you can visit the LuggageHero website and click book now. Apart from that, you can download LuggageHero's app for even more convenience when booking your luggage storage on the go.
How much does it cost to store luggage in Camden Town?
The price for luggage storage in Camden Town with LuggageHero is just £1 per hour.
Where is the luggage stored?
LuggageHero storage sites are certified hotels, cafes, and shops. Advance bookings ensure space for your bags. The address and directions to our storage locations are available at the time of booking. All bags are sealed off with our security seals, ensuring each piece of luggage up to £2200 once you have dropped off your bags and started our storage timer on your booking page.
What will happen in case I have a problem with my booking?
If you encounter a problem with a luggage storage booking, you can email us at contact@luggagehero.com and we will get back to you and solve the problem as quickly as possible.