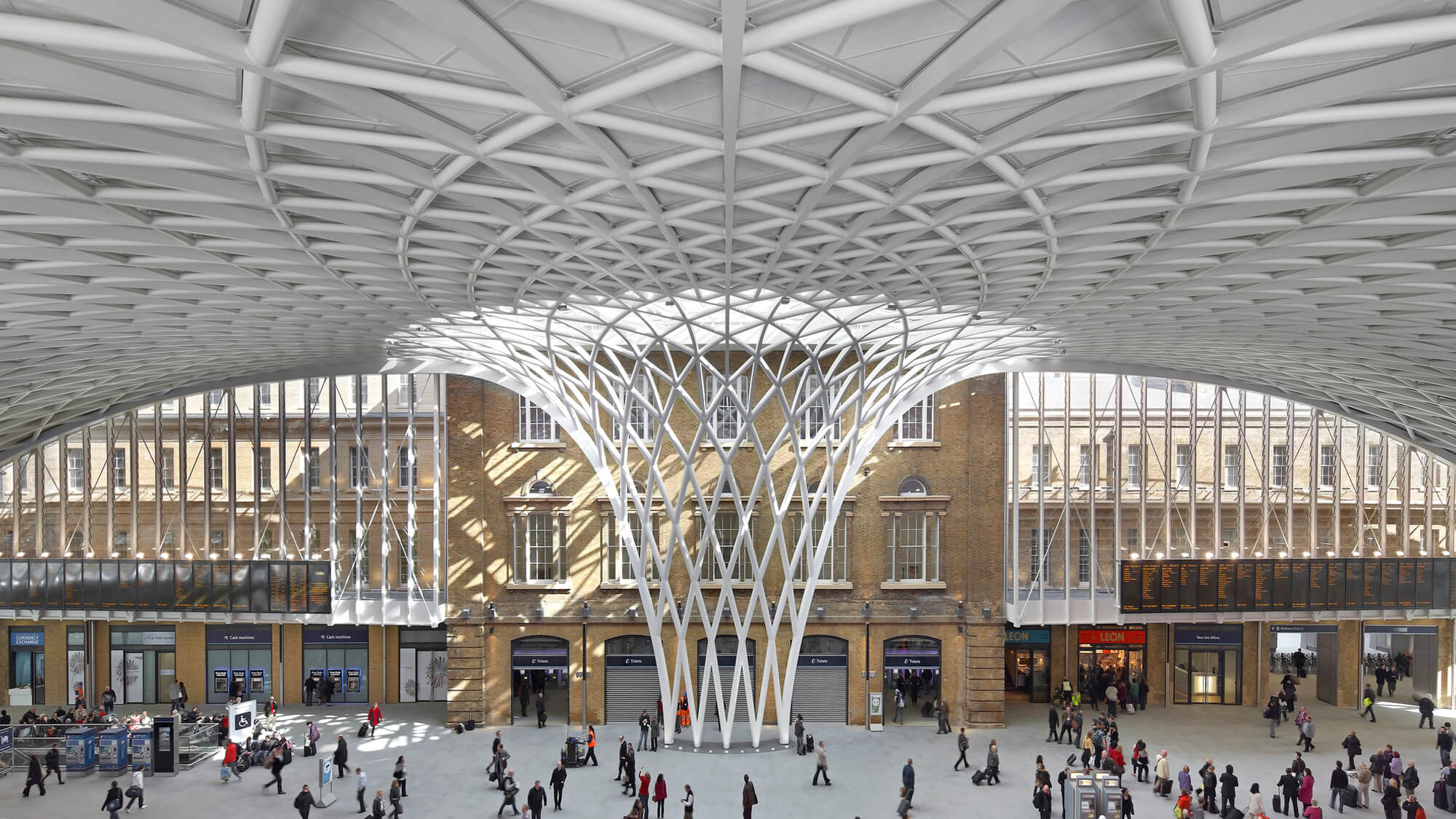 Luggage Storage King's Cross Station
Find luggage storage in certified shops & hotels
+50.000 travelers reviewed LuggageHero
Luggage storage King's Cross Station
Luggage Storage Kings Cross
Are you looking for Kings Cross luggage storage? We have several locations just around the station where you can store your luggage. When storing your bags with LuggageHero, local shops around King's Cross will take good care of all your baggage while you explore the surroundings.
LuggageHero storage sites are certified hotels, cafes, and shops. Advance bookings ensure space for your bags, however, you may cancel without penalty. The address and directions are available at the time of booking and are emailed to you – the easiest way to find your bag storage near Kings Cross.
LuggageHero uses a storage timer to calculate the hours spent. When arriving at the storage site, you will start the storage timer on your booking page and stop it upon pick-up, which will then process payment. All bags are sealed off with our security seals ensuring each piece of luggage up to . Overnight luggage storage near Kings Cross can also easily be handled.
King's Cross Station
Do you want to spend precious holiday hours standing in line at the old-fashioned baggage storage facility? Or do you know the struggles with fitting all your stuff into a left luggage locker near Kings Cross? Those days are over!
Let LuggageHero help you make luggage storage a simple and hassle-free experience. Discover London easily without the weight of your bags.
King's Cross station, also know as London King's Cross is a Central London railway station. With several lines serving King's Cross St Pancras Underground Tube Station; Circle, Hammersmith & City, Metropolitan, Northern (Bank branch), Piccadilly and Victoria. You can easily reach all of London. We've got your bag no matter where you go!
From King's Cross, you also have direct access to the Buckingham Palace, The British Museum, London Bridge and to Wembley Stadium in just a 33 minutes train ride.
St Pancras International Station for the Eurostar is located just next to King's Cross station as well.
You'll find several tourist attractions near King's Cross Station including The British Library and Regent's Park.
Below is a bit of information on King's Cross Station:
The ticket office at King's Cross is open from 05:00 to 01:30 on weekdays and Sundays, Saturday from 05:00 to 00:30.
The station will remain open until the last train departs.
Ticket machines are located around the concourse.
Toilets and baby changing are available and are before the ticket barrier.
Wi-Fi is available with pay as you go wireless internet access from BT Wi-Fi
Bureau de Change and ATM's are available at the station.
There are various food, drink & shopping options around the station.
Pay per day left baggage facility
Best luggage storage options for King's Cross Station
According to Luggage Storage in London, LuggageHero is the best luggage storage company for visitors at or near King's Cross Station. Read more here.
Download our free luggage storage app right here:
To make things easier, you can download our LuggageHero bag storage app where you can see all left luggage options for luggage storage near Kings Cross.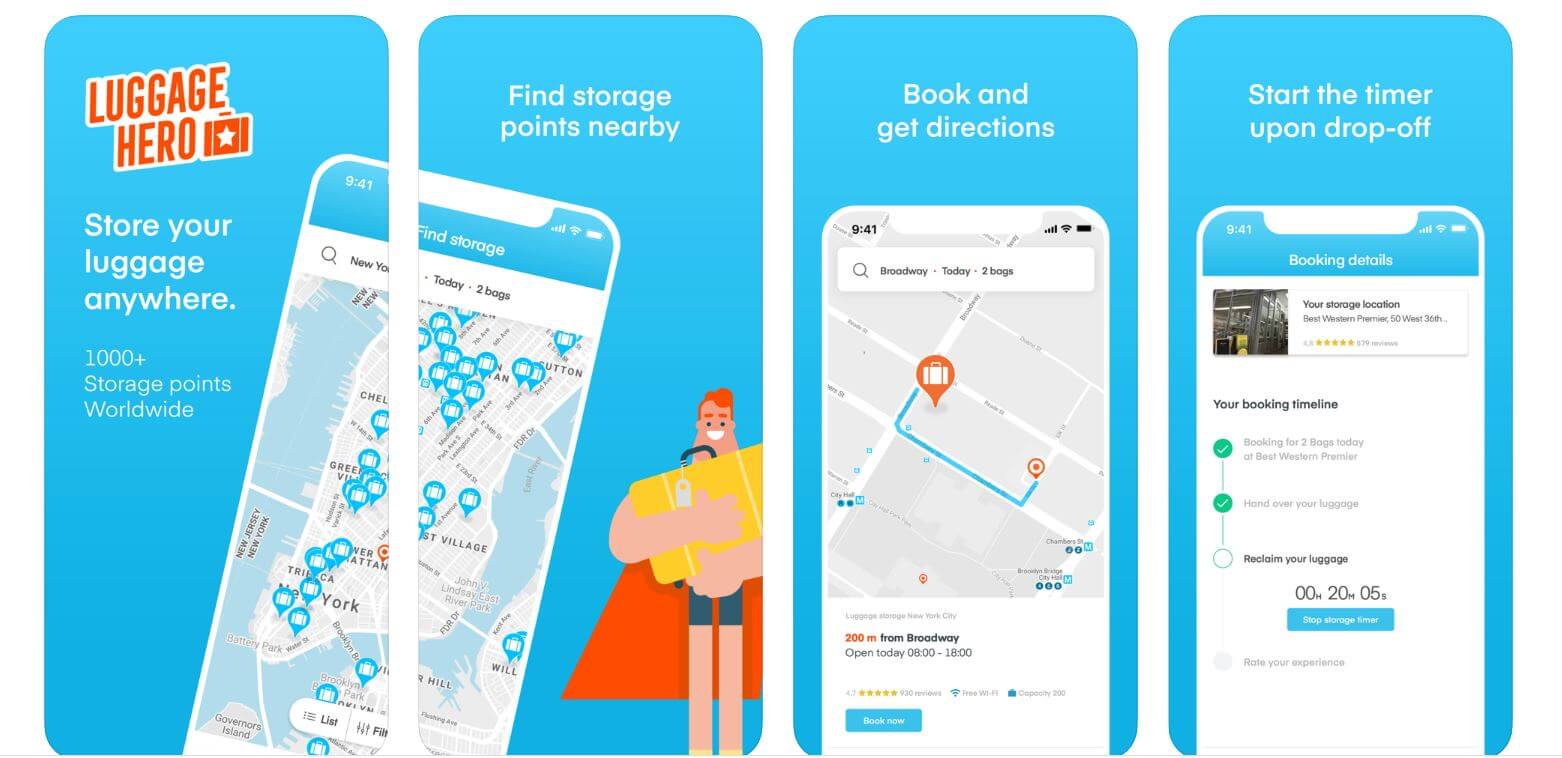 You can also simply book your storage through our website by clicking the button below.
Frequently Asked Questions about King's Cross Station
Here are some of the most frequently asked questions about King's Cross Station.
What are the opening hours of King's Cross Station?
The opening hours are: Monday – Friday: 05:00 – 01:36, Saturday: 05:00 – 01:11, Sunday: 05:30 – 01:36.
Which London Underground lines are serving King's Cross St Pancras tube station?
The lines serving King's Cross St. Pancras tube station are Circle, Hammersmith & City, Metropolitan, Northern (Bank branch), Piccadilly, and Victoria Station.
Are there accessible toilets at King's Cross Station?
There are women, men, accessible and baby care toilets which can be found by the entrance to platforms 9-11 and Mezzanine (behind the escalators and lift).
Are there public telephones at King's Cross Station?
There are three public telephones, they are located opposite Starbucks.
I lost an item at the station, where can I possibly look for it?
Items handed in at the station are kept in the left luggage office.
Where can I park my car near King's Cross Station?
The nearest car park is at St Pancras which is opposite King's Cross
Where can I take a bus from near King's Cross Station?
Most bus stops are in front of the station on Euston Rd. There are also bus stops on York Way.
What shops can I find in King's Cross Station?
The shops at King's Cross Station are perfect for last-minute gifts or treats. Hotel Chocolat, Isle of Flowers, Kiehl's, Oliver Bonas, Pandora, Paperchase, Rituals, and Urban Decay are all here. And if you have a Harry Potter fanatic in the family, then you'll find all sorts of magical items at the Harry Potter Shop.
Yes, King's Cross is generally very safe. It is a central and very vivid location.
What is King's Cross famous for?
It's a Magical Place. Although the station has been featured in many books and films, its most famous appearance in either comes as the gateway to Platform 9 ¾ and the Hogwarts Express in the Harry Potter series. Author J.K. Rowling picked King's Cross because her parents met on a train at the station.
Are King's Cross and St. Pancras the same station?
No they are not. King's Cross and St Pancras stations are two different stations, but they are side by side, separated by a pedestrian area and a road. They share a tube station (called "King's Cross St Pancras")