Luggage Storage Oxford Street
Only luggage storage to offer choice of hourly or daily rates in Oxford Street
Most-reviewed luggage storage service
Luggage storage Oxford Street
Need to store your luggage near Oxford Street? Drop off your suitcases at one of our luggage storage locations just around the corner. When storing with LuggageHero, local shops around Oxford Street will take care of your luggage.
LuggageHero gives you the cheapest, easiest, and most convenient luggage storage service to help you turn your travel days into holidays. Our community of LuggageHeroes will take good care of your luggage while you explore the surroundings.
Download LuggageHero's luggage storage app here:
You can download our LuggageHero luggage storage app where you can see all our luggage storage locations around Oxford Street. Your days wasting time searching for luggage lockers are over!
To suit your constantly changing plans we have a risk-free booking policy, you only pay if you show up, and you pay for luggage storage for a low hourly rate. Drop your luggage and pick it up when it suits you without being overcharged.
All our shops are certified by LuggageHero and all bags are sealed off with our security seals ensuring each piece of luggage up to per bag.
Check out why LuggageStorage recommends storing your baggage with LuggageHero.
Skip booking and go straight to our store!
If visiting Oxford Street was a spontaneous decision and did not get the chance to book luggage storage in London ahead of time, do not worry.
We offer a "walk-in" solution just 8 minutes away from Oxford Street. This means that there is no need for advanced booking, no change in price, and open 24/7.
Check it out on our map:
The difference between left luggage and luggage storage is the geographic location
Left luggage is luggage that people have left in a designated luggage storage facility. The term 'left luggage' is mostly being used in the UK. And luggage storage is a storage facility where people leave their luggage. Luggage storage is the most common name used internationally when referring to storing luggage.
In other words, there is absolutely no difference between the two concepts. They are both defined by people's need of storing luggage which can be collected at a later time. So whether you are looking for left luggage or luggage storage, LugaggeHero is here to take care of your belongings.
Oxford Street
Oxford Street is the UK's favorite High Street and it has more than 300 retailers from designer outlets to department stores.
Oxford Street is the most visited shopping street in Europe. It has a heady mix of unrivaled shopping, fascinating history, captivating architecture, mouth-watering cuisine, and unbeatable deals, there's nowhere better than London's Oxford Street.
It would be preferable to walk Oxford Street without your luggage and here's your solution. Our network of LuggageHeroes will take care of your luggage while you wander around hassle-free.
Don't plan your holidays on the terms of your luggage. Instead, make every single hour count and store your luggage in a local shop. Security seals are provided in the shops and when using LuggageHero a luggage insurance is included as long as the storage timer has been activated.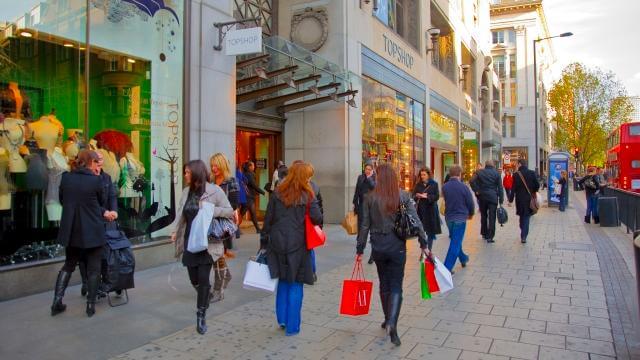 Download our free app for left luggage around Oxford Street
For even more comfort you can download our LuggageHero bag storage app where you can easily see all our locations for Oxford Street bag storage. With our luggage storage app, you are able to store your bags and suitcases anywhere in our 1000+ locations. You can find more information on how to use the bag storage app in London right here.
Frequently asked question about Oxford Street
Here are some answers of the most frequently asked questions about Oxford Street
Which lines go to Oxford Street?
The Bakerloo, Central and Victoria lines all stop at Oxford Circus station.
How can I find the nearest location to Oxford Street for storing luggage?
To find the nearest location to you, you can visit the LuggageHero website and click book now. Apart from that, you can download LuggageHero's app for even more convenience when booking your luggage storage on the go.
Is luggage storage with LuggageHero safe?
Luggage storage with LuggageHero is completely safe. What makes it safe is the high insurance you get for your belongings. On top of that, all our locations are regularly checked by LuggageHero employees.