Luggage Storage in Soho
Turn your travel days into holidays
Our Pricing
/hour per bag
+ one time handling fee of per bag.
The price includes insurance with coverage up to for each bag
Luggage storage in Soho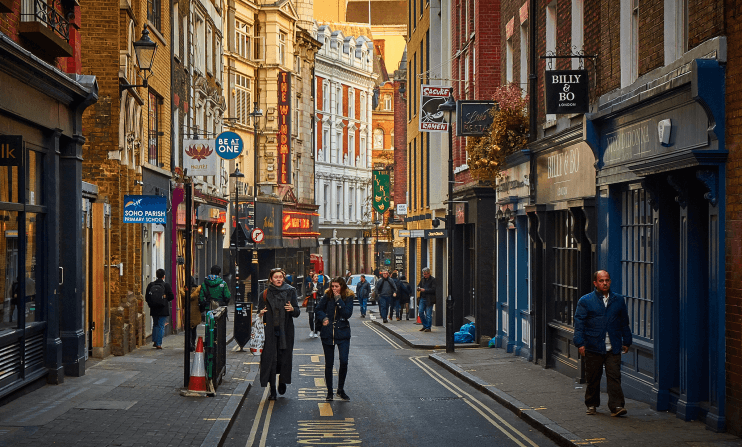 Are you in need of luggage storage Close to Soho? We have several luggage storage locations in the Soho district. This is several reasons to store your luggage while you explore the surroundings.
Soho in central London is a great place to find live entertainment, interesting food, and pulsing nightlife.
This bustling area needs to be walked through and around as much as possible without your luggage. The small streets all have something to offer and it changes "mood" from day to night. Soho is bordered by Oxford Street, Regent Street, Leicester Square and Charing Cross Road.
Luggage storage in local shops with LuggageHero just saved you the time used on commuting back and forth to regular storage facilities. Use that time to go explore London.
1-2-3 How does it work?
Check In When Arriving at the Shop
Attach Free Insurance Tag Found in Shop
Our customers are saying
Great Service - really easy. Just needed our bags looked after for a few hours in London so we could finish our break off easily.
LuggageHero is a great idea and works really well.Used this on recent trip to London as airbnb wasn't ready till 3 pm and our plane got in at 6 am. We chose a location closest to airbnb on the app. Was great as just caught Taxi from train to location on web site and left luggage for the day. Used email to check in and on collection again to charge credit card. Very easy Guy at shop was a bit grumpy but very thorough and careful with luggage.
Luggage hero was a life saver, as were the hotel for storing it! My friend was visiting from the US and had to carry around a nebuliser for breathing issues to take after a day of walking around London, I panicked as it is heavy and I didn't want her carrying about her heavy luggage (I had packed light as I am from the UK) we weren't staying in central London, we were flying out that night and it seemed a waste of a day.

I looked around the Victoria area of London online the day before and found a couple of places, but the reviews were consistently bad (on competitor websites!) or the luggage service closed at 11 PM.
With LuggageHero we collected our luggage straight after Hamilton (the musical) ended (Hamilton closes at 10:30-11ish) and due to 24HR luggage service, we collected our bags with no issues.

The staff were friendly, showed us how our luggage would be kept safe and made a point of locking the door in front of us to prove security. I absolutely recommend!
Location! Good service! We dropped bags during a layover in London - able to do a walking tour of many of the iconic sites nearby and then pick up luggage and continue on our trip. 😀👍🏻
Quick and easy. This was ideal for us instead of carrying our bags around London. They knew what to do and check in and out was quick and easy!
This is how easy it is:
How to store your luggage at LuggageHero
1. Press book in the top of this page to start browsing your ideal spot for your luggage. Use the map or browse the list of shops.
2. Book risk-free to be guaranteed your spot. You only pay if you end up using your booking
3. Check-in when you arrive at the shop. Directions are forwarded by email and SMS
4. Your bag is secured with a security seal and insurance for up to €2500/$3000
5. Pick up your luggage when convenient and click check-out in your booking.

No reason to find correct currency. Everything is paid online for your safety and convenience.
Where is the luggage stored?
Luggage storage sites are located inside existing businesses, including retail outlets, hotels, cafes, and more. All are vetted by LuggageHero's local employee, who performs regular quality checks. Every piece of luggage is stored away from any public access and secured with an insurance seal every time.
Insurance and safe luggage storage
In the collaboration between cover holder First and one of the world's largest insurance companies, Lloyd's of London, we are proud to be covering each piece of luggage free of charge every time you use our luggage service. The insurance is covered up to $3,000/€2500 per item of luggage. Make sure you do not pay cash in a drop-off/pick-up shop, because insurance will not cover any bookings that are not paid directly to LuggageHero. You must pay directly to LuggageHero to be covered.

Cash-free
Submit your credit card information for swift drop-off and pick-up at a LuggageHero location. You don't need to worry about having the right currency on hand when paying online. All major credit cards are accepted. The shops do not receive cash when using LuggageHero. The insurance on your luggage is valid only if the payment has been made directly to LuggageHero.
Only pay if you show up
You don't pay unless you drop off your baggage at a LuggageHero shop. We do this because it's how we personally would like to be treated. Therefore, no amount will be charged if you fail to show up for your booking.
No download necessary
You don't need to download anything to use LuggageHero. You simply book using our website. Once you are at the shop, you check yourself in using the link provided when booking.
How do I calculate the price?
LuggageHero is the only luggage storage service in the world to only charge you for the hours you spend storing your luggage and at a low hourly rate. No more pre-paying for hours not spend. The price is listed on each shop profile before booking and incl. insurance.
On hand to support everyday
Live Chat 24/7
Featured in the international press
Recommended by the official tourist information
Soho District
Traveling to Soho is easy. Catch a London bus or the London tube to Picadilly Circus, Oxford Circus, Tottenham Court Road or Leicester Square. You do not want to miss this area on your visit to London.
Diverse, fun-loving and never Quite. Soho attracts a wide mix of people. Its history, venues, and atmosphere make it a must-see for tourists.
With several luggage storage locations in Soho giving you the convenience to explore the area, no matter if it is your arrival or departure day, gives you no reason to not walk around this beautiful part of London.
Luggage storage in a local shop is a fun and new service that saves you time on your travel days. LuggageHero teamed up with +100 shops around London to help out travelers with their luggage. Your bags are sealed and covered for up to €2500 when stored with LuggageHero.
Luggage storage is also provided at: