Luggage Storage Covent Garden
Only luggage storage to offer choice of hourly or daily rates in Covent Garden
Most-reviewed luggage storage service
Luggage storage Covent Garden
Are you looking for luggage storage or storage lockers near Covent Garden? Drop off your bags at one of LuggageHero's luggage storage locations just around the corner. Our partner locations will take good care of all your bags while you explore the Covent Garden Market and its surroundings.
Download our free Covent Garden luggage storage app here:
You can download our LuggageHero luggage storage app where you can see all our locations around Covent Garden. Your days of wasting time searching for luggage lockers are over!
We store all kinds of luggage – any size and any shape
LuggageHero's users can store luggage of any size and/or shape in any of our storage locations. It doesn't matter if it is ski equipment, photo equipment, or backpacks – our luggage stores can accommodate all. LuggageHero's customers can choose to be charged by the hour or choose our daily rate – no matter of their left luggage.
We can store your luggage for several days
LuggageHero also provides multi-day storage to its customers because we know flexibility is an essential part when you travel.
LuggageHero offers a lower daily rate when you store your luggage for a longer period. From the second day onwards, our customers pay only £5 per bag per day.
Pricing
LuggageHero is the ONLY luggage storage service that offers you a choice of hourly or daily rates in London. Flat rate of £7.05 per day and £0.95 per hour which allows you to pick an option that will suit your needs best. No hidden fees and no need to pay in advance, pay only if you show up to the luggage drop off location.
Over 120 luggage storage locations to choose from. All luggage is insured against damage, loss, and theft & security seal is provided.
The difference between left luggage and luggage storage is the geographic location
Left luggage is luggage that people have left in a designated luggage storage facility. The term 'left luggage' is mostly being used in the UK. And luggage storage is a storage facility where people leave their luggage. Luggage storage is the most common name used internationally when referring to storing luggage.
In other words, there is absolutely no difference between the two concepts. They are both defined by people's need of storing luggage which can be collected at a later time. So whether you are looking for left luggage or luggage storage, LugaggeHero is here to take care of your belongings.
Skip booking and go straight to our store!
If visiting Covent Garden was a spontaneous decision and did not get the chance to book luggage storage in advance, do not worry.
We offer a "walk-in" solution just 4 minutes away from Covent Garden. This means that there is no need for advanced booking and no change in price.
Check it out on our map:
All LuggageHero partner locations are certified and can easily help you out with your bags. Don't waste time commuting back and forth to the old traditional storage facilities. Enjoy your holiday without the weight of your luggage – we've got your bag! Go on adventures.
When storing your luggage with LuggageHero, all bags are sealed off with our unique security seals and insured for £2200. Make the most out of your days in London and turn your travel days into holidays.
Check out why LuggageStorage recommends storing your baggage with LuggageHero!
Luggage Storage in Covent Garden, London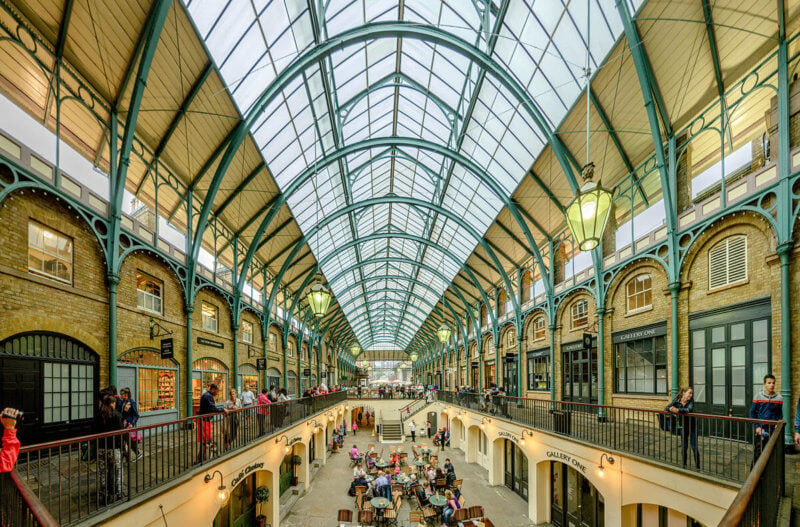 Covent Garden in London's West End is a popular destination for visitors and Londoners who enjoy shopping, theatre, restaurant, bars, history, and culture. Covent Garden is bordered by the City of London and Leicester Square and within walking distance of Soho, the river Thames, and Trafalgar Square.
You can easily spend a day in Covent Garden. The traffic-free cobblestone square of Covent Garden Piazza is perfect for your first taste of Covent Garden. Enjoy free entertainment from street performers then step inside the Market Building to browse for food and craft stalls as well as some big-name retailers.
With more than 120 locations all around London, you can easily bring your luggage to whatever area you would like to visit and store your bags safely near you.
The Piccadilly line from King's Cross Station or Piccadilly Circus will take you straight to Covent Garden Tube Station.
Luggage storage chart
Based on the chart below, LuggageHero is the best luggage storage option in London. LuggageHero the only one that offers both hourly and daily prices with the possibility of insurance. Luggage storage in London has never been so easy!
The chart is created based on the most popular luggage storage options.
Name
Price
Insurance
Flexible arrival
Reviews
Name
Price
Insurance
Flexible arrival
Reviews
LuggageHero
$0.95/hour or $7.95/day
Up to $3000
Yes
67.050
Name
Price
Insurance
Flexible arrival
Reviews
NannyBag
$6 day & no hourly option
Up to $1100
No
27,802
Name
Price
Insurance
Flexible arrival
Reviews
Vertoe
$5.95 day & no hourly option
Up to $5000
No
4,708
Name
Price
Insurance
Flexible arrival
Reviews
Radical Storage
$5 day & no hourly option
No
No
900
Download our free app for left luggage at Covent Garden
For even more comfort you can download our LuggageHero bag storage app where you can easily see all our locations for Covent Garden bag storage. With our luggage storage app, you are able to store your bags anywhere in our 1000+ locations. You can find more information on how to use the bag storage app in London right here. 
Frequently asked questions about Covent Garden
Here are the answers of some of the most frequently asked questions
Is Covent Garden free to the public?
Covent Garden, the Piazza and the Market Building is a public space and free for anyone to walk around day or night.
Does Covent Garden have a tube station?
Covent Garden is on the Piccadilly Line. Covent Garden's tube station is a very short walk from the Market Building at the end of James Street.
How can I find the nearest location to Covent Garden for storing luggage?
To find the nearest location to you, you can visit the LuggageHero website and click book now. Apart from that, you can download LuggageHero's app for even more convenience when booking your luggage storage on the go.
Is luggage storage with LuggageHero safe?
uggage storage with LuggageHero is completely safe. What makes it safe is the high insurance you get for each of your bags. On top of that, all our locations are regularly checked by LuggageHero employees.
How much does storing luggage in Covent Garden cost?
Most luggage services charge their customers for an entire day. However, LuggageHero provides its customers another pricing system - we charge by the hour, £1 per bag.
I have a problem with my luggage storage booking in Covent Garden.
If you encounter a problem with a luggage storage booking, you can email us at contact@luggagehero.com and we will get back to you and solve the problem as quickly as possible.
Is it safe to store my luggage with LuggageHero?
All luggage storage locations are verified for safety and carefully trained by our team before being listed on the site. Aside from that, we provide you with individually tagged tamper-proof seals for your baggage when you arrive. To offer an extra sense of security, every bag is covered by insurance that is up to £2200 per bag.