Luggage Storage Liverpool Street St
Only luggage storage to offer choice of hourly or daily rates in Liverpool Street St
Most-reviewed luggage storage service
Luggage storage Liverpool Street St
Are you looking for left luggage at Liverpool Street St? You no longer need to search "Liverpool station luggage storage", "Liverpool street luggage storage" or "Liverpool street station left luggage". LuggageHero has several locations in the area around the station where you can store your luggage. When storing your bags with LuggageHero, local shops around this location in London will take good care of all your baggage while you explore the surroundings or any part of London.
Download LuggageHero's app to find out more
For even more comfort you can download our LuggageHero bag storage app where you can easily see all our locations around Liverpool Street station. With our left luggage app, you are able to store your bags anywhere in our 120+ locations.
You can check the map to explore the most convenient locations to store your luggage
LuggageHero storage sites are certified hotels, cafes, and shops. Making an advance booking ensures space for your bags, if your travel plans change you can easily cancel your reservation at any time. The address and directions are available at the time of booking and are emailed to you.
All bags are sealed off with our tamper-proof security seals and insured for up to £2200.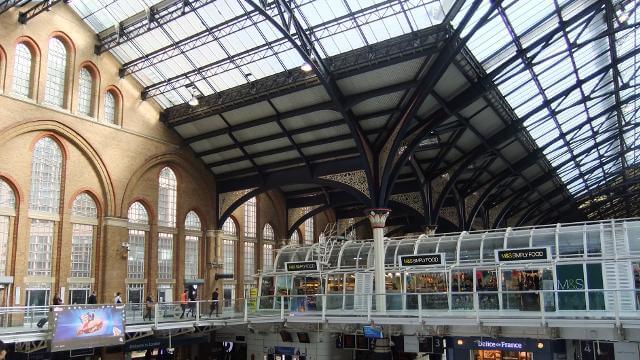 Liverpool Street St
Liverpool Street station, also known as London Liverpool Street, is a central London railway terminus and connected to the London Underground. Several London Underground lines are served by Liverpool Street St enabling you to visit all of London. Lines include the Central line for Oxford Street, Notting Hill, and East London. The Circle, Metropolitan and Hammersmith, and City lines for the London Eye, Southbank, Trafalgar Square, and Kensington. Liverpool Street puts you at the heart of the city.
The Stansted Express travels back and forth from Stansted Airport to London Liverpool Street is only 47 minutes and with trains running every 15 minutes, you won't have to worry about waiting.
You'll find some of London's most famous landmarks within a reasonable distance from the station. Tourist attractions are also found in the area around Liverpool Street St including Spitalfields Market, The Whitechapel Gallery, and The Bank of England.
Liverpool Street has a reputation as a busy commuter station for a reason and has been praised for its radical modernization whilst preserving the best of its railway heritage.
Station info:
The ticket office is open during station hours and ticket machines are located around the concourse
Toilets and baby changing
Cash and bureau de change
Wi-Fi is available with, pay as you go, wireless internet access from BT Wi-Fi
Food and drinks are severed 24 hours
You pay by the hour – unlike other services!
We offer a speedy, convenient, and low-cost service: only £1/hour!
We believe in offering our customers various payment solutions. Therefore, LuggageHero charges users for each hour used only £1, unlike most other luggage services, which make you pay for the entire day. However, if you want to store your luggage in London (or anywhere else) for the whole day or longer, we offer you a low daily cap of £8. This is how we believe payment of left baggage should be in the year 2021 – affordable and simple.
We're looking out for you
Your safety and security are our priority. That's why we have LuggageHero employees review and certify all our shops for left luggage in Liverpool street station. We also seal every piece of luggage to keep them tamper-free. On top of that, we ensure every bag for up to £2200. If you need to talk to someone at LuggageHero about your left luggage in London, you may do so through our online chat system. We're here for you 24/7!
Check out why LuggageStorage recommends storing your baggage with LuggageHero here!
The difference between left luggage and luggage storage is the geographic location
Left luggage is luggage that people have left in a designated luggage storage facility. The term 'left luggage' is mostly being used in the UK. And luggage storage is a storage facility where people leave their luggage. Luggage storage is the most common name used internationally when referring to storing luggage.
In other words, there is absolutely no difference between the two concepts. They are both defined by people's need of storing luggage which can be collected at a later time. So whether you are looking for left luggage or luggage storage, LugaggeHero is here to take care of your belongings.
We store all kinds of luggage – any size and any shape
LuggageHero's users can store luggage of any size and/or shape in any of our storage locations. It doesn't matter if it is ski equipment, photo equipment, or backpacks – our luggage stores can accommodate all. LuggageHero's customers can choose to be charged by the hour or choose our daily rate – no matter of their left luggage.
We can store your luggage for several days
LuggageHero also provides multi-day storage to its customers because we know flexibility is an essential part when you travel.
LuggageHero offers a lower daily rate when you store your luggage for a longer period. From the second day onwards, our customers pay only £5 per bag per day.
Pricing
LuggageHero is the ONLY luggage storage service that offers you a choice of hourly or daily rates in London. Flat rate of £8 per day and £1 per hour which allows you to pick an option that will suit your needs best. No hidden fees and no need to pay in advance, pay only if you show up to the luggage drop off location. All luggage is insured against damage, loss, and theft & security seal is provided.
Tips on storing luggage in London during COVID19:
Despite the current restrictions, you can still store luggage in London in numerous shops and locations
If you use a storage locker in London, don't forget to sanitize well before using it and clean the locker after yourself as well
Luggage drop-off in London needs a bit of extra attention nowadays. To avoid the spread of COVID19, try to use a face mask when dropping off your luggage and sanitize your hands before and after dropping off your luggage
Most places to store luggage in London are currently following all government restrictions and are generally safe to use for luggage drop off in the city
Download our free luggage storage app and leave luggage near Victoria Station: 
For even more comfort and ease, you can download our LuggageHero bag storage app where you can see all our locations for luggage storage near Victoria Station and London. Victoria Station left luggage has never been so safe and varied as it is now.
Frequently Asked Questions about Liverpool Street Station
Here are some of the most frequently asked questions about Liverpool Street Station.
What are Liverpool Street Station's opening hours?
The opening hours are: Monday: 03:10 – 01:03, Tuesday – Thursday: 04:00 – 01:03, Friday – Saturday: 03:10 – 01:03, Sunday: 03:40 – 01:03.
Where can taxis be found near Liverpool Street Station?
The taxi rank is inside the station, next to platform 10 in the central roadway. Further, all taxis are accessible.
Where can buses be found near the station?
Buses are located outside the station and are accessible via lift on main concourse. All Transport for London buses are accessible by step free access.
Which lines are serving Liverpool Street?
The lines serving Liverpool Street Station are Circle, Hammersmith & City, Metropolitan and Central.
Can Liverpool Street Station be accessed through Primrose St.?
Yes it can - there are 5 entrances to the station: Sun Street Passage, Broadgate, Corner of Liverpool Street & Old Broad Street, Bishopsgate, and Primrose St (End of Platform 10).
Is there a car park at Liverpool Street Station?
Unfortunately, there is no car park at Liverpool station. The nearest Blue Badge spaces are on Broad Street Pl and Liverpool St. The space on Old Broad St has closed.
How can assistance be requested at Liverpool Street Station?
If you need help, speak to a member of staff or go to the reception by platform 10, Monday to Friday 07:00-19:00. At other times call 020 7295 2789 or 0778 892 4382. If you wish to book assistance but are not sure which train operator you are travelling with, you can call 0800 022 3720. On calling, you will be referred to the appropriate train operator.
Are there accessible toilets at the station?
Yes there are - opposite the Ticket office on concourse, two cubicles have baby changing facilities. Toilets are free to use.