Luggage Storage American Museum of Natural History
Only luggage storage to offer choice of hourly or daily rates in American Museum of Natural History
Most-reviewed luggage storage service
Luggage storage American Museum of Natural History
Need to store your luggage near the Museum of Natural History? Drop off your items at one of LuggageHero's luggage storage locations just around the corner.
The Museum of Natural History is located at Central Park West & 79th street on the Upper west side. Luggage, small carry-ons, and oversized backpacks are not allowed into the museum and cannot be checked.
Luggage storage is made easy with LuggageHero!
Moreover, you only pay for the hours you store your luggage and with our risk-free booking policy, you only pay if you show up. Simply choose one of our suggested shops nearby and reserve luggage storage. We offer the highest luggage insurance in NYC and with our tamper-proof security seals, you can enjoy The Museum of Natural History with peace in mind.
All our shops are certified by LuggageHero and all bags are sealed off with our security seals insuring each piece of luggage up to $3000.
Check out why LuggageStorage and KnockKnock recommend storing your baggage with LuggageHero!
Download our free bag storage app:
For even more ease you can get the LuggageHero bag storage app where you can easily see all our locations around Central Park. Download the app now and store your luggage with a few clicks wherever you are.
We store all kinds of luggage – any size and any shape
LuggageHero's users can store luggage of any size and/or shape in any of our storage locations. It doesn't matter if it is ski equipment, photo equipment, or backpacks – our luggage stores can accommodate all. LuggageHero's customers can choose to be charged by the hour or choose our daily rate – no matter of their left luggage.

We can store your luggage for several days
LuggageHero also provides multi-day storage to its customers because we know flexibility is an essential part when you travel. LuggageHero offers a lower daily rate when you store your luggage for a longer period. From the second day onwards, our customers pay only $5 per bag per day.
Is there a difference between left luggage and luggage storage?
Left luggage is luggage that people have left in a designated luggage locker facility. The term 'left luggage' is mostly being used in the UK. And luggage storage is a storage facility where people leave their luggage. Luggage storage is the most common name used internationally when referring to storing luggage. In other words, there is absolutely no difference between the two concepts. They are both defined by people's need of storing luggage which can be collected at a later time. So whether you are looking for left luggage or luggage storage, LugaggeHero is here to take care of your belongings.
Pricing
Luggagehero is the ONLY luggage storage service that offers you a choice of hourly or daily rates in the Grand Central terminal. A flat rate of €8 per day and €1 per hour allows you to pick an option that will suit your needs best. If you're only planning on staying for a few hours in a city, why pay for an entire day as you would with other luggage storage services. No hidden fees and no need to pay in advance, pay only if you show up at the luggage drop-off location. All luggage is insured against damage, loss, and theft & a security seal is provided.
The Museum of Natural History
Don't waste time standing in line to store your luggage at the Museum of Natural History, they will not store your luggage, small carry-ons, and oversized backpacks as they are not allowed into the museum and cannot be checked.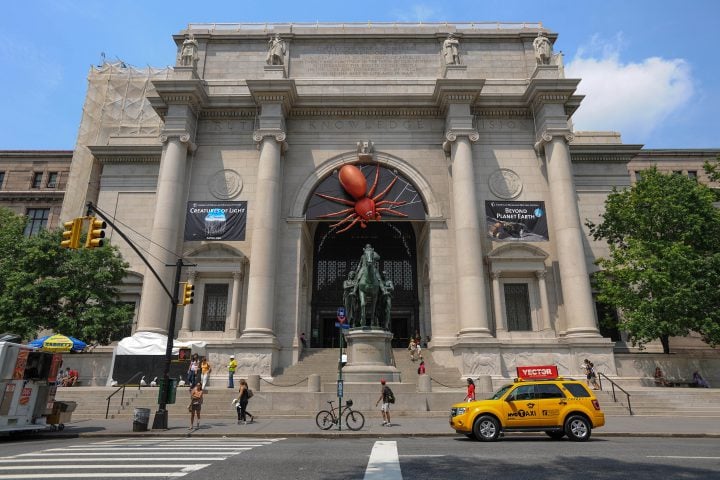 Launching in December 2017 LuggageHero quickly became the largest and most convenient luggage storage provider in NYC. With more than 140 locations all around the city, the time of running around with your bags on arrival or departure days is over. Turn your travel days into holidays and enjoy the city hassle-free.
We have partnered up with local shops around NYC that will take good care of your belongings while you are out on adventures. With our simple check-in / check-out process, you only pay for the hours you use, and if your plans change before dropping off the luggage, you can easily cancel your booking and make a new one.
Do you have several more destinations to visit after The Museum of Natural History? With LuggageHero you can store your luggage in 130+ locations around NYC and many of them are just near the major traffic hubs. This will give you free access to all of NYC without worrying about your luggage.
Download the LuggageHero app to find out more about luggage storage in New York City
Luggage Storage Near Me
There are a few simple methods for finding luggage storage near you. The simplest method is to download the LuggageHero app, which will automatically show the locations in New York that are nearest to you or you can use the GO button at the top of the page to locate bag storage near you.
Frequently Asked Questions
Which public transit stations are close to American Museum Of Natural History, Manhattan?
American Museum Of Natural History is located at Columbus Avenue, Manhattan and the nearest public transit station is W 81 St/Columbus Avenue.
How much is the underground fare from Grand Central to American Museum Of Natural History?
The journey from Grand Central to American Museum Of Natural History costs $2.75.
Can you bring a backpack to the Museum of Natural History?
Luggage, small carry-ons, and oversized backpacks are not allowed into the Museum and cannot be checked. Strollers are welcome throughout the Museum, except in theaters.