Luggage Storage at Penn Station
Turn your travel days into holidays from $1/hour
How It Works 1, 2, 3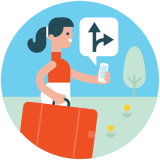 Book online and receive directions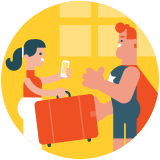 Drop off the luggage at a LuggageHero shop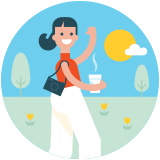 Enjoy your time without the weight of your luggage
Pricing per bag
/hour* or /day in
*plus one-time handling fee of per bag.
Our customers are saying
I had the expectation of finding a storage place for my suitcases close by the bus stop before my flight. You even exceeded that by how simple the process actually is. You are definitely my hero today. Thanks
Lifesaver! Thanks for holding our bags as we toured NYC! Good to know about this option and our bags were safe and sound!
At first it seems a bit weird leaving your luggage in a shop, but the service was efficient and really handy. Makes such a difference not having to carry bags around all day. It's totally secure and reasonably priced. Will definitely use them again
Perfect location for storing luggage! Just next to Penn station we found the perfect luggage storage place where a very nice familie works together! Only thing is that they close at 18.00 hours and we had to leave for the airport around 21.00 h.. so still walked around with the luggage after that.
Couldn't have walked the High Line if I had to keep my luggage with me. Staff at Chelsea Medical were very helpful. Easy walk from Penn Station. Loved not having to struggle with luggage while I enjoyed a beautiful afternoon on the High Line!
Luggage Storage at Penn Station: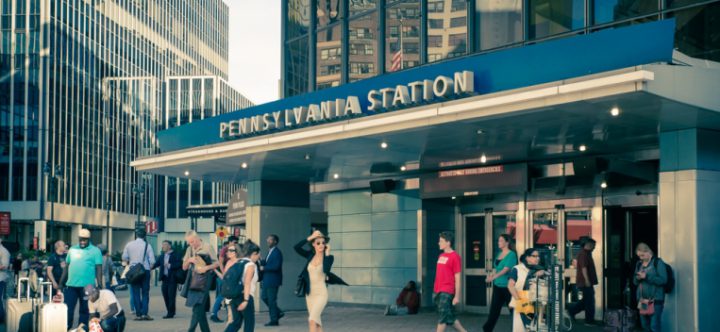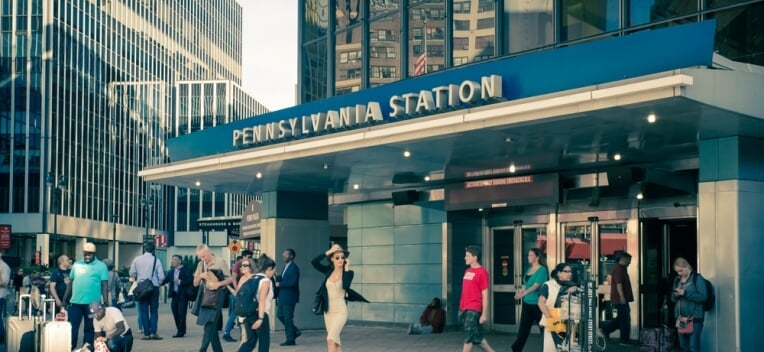 Luggage Storage can be found just around the corner from the station as Penn Station itself doesn't offer luggage storage. Keep in mind that Penn Station is known as one of the busiest rail stations in the world so reserve space for your bags in advance.
Penn Station is located in Midtown West, from 30th to 34th Street between Seventh and Eighth Avenues. The best way to go get to Penn station is via the subway or bus.
Luggage storage in local shops will give you the convenience to explore New York City without dragging around your luggage around. Don't plan your travel days on the terms of your luggage but turn your travel days into extra holidays.
With more than 140 LuggageHeroes around New York, you have more than enough reasons to leave your luggage behind while you are on adventures. Overnight storage can easily be handled.
All our shops are certified by LuggageHero and all bags are sealed off with our security seals ensuring each piece of luggage up to .
Our idea told by somebody else: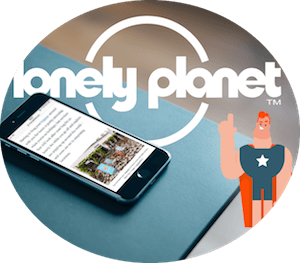 You can now drop your luggage off for safe-keeping in shops, pubs and cafés across New York – 140 locations
"LuggageHero lets you store your luggage in a local shop, café or hotel, which is often more convenient than having to go to a storage facility at a train station."
FAQ
What is the concept?
Luggage storage sites are located inside existing businesses, including retail outlets, hotels, cafes, and more. All are vetted by LuggageHero's local employee, who performs regular quality checks. Every piece of luggage is secured with unique security seals provided for free at your local LuggageHero.
How to store your luggage at LuggageHero
Press "Go!" in the top of this page to start browsing your ideal spot for your luggage or click "My location" Use the map or browse the list of shops.

Once you've booked, you simply show up, click "start storage timer" on your smartphone or follow the link provided on email or SMS. Directions are available once you have made a booking.

Upon pick-up, click "stop storage timer" which will process payment.
How do I calculate the price?
LuggageHero is the only luggage storage service in the world to only charge you for the hours you spend storing your luggage -- and at a low hourly rate. No more pre-paying for hours not spent. The price is listed on each shop profile before booking and includes insurance. To ensure that you don't pay too much we have a daily cap.
Security seal provided for free
Security seals are always placed on each of your bags through the zippers to assure that luggage remains secure and to prove that no one has opened or tampered with your luggage.
Insurance and safe luggage storage
In the collaboration with First Marine Insurance Ltd., cover holders for Lloyd's of London, one of the world's largest insurance companies, we are proud to be covering each piece of luggage free of charge every time you use our luggage service. The insurance is covered up to $3,000/€2500 per item of luggage. Make sure you do not pay cash in a drop-off/pick-up shop, because insurance will not cover any bookings that are not paid directly to LuggageHero. You must pay directly to LuggageHero to be covered.
Cash-free
Submit your credit card information for swift drop-off and pick-up at a LuggageHero location. You don't need to worry about having the right currency on hand when paying online. All major credit cards are accepted. The shops do not receive cash when using LuggageHero. The insurance on your luggage is valid only if the payment has been made directly to LuggageHero.
Only pay if you show up
You don't pay unless you drop off your baggage at a LuggageHero shop. We do this because it's how we personally would like to be treated. Therefore, no amount will be charged if you fail to show up for your booking.
No download necessary
You don't need to download anything to use LuggageHero. You simply book using our website. Once you are at the shop, you check yourself in using the link provided when booking.
Where is the luggage stored?
Luggage storage sites are located inside existing businesses, including retail outlets, hotels, cafes, and more. All are vetted by LuggageHero's local employee, who performs regular quality checks. Every piece of luggage is stored away from any public access and secured with a security seal every time.
On hand to support everyday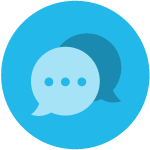 Live Chat 24/7
Penn Station
Open 24/7 – 7 days a week
No luggage storage inside the station. Find your our storage location around the corner by clicking here.
New York Penn Station or known as Penn Station has a direct train to Newark Airport and is located just next to Madison Square Garden, in the Midtown Area of Manhattan making it an excellent location to store your luggage when you arrive or depart from New York City.
The station itself doesn't offer any luggage storage service. Luckily we have partnered up with existing businesses just around Penn Station to offer travelers convenient and cheap luggage storage from only . They are called LuggageHeroes and your luggage is sealed and insured from  when stored with one of them.
Let us help you make the most of your days in New York and take care of your luggage near Penn Station as you are on adventures.
In the press:

Recommended by the official tourist information