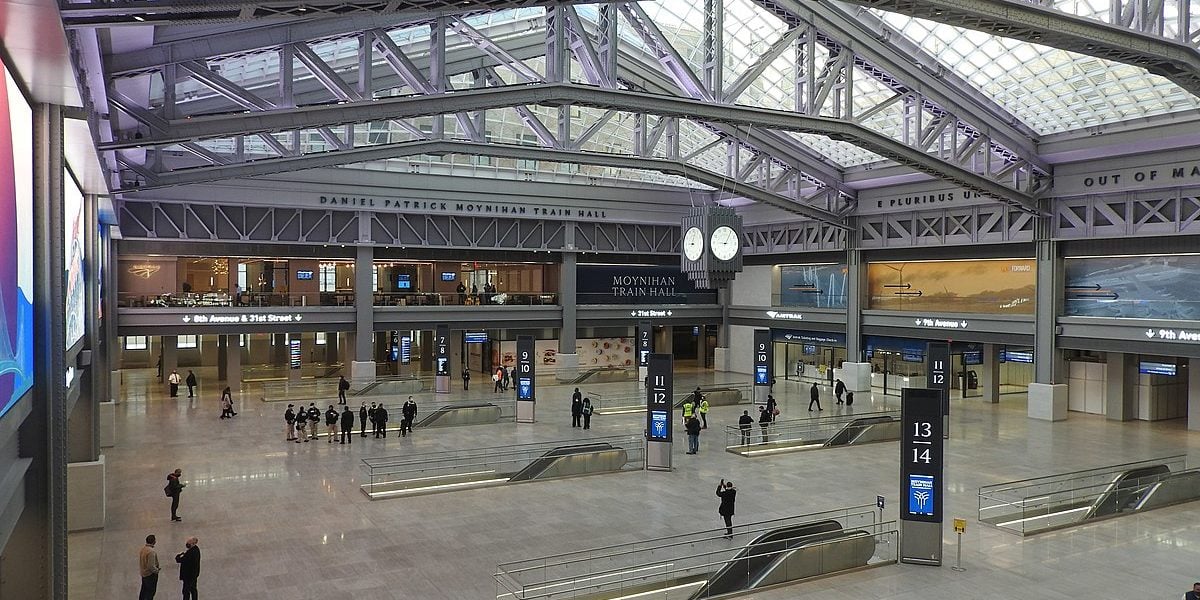 Luggage Storage Newark Penn Station
Only luggage storage to offer choice of hourly or daily rates in Newark Penn Station
Most-reviewed luggage storage service
Luggage storage Newark Penn Station
Are you looking for luggage storage near Newark Penn Station? You can store your bags with one of LuggageHero's luggage storage locations just around the corner from the station and explore New York City or Newark hassle-free.
LuggageHero storage sites are certified hotels, cafes, and shops. Advance bookings ensure space for your bags. The address and directions to our partner shops are available at the time of booking. All bags are sealed off with our security seals insuring each piece of luggage for $3000 once you have dropped off your bags and started our storage timer on your booking page.
Download our free bag storage app:
For even more ease you can get the LuggageHero bag storage app where you can easily see all our locations around Newark. Download the app now and store your luggage with a few clicks wherever you are.
We store all kinds of luggage – any size and any shape
LuggageHero's users can store luggage of any size and/or shape in any of our storage locations. It doesn't matter if it is ski equipment, photo equipment, or backpacks – our luggage stores can accommodate all. LuggageHero's customers can choose to be charged by the hour, or choose our daily rate – no matter their left luggage type.
Pricing
Luggagehero is the ONLY luggage storage service that offers you a choice of hourly or daily rates in New York City. Flat rate of $7.95 per day and $0.95 per hour which allows you to pick an option that will suit your needs best. No hidden fees and no need to pay in advance, pay only if you show up to the luggage drop off location.
130 luggage storage locations that are open daily 24/7. All luggage is insured against damage, loss, and theft & security seal is provided.
We can store your luggage for several days
LuggageHero also provides multi-day storage to its customers because we know flexibility is an essential part when you travel.
LuggageHero offers a lower daily rate when you store your luggage for a longer period. From the second day onwards, our customers pay only $5 per bag per day.
Is there a difference between left luggage and luggage storage?
Left luggage is luggage that people have left in a designated luggage storage facility. The term 'left luggage' is mostly being used in the UK. And luggage storage is a storage facility where people leave their luggage. Luggage storage is the most common term used internationally when referring to storing luggage.
In other words, left luggage and luggage storage are synonyms, hence there is no difference between the two phrases. They are both defined by people's need of storing luggage, which can be collected at a later time. So whether you are looking for left luggage or luggage storage, LugaggeHero is here to take care of your belongings.
Newark Penn Station
Newark is a city in New Jersey and is home to the Newark Liberty International Airport. When visiting NYC you shouldn't miss a walk around Newark where you can visit the New Jersey Performing arts center, a broad collection of art museums featuring American paintings and sculptures. Branch Brook Park offers pathways, lakes, and abundant cherry trees.
Are you attending an event at the Prudential Center? Then be aware of the bag policy. All backpacks and purses larger than 12″ x 16″ x 6″ are prohibited from any event at the Prudential Center.
Newark Penn Station is served by multiple rail and bus carriers, making it the seventh-busiest rail station in the United States, and the fourth-busiest in the New York area. You are directly connected to Newark from Pennsylvania Station or the World Trade Center Station on Lower Manhattan.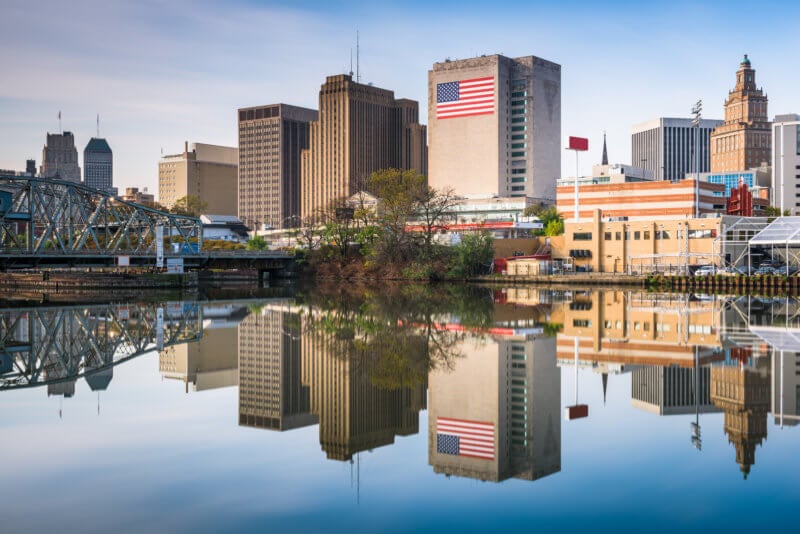 Useful tips when using Newark Penn Station:
Arrive at least 45 minutes before your departure if you're checking luggage or need ticketing/passenger assistance
Be there at least 30 minutes before your departure if you're not checking baggage or don't need assistance.
At Newark Penn Station you can find:
ATM
Elevator
Restrooms (as well as accessible restrooms)
Ticket sales office (also accessible)
Vending machines for snacks and drinks
Ticketing Services for Newark Penn Station 
Ticket Office Hours:
Raymond Plaza, West Newark, NJ 07102
6:00AM – 10:00PM (Monday-Friday)
6:00AM – 10:00PM on Saturday
6:00AM – 10:00PM on Sunday
Things to do near Newark Penn Station
In just a few minutes' walk, you can get to the waterfront and enjoy the view of the beautiful Passaic River.
If soccer is your cup of tea, you can cross over the bridge and go to the Red Bull Arena -the 25,000-seat arena is home to NY's pro soccer team & also hosts international & collegiate games.
Nearby Newark Penn Station, you can also find the N J Historical Society – a local museum, library & archive collecting & preserving the varied history of New Jersey. Just across, you can find the New Jersey Symphony Orchestra and the Military Park –  a triangular tree-lined green with a large war memorial, other statues & ample space for leisure.
If any of that sounds interesting to you, you can leave your bags at a storage location near these attractions and enjoy your time hands-free instead of waiting at a station all day long.
Luggage Storage Newark Penn Station
Does Newark Penn Station have lockers? It is possible to get luggage storage at Newark Penn Station, but only if you have an Amtrak travel ticket. Customers who have tickets for Amtrak travel may store their items in Parcel Check service when available for $10 per item for 24 hours. That can be a very expensive option for those who need their bags stored for a few hours only, in which case an alternative like LuggageHero may be a better option. With LuggageHero, you can store your bags at a local shop near the station for only  per hour and  for a whole day! It is way cheaper than using the generic NYC luggage storage options at the stations.
Explore bag storage locations in Newark
Find the locations closest to you and store your bags near Newark Penn Station with just a few clicks. Zoom in and explore the map.
Store your bags with LuggageHero near Newark Pennsylvania Station
At LuggageHero, we can also offer a reasonable daily maximum, and your bags can, of course, be stored for multiple days. Further, you don't need to know when you'll be picking up your luggage – you can just go with the flow! Your left luggage can stay there for as long as you need it to.
Check out why LuggageStorage and KnockKnock recommend storing your baggage with LuggageHero here!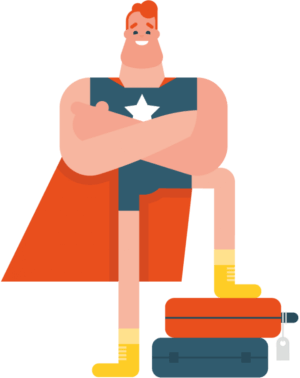 Store luggage safely near Newark Penn Station
Unlike other similar concepts, all our shops near Newark Penn Station have been carefully checked by a LuggageHero employee. We further provide security seals for each piece of luggage, and each piece of luggage and its contents are insured for up to $3000. You will not find any other luggage storage providers near Newark Penn Station that offer the same perks. If you are having trouble storing your luggage, our online customer chat support is available 24/7.
Luggage storage chart
Based on the chart below, LuggageHero is the best luggage storage option in New York. LuggageHero the only one that offers both hourly and daily prices with the possibility of insurance. Luggage storage in New York has never been so easy!
The chart is created based on the most popular luggage storage options.
Name
Price
Insurance
Flexible arrival
Reviews
Name
Price
Insurance
Flexible arrival
Reviews
LuggageHero
$0.95/hour or $7.95/day
Up to $3000
Yes
67.050
Name
Price
Insurance
Flexible arrival
Reviews
NannyBag
$6 day & no hourly option
Up to $1100
No
27,802
Name
Price
Insurance
Flexible arrival
Reviews
Vertoe
$5.95 day & no hourly option
Up to $5000
No
4,708
Name
Price
Insurance
Flexible arrival
Reviews
Radical Storage
$5 day & no hourly option
No
No
900
Frequently Asked Questions about Newark Penn Station
Can I store my luggage at Newark Penn Station?
Yes, you can store your luggage at Newark Penn Station for $10 a day. Alternatively, you can use LuggageHero and store your luggage for only $1 per hour, and a maximum fee of $8 per day.
Is there WiFi at Newark Penn Station?
No, unfortunately there is no WiFi available at Newark Penn Station.
Are there ticket vending machines at Newark Penn Station?
Yes, there are vending machines where you can buy your ticket.
What are the commuter rail lines for Newark Penn Station?
The commuter rail lines are Northeast Corridor, North Jersey Coast, and Raritan Valley.
How much does it cost to store bags with LuggageHero?
Most luggage services charge their customers for an entire day. However, LuggageHero provides its customers another pricing system - we charge by the hour, $1 per bag.
What will happen in case I have a problem with my booking?
If you encounter a problem with a luggage storage booking, you can email us at contact@luggagehero.com and we will get back to you and solve the problem as quickly as possible.
Is luggage storage with LuggageHero safe?
All luggage storage locations are verified for safety and carefully trained by our team before being listed on the site. Aside from that, we provide you with individually tagged tamper-proof seals for your baggage when you arrive. To offer an extra sense of security, every bag is covered by a $3000 insurance.