Luggage Storage Gare Saint Lazare
Only luggage storage to offer choice of hourly or daily rates in Gare Saint Lazare
Most-reviewed luggage storage service
Luggage storage Gare Saint Lazare
Are you looking for luggage storage near Gare Saint Lazare? You can store your bags with one of our luggage storage locations just around the corner from the station and enjoy your day in Paris hassle-free.
Luggage Storage Gare Saint Lazare
LuggageHero storage sites are certified hotels, cafes, and shops. Advance bookings ensure space for your bags. The address and directions to our storage locations are available at the time of booking. All bags are sealed off with our security seals ensuring each piece of luggage up to once you have dropped off your bags and started our storage timer on your booking page.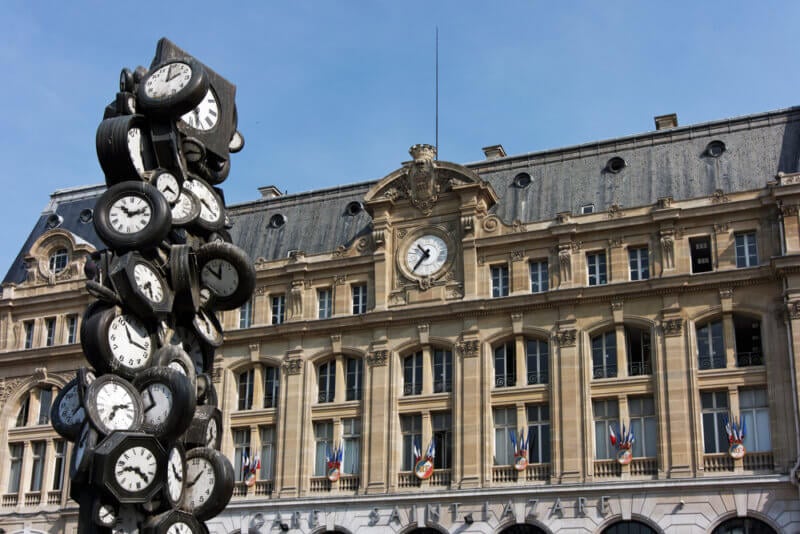 Gare Saint-Lazare
Gare du Nord is the busiest train station in Paris but up next is Gare Saint-Lazare train station. It is one of the six large terminus train stations of Paris and services trains towards Normandy and northwest of Paris. The station is found close to the Grands Magasins on Boulevard Haussmann and holds a shopping arcade along with several services that have given the station a lively and bustling atmosphere of a Town in a Town.
On the large square in front of the station, you'll see two easily recognizable sculptures made by the sculptor Arman. One is a pile of luggage and the other a pile of clocks.
Store luggage near Gare Saint-Lazare
You can store luggage in a large number of locations around Gare Saint-Lazare. LuggageHero itself has over 40 locations around the city in hotels, coffee shops and restaurants, costing only €1 per hour (with a maximum of €8 per day).
We believe in making your travels as smooth as possible, which is why it is important for us that NO FEES are charged to you until your luggage has been picked up by you.
Use our online booking service to choose a luggage storage site in Paris that is most convenient and suits your travel needs best. You can either book on arrival at the shop or book online in advance to secure your Paris city locker. Make an advance booking and you're guaranteed a space for your luggage.
But we know that sometimes plans change, especially when you're on the road. So if you don't show up, there's no charge. Nada. Zero. Zip. Zilch. Nothing! And no, you don't even have to cancel your booking! With so little risk, there is no point in searching for other storage lockers in Paris.
Download our free bag storage app in Paris:
For even more comfort when storing luggage near Gare Saint-Lazare, you can download our LuggageHero bag storage app where you can easily see all our locations for storing luggage around Paris. With our app, you are able to store your bags in any of our 40+ locations in Paris. Click here for information on how to use the luggage storage app in Paris.
Frequently Asked Questions about Gare St. Lazare
Here are some of the most frequently asked questions and answers about Gare St. Lazare.
Can you drop your luggage off at Gare St. Lazare station?
No, there are no luggage lockers at Gare St. Lazare at the moment. However, you may safely store your luggage with any luggage storage service just steps away from the station. This is also a more convenient option as you can choose a luggage storage location closest to your desired destination.
Is there a maximum luggage size when you store at a partner location around Gare St. Lazare?
No, there is no limit in size or weight of luggage that you can store at a partner location near Gare St. Lazare station. If you are storing something like a surfboard or a bicycle, it's best to call the place directly first and ask to make sure.
Do you need to book in advance to visit Gare St. Lazare?
We recommend booking Gare St. Lazare tours ahead of time to secure your spot. If you book with Tripadvisor, you can cancel up to 24 hours before your tour starts for a full refund.
When is Gare St. Lazare open?
Gare St. Lazare is open: Sun - Sat 05:00 - 01:15
What are the most popular things to do near Gare St. Lazare?
* Spas Gift * Speciality Shops Monuments * Statues Bars * Clubs Points of Interest * Landmarks
What hotels are near Gare St. Lazare?
Hotel Paris Opera (11 km), Austin's Saint Lazare Hotel (13 km), Hotel Phielas (15 km), Le Grande Hotel Normandie (15 km), Atlantic Hotel (18 km)
What restaurants are close to Gare St. Lazare?
PAUL, (0.3 km), Lazare (0.06 km), Garnier (0.14 km), Wrap n' Roll Sushi (0.17 km), La Pause Libanause (0.20 km)