Luggage Storage The Eiffel Tower
Carry Less, Do More
Luggage Storage The Eiffel Tower
Are you walking around and need to store your luggage near The Eiffel Tower? Don't worry, we got you! 
Drop off your items at one of LuggageHero's luggage storage locations just around the corner.
At LuggageHero, we offer secured and cheap luggage storage. All our shops are certified by LuggageHero. And remember; LuggageHero is the only luggage storage service that offers an hourly and daily rate for maximum flexibility. 
Pricing
LuggageHero is the ONLY luggage storage service that offers you a choice of hourly or daily rates in The Eiffel Tower.
A flat rate starting at €0.95 per hour and from €5 per day allows you to pick an option that will best suit your needs. If you're only planning on staying for a few hours in a city, why pay for an entire day as you would with other luggage storage services? 
Luggage Storage The Eiffel Tower
LuggageHero storage sites are certified hotels, cafes, and shops. Advance bookings ensure space for your bags. The address and directions to our storage locations are available at the time of booking. All bags are sealed off with our security seals ensuring each piece of luggage up to once you have dropped off your bags and started our storage timer on your booking page.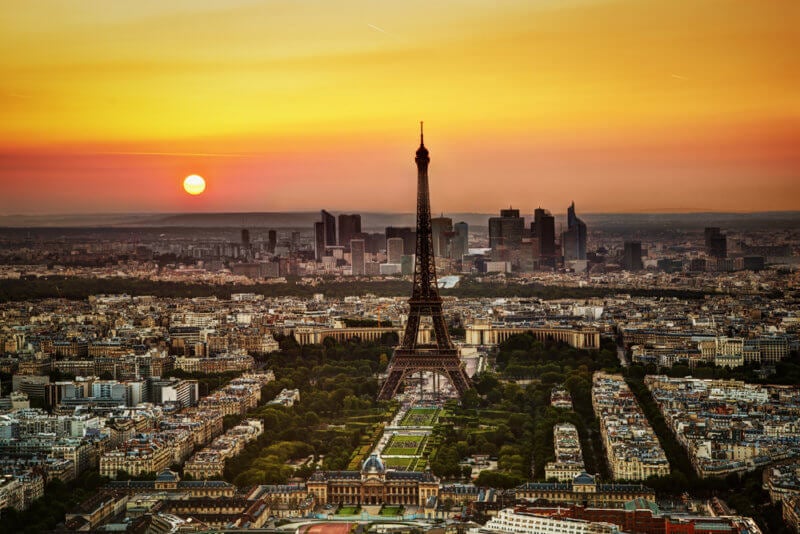 The Eiffel Tower and Champ de Mars
Between the Eiffel Tower and the École Militaire is Champ de Mars, a large public greenspace in Paris. The park is named after the Campus Martius in Rome, a tribute to the Latin name of the Roman God of war and due to the fact that the lawns were formerly used as drilling and marching ground by the French military.
The park is a hotspot for national events with a beautiful view of the capital's landmark monument and can be accessed freely. Parisians and tourists gather on its lawns to picnic, play music, and watch the Eiffel Tower's twinkling lights at nightfall.
Store your luggage near the Eiffel Tower
Champ de Mars should be experienced without the weight of your bags. Invite your significant other for a romantic picnic somewhere in the park and enjoy the view of the Eiffel Tower.
You may be confused with the rules and regulations and wonder where bags and luggage are allowed to be stored around your travel destination. You might be wondering where to leave luggage in Paris. LuggageHero understands you and is happy to provide you with clarity and assistance. All you have to do is simply click Find Luggage Storage & Lockers in Paris and take a quick look around to find all the updated information you need for your trip to the beautiful city of Paris.
Le Parc des Princes Stadium
In the heart of Paris, the stadium Le Parc des Princes is hosting numerous events and games with thousands of people visiting every week. Therefore, for security reasons, there are a few rules that apply regarding their bag policy.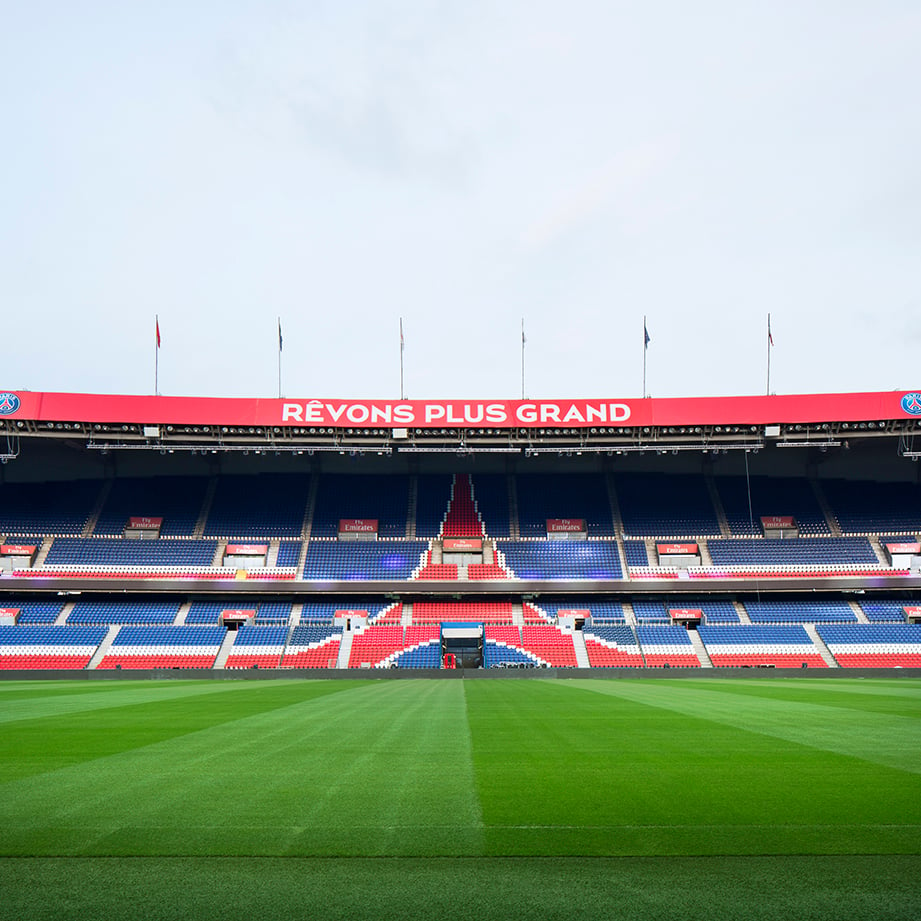 What you can and cannot bring inside Le Parc des Princes Stadium
Voluminous bags and items such as umbrellas and motorcycle helmets must be given to the security at the entrance but with your own responsibility. On the other hand, handbags, shoulder bags, clutch bags, satchels, and briefcases are exempted from the rule. This means that if you carry anything bigger than that you won't be able to either enter the stadium or store them somewhere in the stadium safely. But, don't worry at all because LuggageHero made sure to provide you with a few luggage storage spots near Le Parc des Princes so you could enjoy a carefree visit there. Click here to discover more!
LuggageHero can store your belongings close to The Eiffel Tower
At LuggageHero, we offer secure and cheap luggage storage just near this stadium. All our shops are certified by LuggageHero.
Drop off your bags by using LuggageHero's network of local shops and hotels located in Paris.
Half price compared to station lockers and airport lockers
Luggage lockers, also called city lockers, are generally at least double as expensive on a daily basis compared to LuggageHero's luggage storage service. Until recently, travelers could only stow their bags in these luggage lockers, offering very little flexibility regarding pricing, where to go, and luggage deposit.
Also, LuggageHero offers stores in countless places in order for you to always have the option of dropping off your luggage in a safe environment. Unlike luggage lockers in stations and airports, LuggageHero offers both hourly and daily rates. LuggageHero strives to offer flexible and cheap luggage storage nearby you at all times. 
We store all kinds of luggage – any size and any shape in verified stores
LuggageHero's users can store luggage of any size and/or shape in any of our storage locations. It doesn't matter if it is ski equipment, photo equipment, or backpacks. In other words, you can get baggage storage, suitcase storage, luggage deposit, or whatever our satisfied customers call it in a safe way as we accommodate it all. LuggageHero's customers can choose to be charged by the hour or choose our daily rate, regardless of what they store.
LuggageHero redefines convenience for travelers. Take advantage of our generous baggage allowance and leave your luggage and carry-on bags in our secure, innovative, and environmentally friendly locker storage. You can easily bounce into our store and embark on your adventures unburdened by heavy luggage! 
We can stow your luggage for several days
LuggageHero also provides multi-day storage, because we know flexibility is essential when you travel.
LuggageHero offers a lower daily rate when you store your luggage for longer. From the second day onwards, our customers pay from only €5 per bag per day.
Download LuggageHero's free luggage storage app
For greater convenience, you can download LuggageHero's app to see all our locations near you.
Opening hours
We have a variety of stores with different opening hours, so choose what fits you best! Go and pick the store here to see the opening hours.
Which payment methods are accepted?
All major credit cards are accepted. Be aware that the shops do not receive cash when using LuggageHero, and remember that the insurance on your luggage is valid only if the payment has been made directly to LuggageHero.
Cancellation of booking
For same-day cancellations, a fee of €5.00/$5.00/£5.00/DKK30.00 per bag will be charged for the booking, and for no-shows, there will be a fee equal to the daily rate at the selected storage location starting at €5 per bag.
Also been featured in The New York Times, Lonely Planet, and CNBC.
Can I buy tickets for Eiffel Tower on the day?
Yes, you can buy tickets to the summit at the Eiffel Tower for immediate use. The line can be long--perhaps a 2 hr. wait. Tickets to the second floor are available on the website for your days, if you think that might suffice.
What is the purpose of Eiffel Tower?
You can take the stairs from the bottom of the Eiffel Tower up to the 2nd Floor. That means exactly 674 steps! In total, there are 1665 steps from the esplanade up to the top of the Eiffel Tower, but the stairway from the 2nd floor to the top is not open to the public.
Who made the Eiffel Tower and why?
Eiffel et Compagnie, a firm owned by French architect and engineer Alexandre-Gustave Eiffel, designed and constructed the iron tower for the Exposition Universelle, or World's Fair, in 1889.
LuggageHero in the press
"LuggageHero, which offers online booking with a credit card — thus, eliminating the need for users to have local currency on hand — is one of the most recent players to expand its services. In December the company began operating in New York, where today it has some 250 locations."

"One solution is LuggageHero, which was already on the scene in Copenhagen and London, and has now expanded into New York. Its selling point is that it lets you store your luggage in a local shop, café or hotel, which is often more convenient than having to go to a storage facility at a train station."

"LuggageHero, which Jannik Lawaetz founded in 2016, currently has more than 300 storage locations in six cities (New York, London, Copenhagen, Lisbon, Madrid and Barcelona) and plans to expand to 39 cities by January 2020."

"LuggageHero founder and chief executive Jannik Lawaetz says that the concept was inspired by that mother of invention — necessity — and Airbnb. A couple of years ago, he and his girlfriend rented an apartment in Barcelona via the home-share service. They had a later flight on their day of departure and wanted to continue exploring the city, but didn't want to lug their suitcases around. "