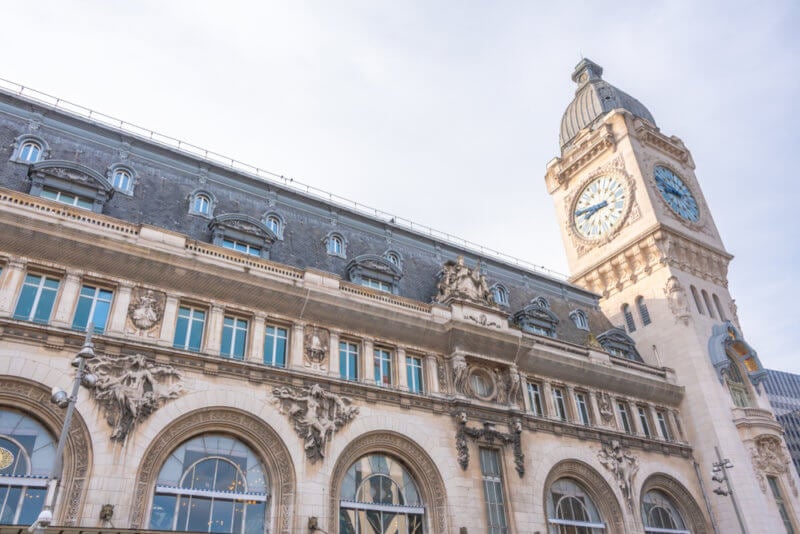 Luggage Storage Gare de Lyon
Only luggage storage to offer choice of hourly or daily rates in Gare de Lyon
Most-reviewed luggage storage service
Luggage storage Gare de Lyon
Are you looking for luggage storage near Gare de Lyon? You can store your bags at one of our luggage storage locations just around the corner from the station and enjoy your day in Paris hassle-free.
On this interactive map, you can explore the areas where you can store your luggage.
How to safely store luggage during COVID-19
COVID-19 is still here and it is more important than ever that we make sure to avoid the spread of the virus.There are some simple actions we must all do to keep on protecting each other when dropping off or picking up luggage. Storing your luggage is simple and easy and it can also be harmless if you follow the guidelines properly.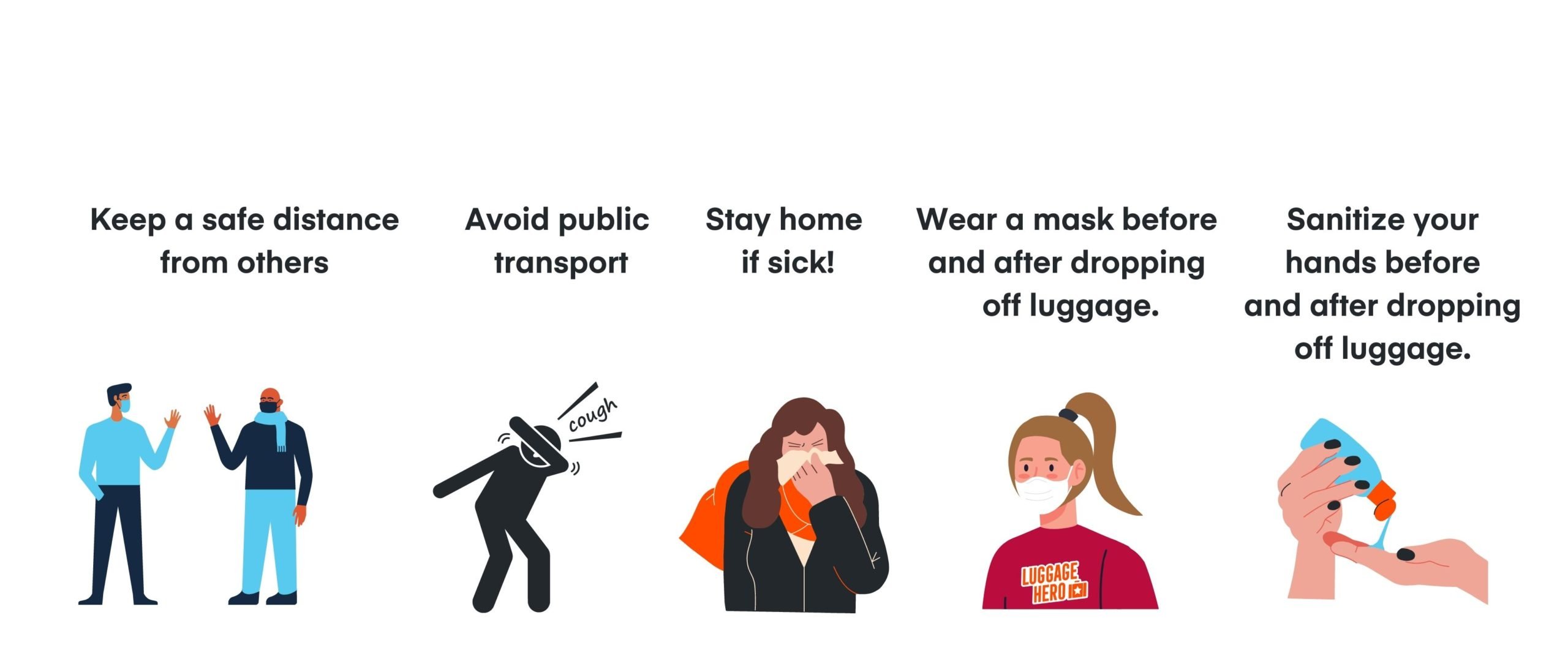 LuggageHero storage sites are certified hotels, cafes, and shops. Advance bookings ensure space for your bags. The address and directions to our storage locations are available at the time of booking. All bags are sealed off with our security seals ensuring each piece of luggage up to once you have dropped off your bags and started our storage timer on your booking page.
So, if you're repeatedly searching "Gare de Lyon luggage lockers," "luggage storage near me" or  "storing bag at Gare de Lyon", you don't need to search any longer because LuggageHero's got you covered!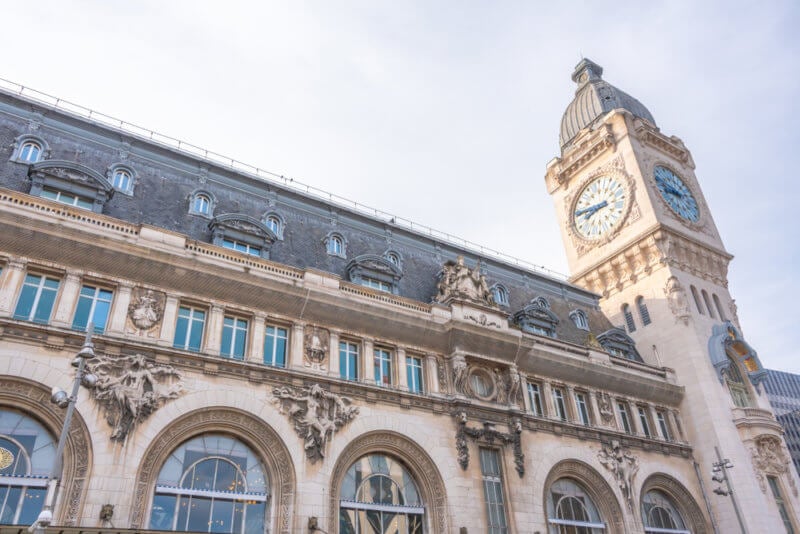 Gare de Lyon, officially Paris-Gare-de-Lyon is one of the six large mainline railway stations in Paris. It handles about 90,000,000 passengers every year, making it the third busiest station of France and one of the busiest in Europe.
The station is served by high-speed trains heading towards the south and east of France, as well as to Switzerland, Germany, Italy, and Spain. The station also hosts regional trains, as well as Gare de Lyon Metro station. You can easily get to Gare de Ville Nice by train in just 6 hours.
When strolling around the Gare de Lyon/Bercy neighborhood, you'll find yourself walking along flower-laced lanes all while walking through lively markets. When storing your bags near Gare de Lyon station, you could spend your travel day visiting the Mosquée de Paris, Promenade Plantée
or Jardin des Plantes. These are just some of the beautiful places surrounding the Gare de Lyon.
Check out why LuggageStorage recommends storing your baggage with LuggageHero here!
Gare de Lyon Luggage Storage
There are a few options for where to store your luggage at Gare de Lyon Station. The station provides self-lockers where you can store your left luggage and they are accessible from 6.15 morning to 22.00 evening. Be aware, that the lockers can only be paid by cash.
If you are looking for something more convenient, do not hesitate to try LugaggeHero!
It only costs  and if you would like to store your luggage for the full day – it costs only  for 24 hours! Instead of renting out train station lockers with limited space and time slots, you can store your bags at any of our left luggage locations near Gare de Lyon Station. With bag lockers just steps away from the station, you can visit many popular Paris tourist attractions like Place de la Bastille, the Louvre and the Eiffel Tower at your own convenience.
We store all kinds of luggage – any size and any shape
LuggageHero's users can store luggage of any size and/or shape in any of our storage locations. It doesn't matter if it is ski equipment, photo equipment, or backpacks – our luggage stores can accommodate all. LuggageHero's customers can choose to be charged by the hour or choose our daily rate – no matter of their left luggage.
Pricing
LuggageHero is the ONLY luggage storage service that offers you a choice of hourly or daily rates in Paris. Flat rate of  per day and  per hour which allows you to pick an option that will suit your needs best. No hidden fees and no need to pay in advance, pay only if you show up to the luggage drop off location.
More than 40 luggage storage locations all around Paris. All luggage is insured against damage, loss, and theft & security seal is provided.
We can store your luggage for several days
LuggageHero also provides multi-day storage to its customers because we know flexibility is an essential part when you travel.
LuggageHero offers a lower daily rate when you store your luggage for a longer period. From the second day onwards, our customers pay only €5 per bag per day.
Is there a difference between left luggage and luggage storage?
Left luggage is luggage that people have left in a designated luggage storage facility. The term 'left luggage' is mostly being used in the UK. And luggage storage is a storage facility where people leave their luggage. Luggage storage is the most common term used internationally when referring to storing luggage.
In other words, left luggage and luggage storage are synonyms, hence there is no difference between the two phrases. They are both defined by people's need of storing luggage, which can be collected at a later time. So whether you are looking for left luggage or luggage storage, LugaggeHero is here to take care of your belongings.
Download our free luggage storage app:
For even more convenience, you can download our LuggageHero bag storage app where you can see all our left luggage locations around Gare de Lyon, we well as all our other luggage storage locations in Paris.
Frequently Asked Questions about Gare de Lyon
Here are some of the most frequently asked questions and answers about Gare de Lyon
Can you store luggage at Gare de Lyon?
There are several opportunities to store luggage in and around Gare de Lyon. First, it is possible to store luggage at Hall 3 inside Gare de Lyon Railway Station every day between 6:15 h and 22:00 h, however, payment can only be made in cash. Several luggage storage companies provide many luggage storage locations near Gare de Lyon where customers can drop off their luggage and pay hourly for safe luggage storage right next to attractions they plan on exploring.
Where can you store luggage near Gare de Lyon Station?
You can find many luggage storage shops near Gare de Lyon Station. We recommend LuggageHero.
How long can you store luggage near Gare de Lyon Station?
You can store your luggage for as long as you want! Just select the pick-up and drop-off dates and the hours of your choice on the LuggageHero website/app.
How much is it to store luggage near Gare de Lyon Station?
The price for luggage storage near Gare de Lyon Station with LuggageHero is just €1/bag per hour.
Do you need to book in advance to visit Gare de Lyon?
We recommend booking Gare de Lyon tours ahead of time to secure your spot. If you book with Tripadvisor, you can cancel up to 24 hours before your tour starts for a full refund.
Where else can I store my luggage in Paris?
There are many places to store luggage in Paris. Most Paris train stations and airports provide luggage storage facilities. Luggage storage companies that have several luggage storage locations in and around Paris are becoming increasingly popular and are extremely convenient. You can safely store your bags at a luggage storage facility in the city close to your desired destination.
How do I find luggage storage near me?
It is easy to find storage lockers nearby if you search online for a luggage storage company. You can find sites where you can quickly locate a storage locker nearby. This is easy to do because luggage storage companies have maps that show exactly where their different storage locations are throughout the relevant city.
Which arrondissement is Gare de Lyon?
The Gare de Lyon/Bercy neighborhood spans from the 12th to the 5th arrondissement in Paris' southeast corner.
What are the most popular things to do near Gare de Lyon?
Big Bus Paris Hop-On Hop-Off Tour Moulin Rouge Show Ticket Paris Seine River Cruise & French Crepe Tasting At The Foot of the Eiffel Tower Skip the Line: Louvre Museum Guided Tour including Venus de Milo and Mona Lisa Bateaux Parisiens Seine River Dinner Cruise.
These places are best for points of interest & landmarks near Gare de Lyon?
1. Capitainerie du Port de l'Arsenal de la Bastille 2. Viaduc des Arts 3. Eglise Saint Antoine des Quinze Vingts 4. Place des Vosges
How far is the Eiffel Tower from Gare de Lyon?
The Eiffel Tower is 6 km away from Gare de Lyon.
Can I bring my luggage into the Louvre?
While there is a coat and luggage check at the Louvre, luggage stored at the Louvre must be picked up the same day. Large bags are not allowed inside the museum and galleries for safety reasons and visitors are advised not to bring large bags and suitcases to the Louvre. There are several opportunities to store luggage at and around the Louvre. Several luggage storage companies offer many storage locations near the Louvre where customers can drop off their bags and keep them safely stored for an unlimited amount of time.
What is the price to store luggage in Paris?
Most luggage services in and around Paris charge their customers for an entire day. However, some newer luggage storage services provide customers with another pricing system, where they charge customers by the hour instead.
Is Gare de Lyon safe at night?
The Gare de Lyon area is a totally safe neighborhood - even to walk around at night as the streets are full even at night.