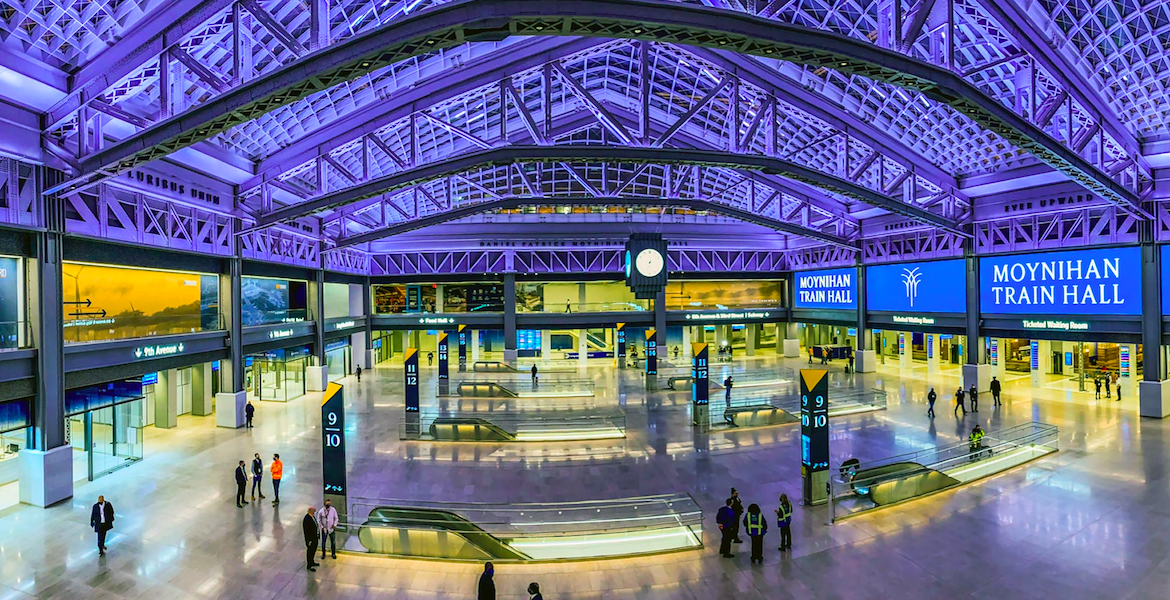 Luggage Storage Pennsylvania Station
Carry Less, Do More
Luggage Storage Pennsylvania Station
Are you walking around and need to store your luggage near Pennsylvania Station? Don't worry, we got you! 
Drop off your items at one of LuggageHero's luggage storage locations just around the corner.
At LuggageHero, we offer secured and cheap luggage storage. All our shops are certified by LuggageHero. And remember; LuggageHero is the only luggage storage service that offers an hourly and daily rate for maximum flexibility. 
Pricing
LuggageHero is the ONLY luggage storage service that offers you a choice of hourly or daily rates in Pennsylvania Station.
A flat rate starting at $0.95 per hour and from $6.9 per day allows you to pick an option that will best suit your needs. If you're only planning on staying for a few hours in a city, why pay for an entire day as you would with other luggage storage services? 
Luggage storage in New York City can be found just around the corner from the station as Penn Station itself doesn't offer bag storage. Keep in mind that Penn Station is one of the busiest rail stations in the world, so it's best to reserve space for your bags in advance. If you are looking for Penn Station locker rentals then this page should solve your issues.
Our service is similar to hotel luggage storage
Many travelers who have been customers at hotels have asked the staff at the reception if they could store their luggage until they depart the city later in the day. For the most part, we offer the same service for everyone – no matter if they stay at a hotel, Airbnb or anywhere else. We are always ready to help you out. Make sure to check out JFK and Penn Station luggage storage options for convenient and secure storage of your belongings.
Can you store your luggage at Penn Station?
Penn Station is located in Midtown West, from 30th to 34th Street between Seventh and Eighth Avenues. The best way to go get to Penn station is via subway or bus. Keep in mind that there are currently no storage options at Penn Station except for those provided by Amtrak. That is why you may want to look for other storage services located near the station. One of such options is Luggage Hero. LuggageHero will store your baggage. That makes it a perfect option if you are just looking to store your bags until your next flight or you want to visit attractions that do not allow luggage inside.
LuggageHero offers storage in various shops and hotels around Penn Station or Moynihan Train Hall.
For the safety of your luggage – it can be insured for up to $3000 per bag. That means that if you left 2 suitcases and the two of them got stolen (which is highly unlikely), you can receive up to $6000 in insurance! There's no need to be concerned about your belongings, and you can simply enjoy the city with your hands free.
New York Penn Station has a direct train to Newark Airport and is located just next to Madison Square Garden, in the Midtown area of Manhattan. This makes it an excellent location to store your luggage when you arrive or depart from New York City. There are many options for luggage storage near Penn Station to consider.
Luckily, LuggageHero has partnered up with existing businesses just around Penn Station to offer travelers convenient and cheap luggage storage. They are called LuggageHeroes and your luggage can be insured when stored with one of them (best luggage storage Penn station). A great solution that helps you to find public lockers near you.
Let us help you make the most of your days in New York by providing you with convenient and reliable NYC Penn Station luggage storage. Luggage storage at Penn Station can be a nuisance if you don't have the correct information and waste time looking for lockers near Penn Station.
Take Amtrak from Penn Station NYC
More than half a million people pass through Penn Station daily, mostly using the LIRR (Long Island Rail Road) or even close to Moynihan Train Hall. Thus, there is a lot of left luggage in Penn Station. This makes New York Penn Station one of the busiest train hubs in North America. So, before you enter the station, you should have at least a rough idea of where you want to go next. There are many different trains that passengers can catch from Penn Station, such as Acela trains (Acela Express) which are the fastest in America. Check the directions here.
Must-visits around Penn Station
Explore Broadway, the heart of the commercial theatrical industry
Go and see one of the most iconic buildings of New York – the Empire State Building in Koreatown
Koreatown is also known for its many Korean barbecue restaurants, karaoke bars, and retail shops
Shop in Macy´s Herald, which is the largest department store in the USA and is also registered as a national historic landmark
Unwind in High Line Park, built on an elevated train spur, and enjoy one of the many scenic views of New York
Visit New York Public Library where you can read archives of all the old magazines
Madison Square Garden  
This New York City stadium is an indoor arena used for a variety of purses: basketball, boxing, ice hockey, wrestling, concerts, ice shows, conventions and other. Madison Square Garden stadium is situated close to Pennsylvania Station, therefore it can be easily accessed even by visitors that do not have a car.
Bags that are permitted at the stadium must be smaller than 22" x 14" x 9" and should be able to fit under the stadium seat.
No outside food or beverages can be brought into the stadium, although it can be bought while at the Madison Square Garden stadium. Other prohibited items include but are not limited to:
Banners
Signs
Selfie Sticks
Video Cameras
Laser pointers
Bottles and thermoses
Madison Square Garden offers no luggage/bag storage facilities, though guests with extra baggage can store their things safely and conveniently by choosing of the locations here.
Shopping near Penn Station
Shopping around Penn Station can be a fun thing to do while you wait for your train. There are numerous opportunities for shopping near Penn Station. For example, you can visit the Chelsea Market which is only 0.8 miles away, and check out a lot of unique shops and places to eat.
If you are looking for something closer, you can check out the Manhattan Mall which is only 0.1 miles away and is a great stopping place for anyone.
If you want something a bit more unique, just 0.4 miles away you can check out the Chelsea Flea Market  and explore a range of interesting items at low prices.
To explore these shopping opportunities, you may need to leave your bags behind at a locker rental at Penn Station or simply use the LuggageHero  service nearby.
Remember, We are only offering certified local shops and hotels such as the very popular Premier Inn Best Western as a lot of people are searching for Premier inn luggage storage in NYC, and we got you covered.
Luggage Storage at Penn Station Newark
Don't let it confuse you. Penn Station Newark is the same as Pennsylvania Station. It has 8 tracks and 6 platforms. Here, you can find connections to NJ Transit bus, Coach USA, Greyhound Lines, and Fullington Trailways.
Where to keep luggage in NYC
With LuggageHero you can store your luggage in 130+ locations around NYC and plenty of them are just near Penn Station Newark. The booking process is quick and easy; doesn't waste your money and saves you time.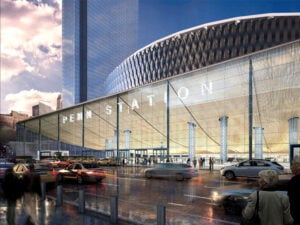 Half price compared to station lockers and airport lockers
Luggage lockers, also called city lockers, are generally at least double as expensive on a daily basis compared to LuggageHero's luggage storage service. Until recently, travelers could only stow their bags in these luggage lockers, offering very little flexibility regarding pricing, where to go, and luggage deposit.
Also, LuggageHero offers stores in countless places in order for you to always have the option of dropping off your luggage in a safe environment. Unlike luggage lockers in stations and airports, LuggageHero offers both hourly and daily rates. LuggageHero strives to offer flexible and cheap luggage storage nearby you at all times. 
We store all kinds of luggage – any size and any shape in verified stores
LuggageHero's users can store luggage of any size and/or shape in any of our storage locations. It doesn't matter if it is ski equipment, photo equipment, or backpacks. In other words, you can get baggage storage, suitcase storage, luggage deposit, or whatever our satisfied customers call it in a safe way as we accommodate it all. LuggageHero's customers can choose to be charged by the hour or choose our daily rate, regardless of what they store.
LuggageHero redefines convenience for travelers. Take advantage of our generous baggage allowance and leave your luggage and carry-on bags in our secure, innovative, and environmentally friendly locker storage. You can easily bounce into our store and embark on your adventures unburdened by heavy luggage! 
We can stow your luggage for several days
LuggageHero also provides multi-day storage, because we know flexibility is essential when you travel.
LuggageHero offers a lower daily rate when you store your luggage for longer. From the second day onwards, our customers pay from only $6.9 per bag per day.
Download LuggageHero's free luggage storage app
For greater convenience, you can download LuggageHero's app to see all our locations near you.
Opening hours
We have a variety of stores with different opening hours, so choose what fits you best! Go and pick the store here to see the opening hours.
Which payment methods are accepted?
All major credit cards are accepted. Be aware that the shops do not receive cash when using LuggageHero, and remember that the insurance on your luggage is valid only if the payment has been made directly to LuggageHero.
Cancellation of booking
For same-day cancellations, a fee of €5.00/$5.00/£5.00/DKK30.00 per bag will be charged for the booking, and for no-shows, there will be a fee equal to the daily rate at the selected storage location starting at $6.9 per bag.
Also been featured in The New York Times, Lonely Planet, and CNBC.
Frequently Asked Questions about Penn Station
Here are some of the most frequently asked questions about Penn Station.
What are the station's waiting room's opening hours?
Penn Station's waiting room is open 24/7.
What are Penn Station's ticket office's opening hours?
The opening hours for the ticket office are Monday-Sunday 5:10am - 10:00pm.
Is there parking available at Penn Station?
Yes, there is - same-day parking and overnight parking are both available for a fee.
Is Penn Station accessible?
The station has an elevator, accessible bathrooms, an accessible ticket sales office and an accessible platform.
Can you store your luggage at Penn Station?
Free passenger assistance, including baggage-handling and courtesy wheelchairs where available, is provided by station staff. Further, there is baggage assistance provided by Red Caps. However it is in high demand with long waits.
Is there Wifi at the waiting room in Penn Station?
The waiting area for ticketed passengers has seats, outlets and WiFi available.
What are some options for getting to the airport from Penn Station?
NYC Airporter provides bus transportation to and from John F. Kennedy International Airport and LaGuardia Airport, and is authorized by the Port Authority of New York and New Jersey and the New York City Department of Transportation.
How far is Penn Station from Grand Central Station?
Grand Central Terminal and Penn Station are two of the most important transportation hubs in Manhattan; one is east, one is west and both are in midtown. The distance between them is a walkable (and free) 1.2 miles, but there are other ways to go from one to the other.
How far is Penn Station from Times Square?
The distance between Penn Station and Times Square is 0.5 miles.
How far is the walk from Penn Station to the Empire State Building?
It is a five-minutes walk to the entrance of the building.
Are there restrooms at Penn Station?
There are public restrooms in Penn Station, Grand Central Terminal and The Port Authority and they are fairly clean. There are also public restrooms in most major department stores like Macys and Bloomingdales.
How can I find the nearest location for storing luggage?
To find the nearest location to you, you can visit the LuggageHero website and click book now. Apart from that, you can download LuggageHero's app for even more convenience when booking your luggage storage on the go.
Insurance and safe luggage storage
In the collaboration with First Marine Insurance Ltd., we are proud to be covering each piece of luggage free of charge every time you use our luggage service. The premium insurance is optional, you can easily add it when making your booking and it will cover your bags for up to $3,000/€2500 while being stored. On the other hand, if you decide not to add insurance, there is always a guarantee of $500. Make sure you do not pay cash in a drop-off/pick-up shop, because insurance will not cover any bookings that are not paid directly through LuggageHero.
What will happen in case I have a problem with my booking?
If you encounter a problem with a luggage storage booking, you can email us at contact@luggagehero.com and we will get back to you and solve the problem as quickly as possible.
How far is Penn Station from Manhattan?
Penn Station is only 3 miles away from Manhattan. You can reach Manhattan from Penn Station by taking the C train which will only take you around 13 minutes to arrive.
Can I cancel my booking with LuggageHero?
Of course! We know that plans can change, therefore our customers have the option to cancel their booking up until midnight of the day before without any charges. For same-day cancellations and no-shows, there will be a fee which equals the daily rate of $6.9.
LuggageHero in the press
"LuggageHero, which offers online booking with a credit card — thus, eliminating the need for users to have local currency on hand — is one of the most recent players to expand its services. In December the company began operating in New York, where today it has some 250 locations."

"One solution is LuggageHero, which was already on the scene in Copenhagen and London, and has now expanded into New York. Its selling point is that it lets you store your luggage in a local shop, café or hotel, which is often more convenient than having to go to a storage facility at a train station."

"LuggageHero, which Jannik Lawaetz founded in 2016, currently has more than 300 storage locations in six cities (New York, London, Copenhagen, Lisbon, Madrid and Barcelona) and plans to expand to 39 cities by January 2020."

"LuggageHero founder and chief executive Jannik Lawaetz says that the concept was inspired by that mother of invention — necessity — and Airbnb. A couple of years ago, he and his girlfriend rented an apartment in Barcelona via the home-share service. They had a later flight on their day of departure and wanted to continue exploring the city, but didn't want to lug their suitcases around. "