Luggage Storage Gare du Nord
Store your bags in a certified hotel or shop from /hour
Most-reviewed luggage storage service
Luggage Storage Gare du Nord
Are you walking around and need to store your luggage near Gare du Nord? Don't worry, we got you! 
Drop off your items at one of LuggageHero's luggage storage locations just around the corner.
At LuggageHero, we offer secured and cheap luggage storage. All our shops are certified by LuggageHero. And remember; LuggageHero is the only luggage storage service that offers an hourly and daily rate for maximum flexibility. 
Pricing
LuggageHero is the ONLY luggage storage service that offers you a choice of hourly or daily rates in Gare du Nord.
A flat rate of €0.95 per hour and €7.9 per day allows you to pick an option that will best suit your needs. If you're only planning on staying for a few hours in a city, why pay for an entire day as you would with other luggage storage services? 
Skip booking and go straight to our store!
If visiting Gare du Nord was a spontaneous decision and did not get the chance to book luggage storage Paris in advance, do not worry.
We offer a "walk-in" solution just 4 minutes away from Gare du Nord station. This means that there is no need for advanced booking and no change in price.
Check it out on our map:
Check out why LuggageStorage recommends storing your baggage with LuggageHero here! You can leave your bags to explore the city hands-free.
Gare du Nord
Also known as Paris-Nord, Gare du Nord train station is one of the six large terminus stations of the SNCF mainline network for Paris. It serves train lines heading towards regions north of Paris. It is the largest station in Paris and was opened in 1846. The building itself was designed by architect Jacques Hittorf in 1861 and has a majestic facade decorated with 23 statues by famous sculptors.
Gare du Nord is served by both Metro and RER lines as well as a number of bus routes. Trains going from Paris-Gare du Nord to Charles de Gaulle airport run daily with departures every 6 to 15 minutes, and an average journey time of 35 minutes from the station to the airport.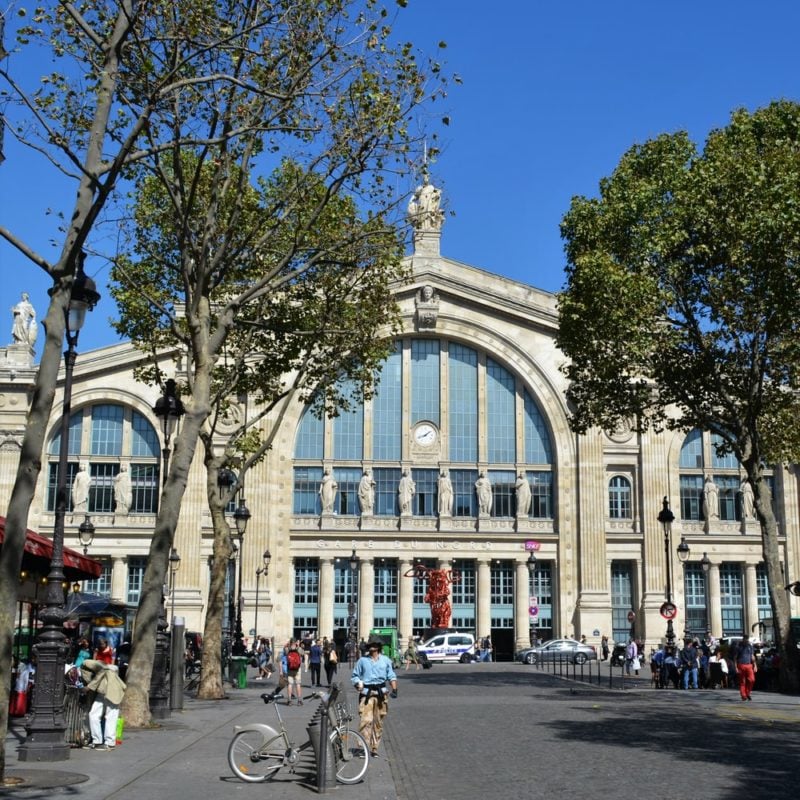 Several other destinations around France and Europe can be reached by train from Gare du Nord such as:
The Eurostar Terminal for departures to London is on the first floor, located just above and alongside platform 3.
Luggage storage at Gare du Nord
Trying to find bag storage Gare du Nord can be stressful but with just a few clicks you can find a place nearby easily.
Pay by the hour near Gare du Nord 
Gare du Nord luggage storage by the hour:
We believe in offering our customers various payment solutions. Therefore, LuggageHero charges users for each hour , unlike most other luggage services, which make you pay for the entire day. However, if you want to store your luggage near Gare du Nord (or anywhere else) for the whole day or longer, we offer you a low daily cap. This is how we believe payment of luggage storage should be in the year 2022 – affordable and simple. That way you can explore Paris hands-free and enjoy the beautiful city of lights.
There are also automatic coin lockers at the Gare du Nord station where you can safely store your luggage. It is open daily from 6.15 am to 23.15 pm including weekends. The prices vary according to the size of your luggage.
Our service is similar to hotel luggage storage
Many travelers who have been customers at hotels have asked the staff at the reception if they could store their luggage until they depart the city later in the day. We offer, more or less, the same service for everyone – no matter if they stay at a hotel, Airbnb or somewhere else. We are always ready to help you out.  
Half price compared to station lockers and airport lockers
Luggage lockers, also called city lockers, are generally at least double as expensive on a daily basis compared to LuggageHero's luggage storage service. Until recently, travelers could only stow their bags in these luggage lockers, offering very little flexibility regarding pricing, where to go, and luggage deposit.
Also, LuggageHero offers stores in countless places in order for you to always have the option of dropping off your luggage in a safe environment. Unlike luggage lockers in stations and airports, LuggageHero offers both hourly and daily rates. LuggageHero strives to offer flexible and cheap luggage storage nearby you at all times. 
We store all kinds of luggage – any size and any shape in verified stores
LuggageHero's users can store luggage of any size and/or shape in any of our storage locations. It doesn't matter if it is ski equipment, photo equipment, or backpacks. In other words, you can get baggage storage, suitcase storage, luggage deposit, or whatever our satisfied customers call it in a safe way as we accommodate it all. LuggageHero's customers can choose to be charged by the hour or choose our daily rate, regardless of what they store.
We can stow your bags luggage for several days
LuggageHero also provides multi-day storage, because we know flexibility is essential when you travel.
LuggageHero offers a lower daily rate when you store your luggage for longer. From the second day onwards, our customers pay only €5 per bag per day.
Download LuggageHero's free luggage storage app
For greater convenience, you can download LuggageHero's app to see all our locations near you.
Opening hours
We have a variety of stores with different opening hours, so choose what fits you best! Go and pick the store here to see the opening hours.
Which payment methods are accepted?
All major credit cards are accepted. Be aware that the shops do not receive cash when using LuggageHero, and remember that the insurance on your luggage is valid only if the payment has been made directly to LuggageHero.
Cancellation of booking
For same-day cancellations and no-shows, there will be a fee equal to the daily rate of €7.9 per bag.
Check out why KnockKnock recommends storing your baggage with LuggageHero. Also been featured in The New York Times, Lonely Planet, and CNBC.
Frequently Asked Questions about Gare du Nord
Here are some of the most frequently asked questions and answers about Gare du Nord.
Is there luggage storage at Gare du Nord?
Yes, luggage storage is available at Gare du Nord as well as at all major Paris train stations. The locker room at Gare du Nord is open from 6:30 h to 22:00 h. However, the maximum length of storage time is 72 hours and there is only a flat pay-per-day fee identical for all stations, with no option of paying by the hour. Many luggage storage companies offer locations near Gare du Nord where customers can store their luggage and pay on an hourly basis, which you cannot do at Gare du Nord.
Is Gare du Nord and Paris Nord the same?
Yes. Same station, different words. The majority of people call it Gare du Nord, while train authority call it Paris Nord and use this name on the tickets.
Is there a metro station at Gare du Nord?
Platforms 40-44 are RER express metro platforms located underground. Otherwise, The Gare du Nord is a terminus with flat and level access between concourse and mainline platforms.
Are there first class lounges in Gare du Nord?
The Eurostar business lounge is upstairs inside the Eurostar terminal, but only for passengers with the most expensive Business Premier tickets, not Standard Premier. There's an SNCF Grand Voyageur first class lounge but this is only for holders of SNCF's (or other Railteam members) frequent traveller loyalty card, which you probably don't have, so of no use for most visitors even if you have a first class ticket.
Where can you get tickets in Gare du Nord?
The main ticket office windows open onto the main concourse, opposite platforms 3-6. There are plenty of SNCF ticket machines here, too. The Eurostar ticket office is upstairs on the balcony, accessed by an escalator opposite platform 17.
How can you find a taxi near Gare du Nord?
There's a well-organised taxi rank on the station forecourt in front of the station, usually with staff helping allocate people to taxis. Even if the queue looks long, it moves fast and it won't take much more than 10 minutes to get into a taxi.
Which are the best hotels near Gare du Nord?
If you need to stop overnight, suggested hotels near the station with good reviews include the Libertel Gare du Nord Suede (5 min walk from Gare du Nord, 2-sta), Mercure Terminus Nord (3-star, directly across the road from the station); Art Hotel (3-star); Avalon Hotel (2-star); Hotel Cambrai (5 min walk from Gare du Nord, 1-star).
Where is Gare du Nord located?
112 Rue de Maubeuge, 75010 Paris, France.
Paris Gare du Nord is "quite" safe. There are a lot of people there and even late at night I never had to worry about safety. However, it is always a good idea to be careful and not attract too much attention with expensive items.
What zone is Gare du Nord?
Gare du Nord is a station on Line 4 and Line 5 of the Paris Métro.
How far is Gare du Nord from the Eiffel Tower?
The distance between Gare du Nord and Eiffel Tower is 5 km.
Opening hours for Gare du Nord?
Gare du Nord station is open every day (including public holidays) from 4.30am to 1am in the morning.
How do you get from the Eiffel Tower to Gare du Nord?
You can take a train from Eiffel Tower to Gare du Nord via Tour Eiffel, Bir Hakeim, Champ De Mars Tour Eiffel, Saint-Michel-Notre-Dame, and Paris Nord in around 35 min. Alternatively, Bus RATP operates a bus from Eiffel Tower to Gare du Nord every 15 minutes. Tickets cost 2€ and the journey takes 31 min.
Insurance and safe luggage storage
In the collaboration with First Marine Insurance Ltd., we are proud to be covering each piece of luggage free of charge every time you use our luggage service. The premium insurance is optional, you can easily add it when making your booking and it will cover your bags for up to $3,000/€2500 while being stored. On the other hand, if you decide not to add insurance, there is always a guarantee of $500. Make sure you do not pay cash in a drop-off/pick-up shop, because insurance will not cover any bookings that are not paid directly through LuggageHero
Can I cancel my booking with LuggageHero?
Of course! We know that plans can change, therefore our customers have the option to cancel their booking up until midnight of the day before without any charges. For same-day cancellations and no-shows, there will be a fee which equals the daily rate of €7.9.