Luggage Storage in +40 locations around Paris
Only luggage storage to offer choice of hourly or daily rates in Paris
Most-reviewed luggage storage service
Luggage storage Paris
LuggageHero partners with local businesses in Paris during COVID-19
COVID-19 has affected many businesses in Paris negatively causing them to lose a lot of their revenue. These businesses often include cafes, restaurants, shops, and hotels. At LuggageHero we try to help others as much as we can and all our partners get revenue from each booking for luggage storage made through their referral link. Not only our partners but also each shop where we have a location generates income each time you make a booking! We know that it may not be a huge income, but we also hope that it is some help in these difficult times. Furthermore, we try to promote safe handling of luggage and good hygiene in all our locations, making sure that luggage is stored as safely as possible for everyone.
Where can you store luggage in Paris?
You can store luggage in a large number of locations around Paris. LuggageHero itself has over 40 locations around the city in hotels, coffee shops, and restaurants, costing only €1 per hour (with a maximum of €8 per day). Other options include left-luggage lockers at the following train stations: Gare du Nord, Gare de l'Est, Gare de Lyon, Gare Montparnasse, and Gare de Marne-la-Vallée Chessy. The prices vary from €5.50 to €9.50 per day, according to the size of the locker, making it quite expensive in comparison with other luggage storage services like LuggageHero.
If you find yourself standing in CDG (Charles De Gaulle) airport with your luggage, searching "where to store luggage in Paris" or "luggage storage near me" on your phone, then you are in luck. Whether you're going to Disneyland Paris or visiting the Eiffel Tower, you can stop searching for city lockers in Paris. The next time you're in the French capital, remember that LuggageHero is there to save the day by helping you store your luggage in Paris!
Drop off your bags in Paris by using LuggageHero's network of local shops located near crucial traffic hubs and popular districts as of 2021. These include  Gare du Nord, Gare de L'est, Gare Saint-Lazare, Gare de Lyon, Châtelet–Les Halles and Gare Montparnasse, and they all have our luggage storage Paris locations nearby.
Let's say that you arrive at CDG (Charles de Gaulle) airport hours before your rental is ready and you want to check out some Paris attractions without dragging your luggage around the city. Maybe you want to visit the Louvre, the Eiffel Tower, the Cathédrale Notre-Dame de Paris, stroll around Park Champ de Mars, or maybe even watch a football match at the Le Parc des Princes. Whatever your choice, we're there to store your bags.
Just go to the LuggageHero reservation platform to find a handy storage site inside a shop or other business – all verified by us. By using our up-to-date map, you can say goodbye to city lockers and locate the shops that are nearest to the Stations you'll use or attractions you'll visit and store your luggage there. The days of walking around town trying to find city lockers in Paris, far from where you plan to be are now over!
Check out why LuggageStorage recommends storing your baggage with LuggageHero here!
Major stations in Paris
Paris is served by several major train stations, several within a close walking distance from one another. All stations serve a different region; the station and region often share the same name. Here are three of the largest and most well-known stations that also include our nearby luggage storage in Paris: 
Gare du Nord, officially Paris-Nord, is the busiest railway station in Europe, as well as one of the busiest stations in the world, with over 700,000 daily passengers. Most of the passengers are commuting in from suburbs north of Paris and nearby towns. Gare du Nord is also one of the six large terminus stations on the SNCF's Paris mainline network.
The station, which is near Gare de l'Est in the 10th arrondissement, connects to several urban transportation lines, including Paris Métro, buses, and RER (Réseau Express Régional, the city's suburban commuter/rapid transit system).  Gare du Nord, a Eurostar hub, is also the station from which trains travel to Northern France and to international destinations in Belgium, Germany, the Netherlands, and the U.K.
The station complex was designed by the French architect Jacques Hittorff and was built between 1861 and 1864. Its beautiful façade served as the backdrop to several French and American films. Gare du Nord luggage storage facilities are found inside and just outside of the station. Booking in advance will ensure space for your left luggage in Paris.
The Gare de l'Est, officially Paris-Est, is in the 10th arrondissement and is only a five-minute walk from the Gare du Nord. It faces the Boulevard de Strasbourg, part of the north-south roadway of Paris. The station serves as the western terminus of the Paris–Strasbourg railway and the Paris–Mulhouse railway.
The station is the departure point for trains heading east to Reims, Nancy, Metz, Strasbourg, Stuttgart, Frankfurt, and Munich.  It also handles the weekly Paris to Moscow Express but is especially known for being home to the Venice-Simplon Orient Express. The private luxury travel train n luxury travel experience became famous in the Agatha Christie mystery "Murder on the Orient Express," which was also made into a film.
This elegant station, one of the city's oldest and calmest, opened in 1849 to serve traffic to Strasbourg. Underneath platforms 4 and 5, one can find a tucked-away miniature train set complete with the station, tunnels, and railway workers. The public can visit it during occasional tours and Saturday afternoon hours.
Luggage storage facilities are found inside and there are also several locations just outside of the station. Booking in advance will make sure there is room left for your bags.
True to its name, the lines of Gare de Lyon (officially Paris-Gare-de-Lyon) are the third busiest station of France, with lines heading in the general direction of France's third-biggest city, Lyon. It's the northern terminus of the Paris–Marseille railway and was named after Lyon because that city is a stop for many long-distance trains departing here, most on the way to the south of France. The station is located in the 12th arrondissement, on the north bank of the river Seine, in the east of Paris.
From Gare de Lyon, one can go to the south of France, southern Germany, Monaco, Switzerland, Italy, and Spain. The station is also served by high-speed TGV trains and hosts regional trains running to the south-eastern suburbs of Paris and the Gare de Lyon metro station. Built for the World Exposition in 1900, Gare de Lyon is considered to be the most visually beautiful station, and with its famous clock tower, it doesn't seize to impress. It also houses one of the city's most famous gourmet restaurants, Le Train Bleu, whose grand interior features painted ceilings and ornate chandeliers.
Luggage storage in Gare de Lyon is available through facilities that are found inside and just outside of the station. Booking in advance will ensure space for your bags.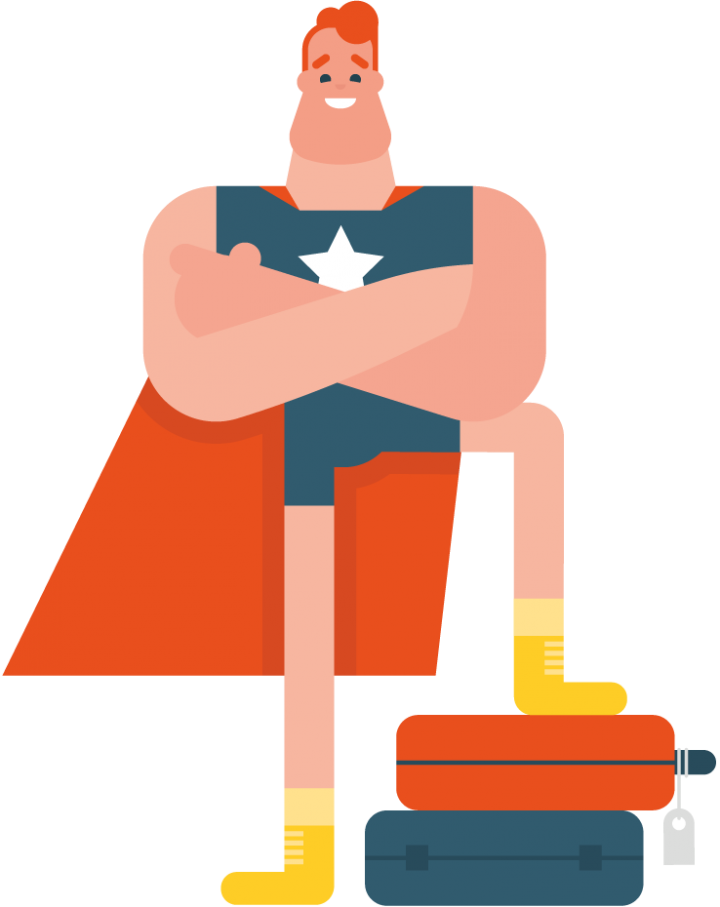 You pay by the hour – unlike other services!
We offer a speedy, convenient, and low-cost service: only €1/hour!
We believe in offering our customers various payment solutions. Therefore, LuggageHero charges users for each hour used only , unlike most other luggage services, which make you pay for the entire day. However, if you want to store your luggage in Paris (or anywhere else) for the whole day or longer, we offer you a low daily cap of . This is how we believe payment of luggage storage should be in the year 2021 – affordable and simple.
We're looking out for you
Your safety and security are our priority. That's why we have LuggageHero employees review and certify all our shops for luggage storage in Paris. We also seal every piece of luggage to keep them tamper-free. On top of that, we ensure every bag and what's inside it for up to . If you need to talk to someone at LuggageHero about your luggage storage in Paris, you may do so through our online chat system. We're here for you 24/7!
Find the nearest certified shop using our map:
Are you ready to store your bags?
How to safely store luggage
We carefully certify and educate the operators at all our LuggageHero Paris locations about how to safely handle and store your belongings.
All our shops in Paris have been reviewed by a LuggageHero employee, who also regularly performs quality checks to make sure customers' luggage is kept in a safe and secure manner.
In addition, we provide security seals for each piece of luggage. These will be provided to you when you arrive at the shop, which ensures that no one can access your bags.
Furthermore, each piece of luggage and its contents are insured up to .
If you need someone to turn to, remember that customer online chat support is available 24/7.
Book risk-free
We believe in making your travels as smooth as possible, which is why it is important for us that NO FEES are charged to you until your luggage has been picked up by you.
Use our online booking service to choose a luggage storage site in Paris that is most convenient and suits your travel needs best. You can either book on arrival at the shop or book online in advance to secure your Paris city locker. Make an advance booking and you're guaranteed a space for your luggage.
But we know that sometimes plans change, especially when you're on the road. So if you don't show up, there's no charge. Nada. Zero. Zip. Zilch. Nothing! And no, you don't even have to cancel your booking! With so little risk, there is no point in searching for other storage lockers in Paris.
Visiting Paris in the winter 
Paris in winter is magical and memorable, and visiting the beautiful city is something that you will not forget easily. It might be a bit cold, but visiting is surely worth it.
You can enjoy a lot of beautiful decorations around the city and have the possibility of seeing a snowy white Christmas!
When visiting Paris in the winter, you want to make sure you are wearing warm winter clothes as it can get quite chilly. You should avoid walking long distances and taking taxis or public transport might be a better experience due to the cold weather. You can indulge in a lot of indoor fun activities such as visiting museums and enjoying fantastic restaurants. Generally, if you dress well you should also be able to enjoy Paris' numerous parks and attractions such as the Eiffel Tower and its many small picturesque streets.
Around Christmas, you can enjoy the beautiful Christmas market in Paris as well as numerous walking tours which will be able to show you a lot of the city and make for a memorable winter trip to the city of lights.
Storing luggage in Paris during COVID19
Many shops and locations in Paris are still open for storing luggage
Be responsible and remember to sanitize before and after using any kind of luggage storage service or locker in Paris
When necessary, remember to use a face mask when dropping off your luggage in Paris, to protect those around you
It is safe to store luggage in Paris as shops are following restrictions, but be extra cautious and remember washing hands (or sanitizing)
When you store your luggage in local shops in Paris you are helping support local businesses in these difficult times. Thank you!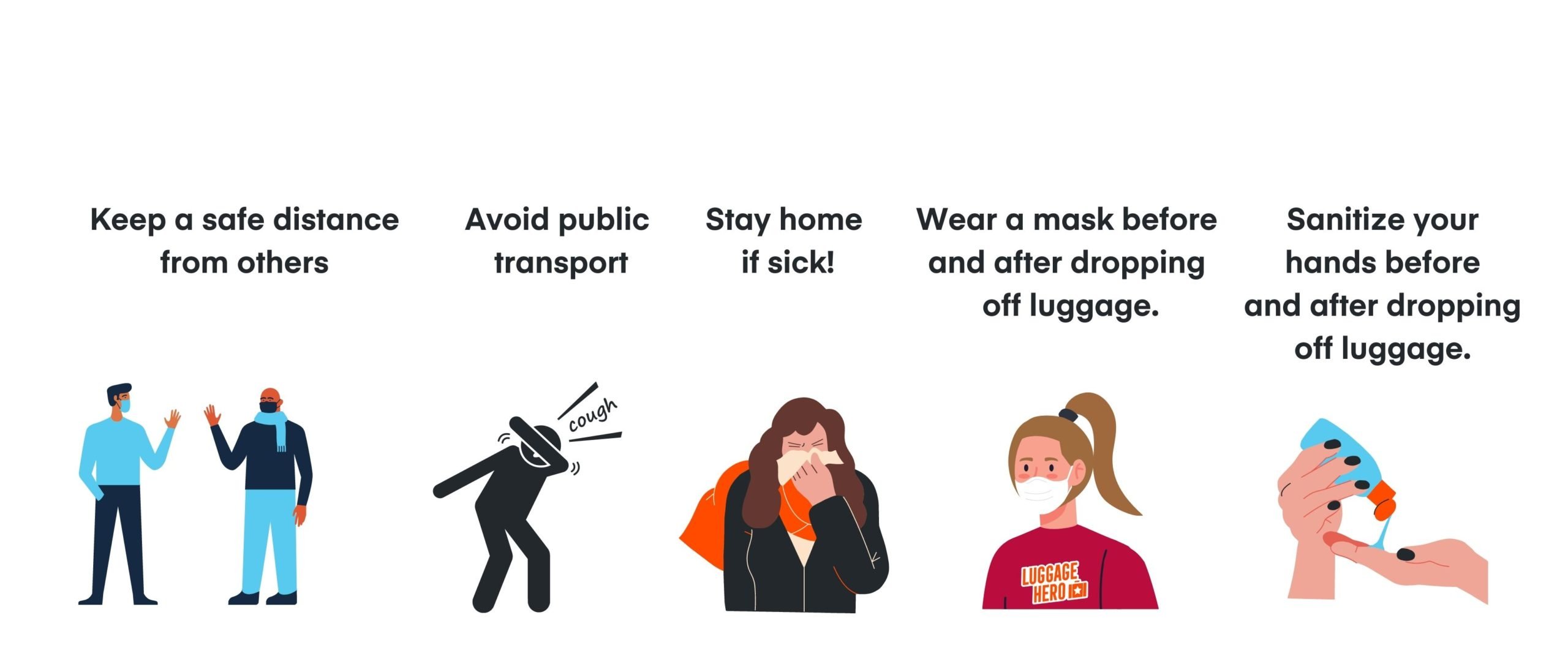 Remember to be careful when storing your luggage in Paris!
Download our free bag storage app in Paris
For even more comfort you can download our LuggageHero bag storage app where you can easily see all our locations for storing luggage around Paris. With our luggage storage app, you are able to store your bags in any of our 40+ locations in Paris. Click here for information on how to use the luggage storage app in Paris.
2021 Guide: Luggage Storage Paris
You may be confused with the rules and regulations and wonder where bags and luggage are allowed to be stored around your travel destination. You might be wondering where to leave luggage in Paris. LuggageHero understands you and is happy to provide you with clarity and assistance. All you have to do is simply click Find Luggage Storage & Lockers in Paris and take a quick look around to find all the updated information you need for your amazing trip.
Also, if you just need some travel inspiration then we encourage you to take a look at the winners of the "Best Travel Blogs Paris 2020". Click here to see who the winner is and read a short blurb on what their blogs are about.
FAQ for luggage storage in Paris 2022
LuggageHero is here to help you solve your luggage storage problems.
Can you store luggage in Paris?
Yes, you can store luggage at many different locations all over Paris. It is possible to store luggage at several on-demand services in Paris where you pay either an hourly or a daily rate depending on the luggage storage service provider. LuggageHero has more than 40 stores located all over the city. Besides mentioned, many train stations also offer luggage storage.
Can you store luggage at the Eiffel Tower?
No, the tourist attraction itself does not offer luggage storage. However, several on-demand luggage storage offer luggage storage nearby the Eiffel Tower. LuggageHero offers luggage storage as close as 250 meters from the Eiffel Tower.
Can you leave your luggage at Paris Airport?
Yes, you can leave your luggage at Paris-Charles de Gaulle 2 airport from 6: AM to 9:30 PM every day of the week. The location for the lockers is at CDGVAL station's exit which is near the RER train station.
What should I know before going to Paris?
There is a number of things one must know before going to Paris. Some of them include - do not gamble or buy things on the street, don't throw our your cigarettes on the street after smoking because you will get a fine, learn a few words in French before going as many people there do not like speaking English.
Is water safe to drink in Paris?
Yes, you can drink the water in Paris from the tap and most Parisians (if not to say all) are doing it every day
Is 3 days enough to visit Paris?
With 3 days in Paris, you have enough time to take in the view from the Eiffel Tower, say hi to Mona Lisa in the Louvre, eat street food crepes, climb the Arc de Triomphe, explore several Parisian neighborhoods, and visit the amazing Palace of Versailles. However, for a perfect visit to Paris, we recommend a minimum of five days in order to experience more and learn a bit more about the culture.
Where can you store luggage in Paris?
Most major train stations (Gare de Lyon, Gare du Nord, Montparnasse, Gare de l'Est, Gare d'Austerlitz) and airports (Charles de Gaulle- CDG / Orly) offer baggage storage options. Luggage can be stored in the locker for up to 72 hours and are very useful when you have a layover in Paris. However, you can also store in nearby shops and hotels by using LuggageHero.
What is the most visited attraction in Paris?
Eiffel Tower is the most visited tourist attraction in Paris, the Eiffel Tower also ranks high on the list of places to visit in France.
What is the best and cheapest time to visit Paris?
The best time to visit Paris is from April to June and October to early November when the weather is mild and enjoyable and the tourist crowds are smaller than summer. The cheapest time to visit Paris is early December, January, and February.
How much money should I bring to Paris?
It depends on how long your trip is but generally it is best to bring some euros and then use your card as much as possible and use cash only when needed.
Can I store my luggage at the Louvre?
Yes, you can. The Louvre offers luggage storage lockers in Paris. However, the queues can be long, which means that you will need to arrive there early enough to avoid being disappointed. Keep in mind that you are not allowed to bring any items exceeding 55 cm x 35 cm x 20 cm into the museum. Important note: all items left in the lockers must be collected the same day!